A TikToker went viral for making videos "exposing" the food and kitchen at Dunkin'.
Hannah, who goes by @hannz57 on the platform, is a Dunkin' employee known for posting videos reviewing the coffee chain's donuts and revealing what it's like behind the counter. Her videos about Dunkin' have amassed over 12 million views, collectively.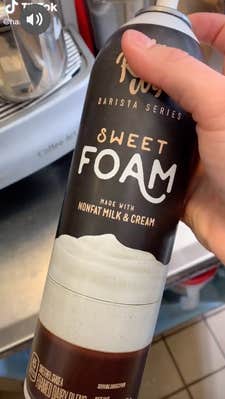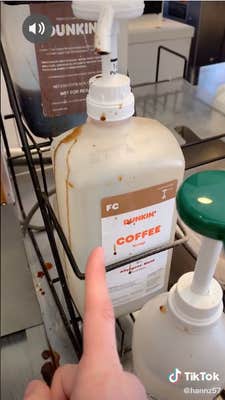 In a recent video, she says she is "exposing Dunkin' because [she's] quitting" and proceeds to uncover "#dunkinsecrets." In the video, she claims the sweet cold foam is canned, the pink velvet and french vanilla syrups are the same flavors with different food dyes, and the creamer tank is "nasty." In a reply video to a now-deleted post, she also shows how the avocado toast gets made, captioning it with: "not too bad, but the avocado spread tastes like tuna." The spread comes from a pre-packaged container, according to her video.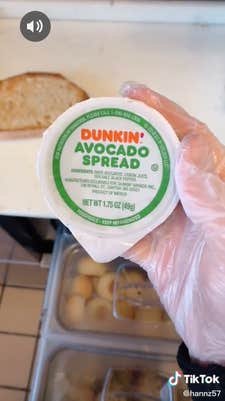 In response to her videos, some commenters criticized Hannah for the way she and her co-workers clean the store. Others asserted she's "not exposing anything."
"I mean I think it really depends on how well the place is managed. Bad management equals a dirty store," one commenter wrote.
"Literally none of this is surprising at all, it's just fast food," another said.
Some didn't mind the seemingly unsavory ingredients Hannah showed.
"I'm still absolutely going to be stopping there on my morning commute," a person wrote. "This is nothing [new], we just ignore it."
It appears that Hannah had more Dunkin'-related videos on her page that have since been taken down. Despite labeling a video as "part 16" of her donut-trying series, there are currently only four videos depicting her tasting the pastries.
Update 3:20pm CT, April 3: When reached for comment, Hannah told the Daily Dot via Instagram DM she deleted the videos that flopped. "I only kept up the videos that people liked to watch," she said.
Hannah added that she put in her two weeks notice after her initial video "blew up" and that her last day on the job is Monday.
"I made the (videos) when it was really slow at work and I never imagined they would blow up like they did," she said.
Hannah's videos follow a handful of viral videos from Dunkin' employees over the past few months. In February, a 16-year-old Dunkin' employee posted his encounter with a "Karen" at his store. Another teen was allegedly fired in January after uploading a TikTok video showing the food waste at his Dunkin' location.
The Daily Dot reached out to Dunkin' for comment.
---
Today's top stories