Does President Donald Trump's son support anal bleaching?
Anal bleaching is the process wherein the skin around one's anus is chemically lightened to match the surrounding butt flesh. It is entirely cosmetic and wholly unnecessary, but a Daily Mail report from yesterday states that demand for the procedure has soared as celebrities have spoken about undergoing it.
Demand for anal bleaching has risen by about a fifth in the past year as women 'feel under pressure to look like porn stars', figures suggest.

 

The trend was sparked after celebrities – including Sophie Kasaei, Charlotte Crosby and Kourtney Kardashian – revealed they have had the procedure.
That story was shared by Stefan Molyneux, a prominent figure in the "alt-right" movement, the collection of conservatives and Trump supporters that harbors white supremacists.
Demand for anal bleaching soars by 23% as women follow in the footsteps of celebrities. https://t.co/UAUHaQjmxp

— Stefan Molyneux (@StefanMolyneux) December 5, 2017
That was quoted by Gavin McInnes, a founder of the Proud Boys, a toxic group of far-right men whose tendencies align with that of the "alt-right."
McInnes cracked a joke about how he wants anuses to look a certain way when he first encounters them.
https://twitter.com/Gavin_McInnes/status/938180639983046656
That joke was liked this morning by one Donald Trump Jr., son of the president.
DonaldJTrumpJr liked this tweet: https://t.co/SbcnXKIVDI

— Trump Alert (@TrumpsAlert) December 6, 2017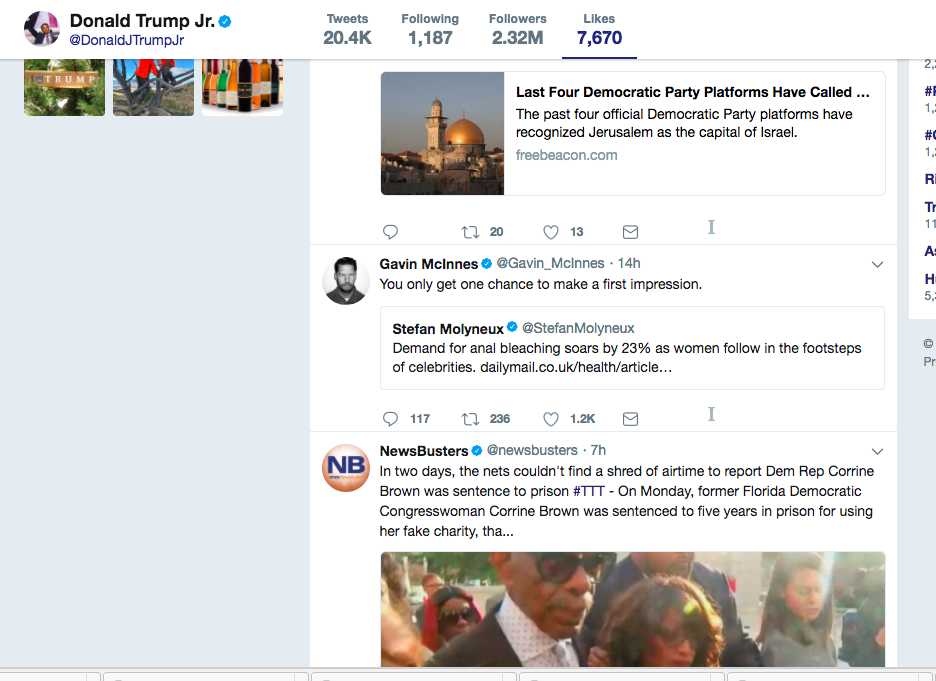 In other Trump Jr. news, an NBC report that dropped late last night said that during his infamous June 2016 meeting with Russian lawyer Natalia Veselnitskaya, Trump Jr. asked for damaging information on the Clinton Foundation.
Donald Trump Jr. asked a Russian lawyer at the June 2016 Trump Tower meeting whether she had evidence of illegal donations to the Clinton Foundation, the lawyer told the Senate Judiciary Committee in answers to written questions obtained exclusively by NBC News.

 

Veselnitskaya's written answers reinforced what has long been understood about the Trump Tower meeting: that Donald Trump Jr. accepted it on the promise of incriminating information about Clinton that he had been told was coming from the Russian government. And he asked Veselnitskaya directly whether she had it, according to her written answers. Jared Kushner and Paul Manafort were also in attendance, as were a Russian lobbyist, a Russian businessman and a translator.
We all cope in our own ways.
Update 8:41am, Dec. 6: Trump Jr. has unliked the "anal bleaching" tweet. This article has been updated for clarity.