It was the summer of 2009, and Jess had developed an addiction.
Slowly but surely, she amassed a stockpile of Tumblr URLs, registering new blog names and domains she had no intention of using—collecting them the way others might trading cards or autographs. She became a hoarder, sitting on prime real estate in one of the fastest growing social networks.
"I would say that I was engulfed into this craze and I wanted a piece of it," Jess, who declined to give her name or last name, told the Daily Dot. "I started hoarding URLs because, well, other people were doing it. I guess you kind of want to join in and get as many as you can."
For Jess, the turning point came after she joined the fandom for Homestuck, Andrew Hussie's sprawling webcomic, which boasts more than 5,000 pages of content and and a devoted readership that creates  fanart and music inspired by the comic. It was all about the thrill of ownership— plugging in random words, phrases, and character names to see what ones were available. She ended up with more than 200 URLs under her main account.
Jess only used five blogs regularly.
"Oh man, I've heard of people having over 400 URLs," Jess said. "As I hoarded URLs I never really thought about what exactly I was doing. It's kind of like a race. A race to see who can get it first. And when you type that URL in and it's not taken. It's the best thing in the world because it is all yours, forever."
…
In the early days of the Web, there was a gold rush for domain names, as individuals raced to register online destinations and, like flipping a house, sold them to the highest bidder The practice was commonly referred to as cybersquatting.  
In November 1999, in middle of the dot-com bubble, the Anti Cybersquatting Consumer Protection Act (ACPA) went into effect and allowed companies to sue people "who obtain domain names 'in bad faith' that are identical or confusingly similar to a trademark or service mark," noted Penn State's College of Information Sciences and Technology.
Since then, a handful of high-profile cases, including one including Madonna, have been litigated, most recently with the development of the porn-centric URLs .xxx. (In that case, many top universities and brands bought their domains early to prevent them from falling into the wrong hands.)
The ACPA has not, however, stopped people from snatching up vanity URLs on social networks like Facebook and Pinterest—a problem often compounded by the lack of a verification for individuals and brands. If you tried to signup for a new Twitter account after 2011, you've probably experienced the frustration that comes with trying to find a unique username. They go quickly, and once they're gone, there's no turning back.
Tumblr directly addresses the issue of "username and URL abuse"in its company guidelines: "Tumblr's URLs (usernames) are for the use and enjoyment of our users. Don't squat, hoard, collect, trade, or sell Tumblr URLs, and don't register a URL for the purpose of impersonating an individual, organization, or brand."
That's easier said than enforced.
Unlike Twitter and Facebook, Tumblr does not require users to use to have a new email when registering a new blog. Instead, users can claim new Tumblr URLs in mere seconds by using the dashboard's drop-down menu.
"On Tumblr, once you have a 'main' blog, you can create 'child' blogs under the same account/email address without going through sign-up onboarding for each sub-domain," explained marketer and Tumblr expert Andrea Lopez. "That's a huge difference with Tumblr, and a possible reason why any potential grab-now, use-maybe, habit exists. Way. Less. Friction."
That ease of access has at least one perk: It helps people create timely single-serving Tumblrs, the kind of flash-in-the-pan blogs that popped up the minute after President Barack Obama mentioned bayonets and horses in last year's debates.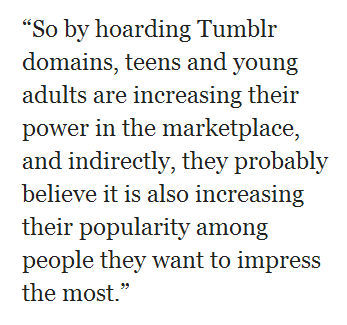 But as a result of Tumblr's frictionless user interface, a bustling URL-hoarding community has surfaced, and frustration has quickly grown from a murmur to a fever pitch.
"URL HOARDERS ARE BITCHES," formerlyjackbenjamin wrote in July. "Some people might want to use that URL and ACTUALLY USE THEIR BLOG on that URL. … It's a big f**k you to the Tumblr community."
"I'm getting really fucked off with people hoarding fucking URLs," lionsandroses echoed. "[J]ust fucking give them up you bastards."
Those are just two of the many complaints you will find on Tumblr when searching tags like "hoarding URLs," "hoarded URLs," and "saved URLs."
Oddly, for each complaint tagged with one of those phrases, an equal number of users flood them with offers to giveaway or trade URLs.
"I'm literally using none of them at this point," blogged claramadesouffles in a post titled "DO ANY OF YOU WANT ANY OF MY SAVED URLS?" The list included 20 URLs, mostly related to Doctor Who and The Hunger Games. The titles included "thegirlwholivedtowait," "pleasecomealongponds," "the-sassy-dalek," and "the-perks-of-being-a-time-lord."
…
Tumblr URLs don't appear to have much in the way of monetary value, at least not without followers and content attached. So why do users horde URLs?
Two possible answers are status and power, said Dr. John Grohol, a psychologist specializing in online behavior.
"Now what do teens want most?" Grohol asked. "To fit in with their peers, to be accepted, and to be popular. What can increase your popularity? Power.
"So by hoarding Tumblr domains, teens and young adults are increasing their power in the marketplace, and indirectly, they probably believe it is also increasing their popularity among people they want to impress the most (Tumblr friends and fellow Tumblr hoarders)."
It is unclear how many Tumblr users have been banned or had IP address blocked for hoarding URLs, though at least one user has been punished for the practice. Requests for comment were unanswered, and the company does not disclose details about individual accounts. Tumblr could potentially be turning a blind eye to the issue to juice its number of registered blogs.
"We reserve the right to enforce, or not enforce, these policies in our sole discretion, and these policies don't create a duty or contractual obligation for us to act in any particular manner," the company notes in its community guidelines.
One things certain: With more than 95 millions blogs (and counting) already registered, it's getting harder and harder to find an ideal, unclaimed destination on the site.
"Everyday there's a new possibility that a hoarder released the URL and it's up for grabs," Jess said. "You just have to keep waiting for the day to come, or to go and bargain for that beautiful URL."
Illustration by Jason Reed