In a chilly hotel conference room in downtown Dallas, a man named Justin stood up and declared himself the best lover in Game of Thrones.
It was the final day of last week's Con of Thrones (a Game of Thrones and A Song of Ice and Fire fan convention), during the Great Debate, a recurring panel from Storm of Spoilers hosts Joanna Robinson, Dave Gonzales, and Neil Miller. It runs on audience participation, and the energy in the room was electric even as three days of geeking out began to take their toll. Fan responses varied (both in tone and logic) as the crowd offered up everyone from Jon Snow to Tormund Giantsbane and Winter itself as potential candidates for Westeros' best lover.
Justin's declaration, however, was a needle scratch. He told everyone he was going to prove that he was the best lover, turned to the woman next to him, and bent the knee.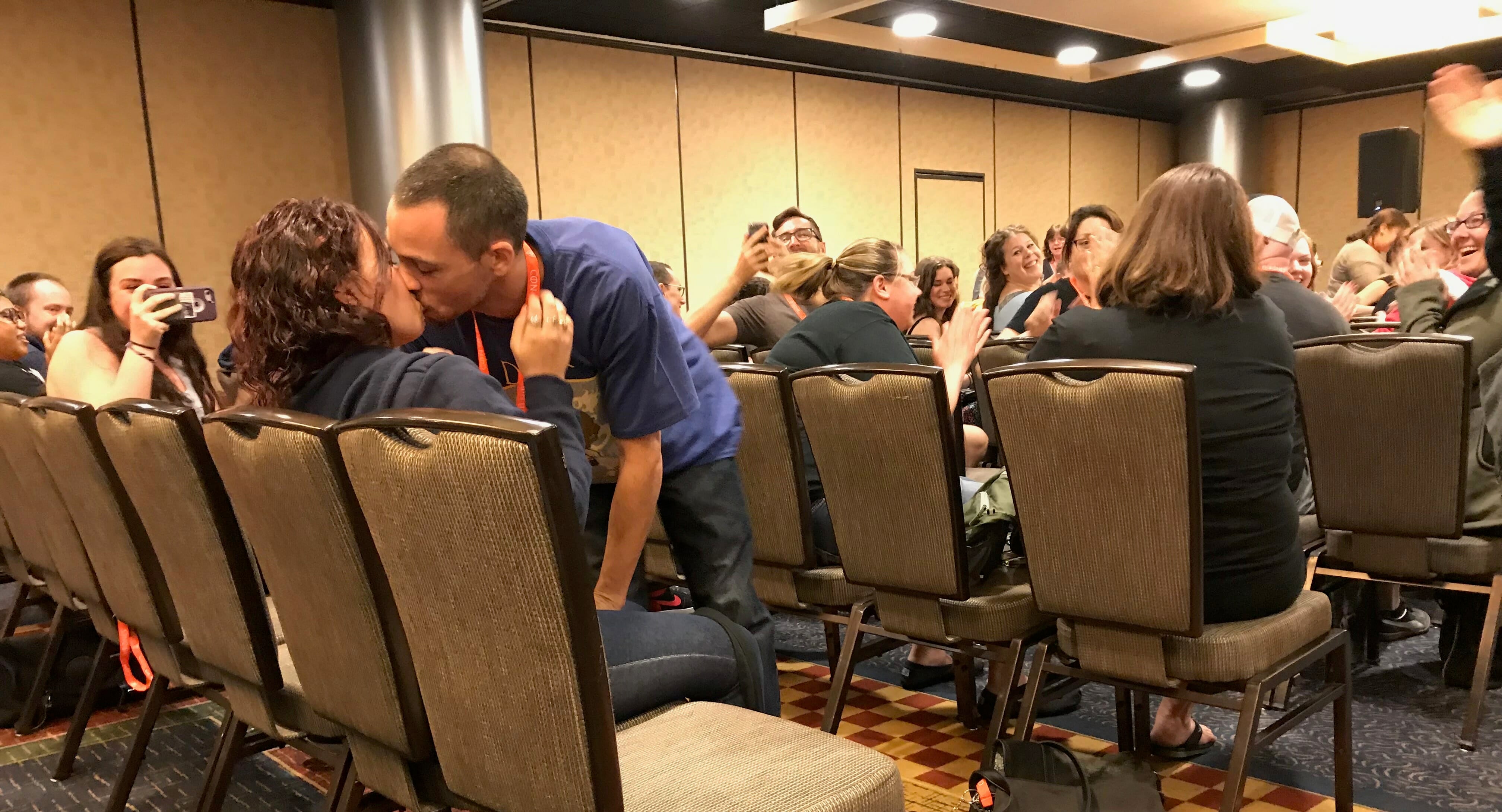 There was a painfully awkward pause. Then she said yes, and the audience erupted into cheers. One photo capturing the scene looked like a half-Renaissance painting, half-meme.
I watched the scene unfold across the aisle and a few rows in front of me, and thought about the kinds of conversations—silly, intellectual, and sometimes unpleasant—we had about the show, books, and the author who brought us all together over the past days, even as both season 8 and The Winds of Winter loom with question marks.
Con of Thrones 2018 arrived at a crossroads for Game of Thrones fandom. There were frank discussions about how the series portrays women, and who gets to be a fan.
The last episode aired around nine months ago, and we only have six episodes until the end. It's been nearly seven years since Martin published A Dance with Dragons, with world-building titles like The World of Ice and Fire, novellas appearing in fantasy anthologies, and the upcoming Fire and Blood (a Targaryen history book chronicling the Targaryen reign from Aegon the Conqueror to the Dance of the Dragons) all being released before The Winds of Winter. We're at least a year or two away from seeing any of the proposed Game of Thrones successor series. None of that may change by next year's con, but as this year demonstrated, this subculture isn't going anywhere.
…
Now in its second year, Con of Thrones brought Game of Thrones fans from all over the country and as far away as Spain and Sweden to Texas. While the inaugural convention swept fans away to the vibrant and transformative backdrop of Nashville, Tennessee, this time fans conversed underneath the shadow of the Reunion Tower. (Not to mention the castle within walking distance.)
The lay of the land included themed drinks, House sigils visible at the buffet area, and maps of Westeros and Essos placed on the ground. On Thursday afternoon, a hotel employee dressed as Daenerys Targaryen and a beagle in a dragon costume welcomed guests at check-in.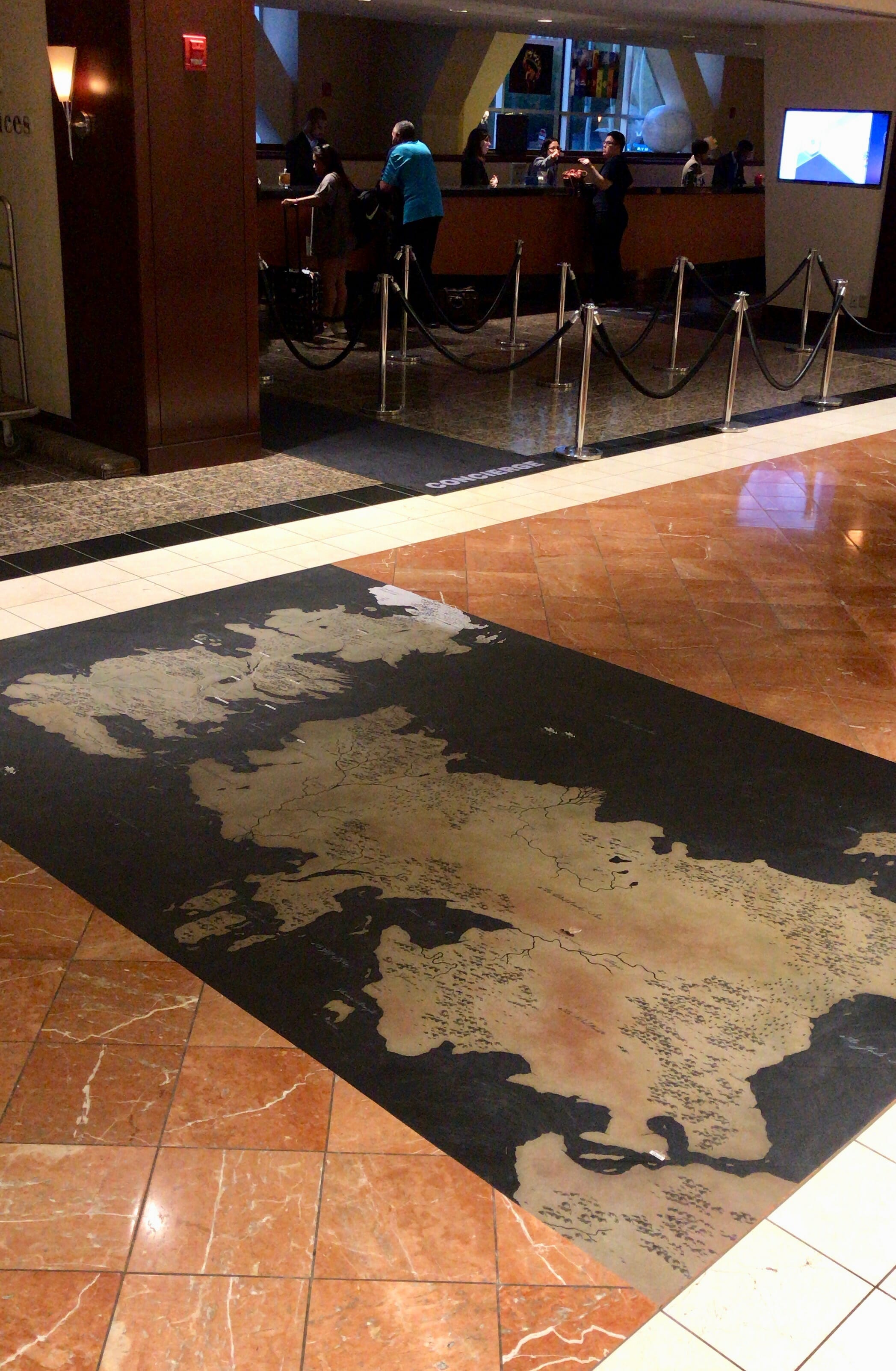 Greetings, honored #ConofThrones guests. Your queen welcomes you. pic.twitter.com/iIeRYeMk6r

— Hyatt Regency Dallas (@HyattDallas) May 24, 2018
Con of Thrones is a small enough convention that just about everyone was approachable. Fans chatted with the people whose analysis enters their ears weekly at the podcast meetup; one of Reddit's primary Game of Thrones subreddits got together. With the close-knit environment, you bonded quickly by rehashing internet arguments IRL and vitriol-free.
During the first night of the convention Sam Coleman, who played young Hodor on the series, took part in a live commentary of the season 7 finale with the Burlington Bar folks (who have gone viral for their Game of Thrones reaction videos over the years), performed karaoke with Aimee Richardson (the original Myrcella Baratheon) and Kerry Ingram (Shireen Baratheon), and hung out afterward. Game of Thrones sound designer Paula Fairfield was a regular, too, leading arts-and-crafts time during the Creativity panel.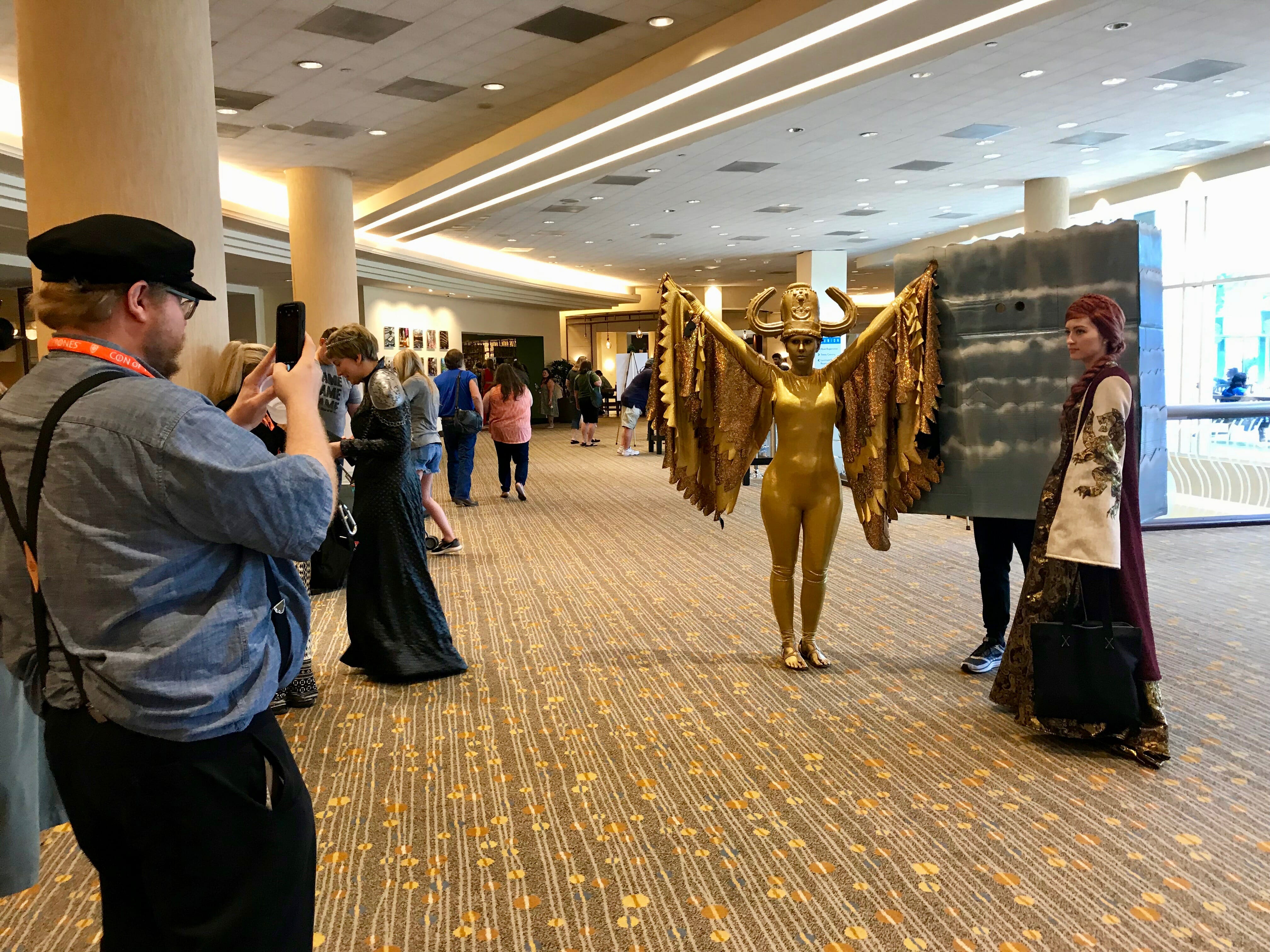 That openness extended to the panels themselves, where fans, creators, reporters, and writers talked out the series. Some panels were loose jumping-off points, like one simply titled "Dragons!" Another event compared George R.R. Martin's work to Shakespeare, J.R.R. Tolkien, and even the Grateful Dead. On the same stage where actor Joe Dempsie—who returned to Game of Thrones as Gendry this past season—explained the story behind the tweet that launched a thousand jokes (including one that made it into the show), you could also see a nuanced discussion on how Game of Thrones handles sexual violence. In another room, panelists explained Game of Thrones' meme culture. (As the Daily Dot's resident Game of Thrones reporter, I appeared on five panels.)
With a close-knit convention, jokes and memes can spread like wildfire. While detailing a theory about how the First Man who became the Night King was once a Stark (but not Bran Stark), fans gave that character a name: Tod, which turned into Todrick. 
It only took two days for "Todrick Stark" to go from joke to merch.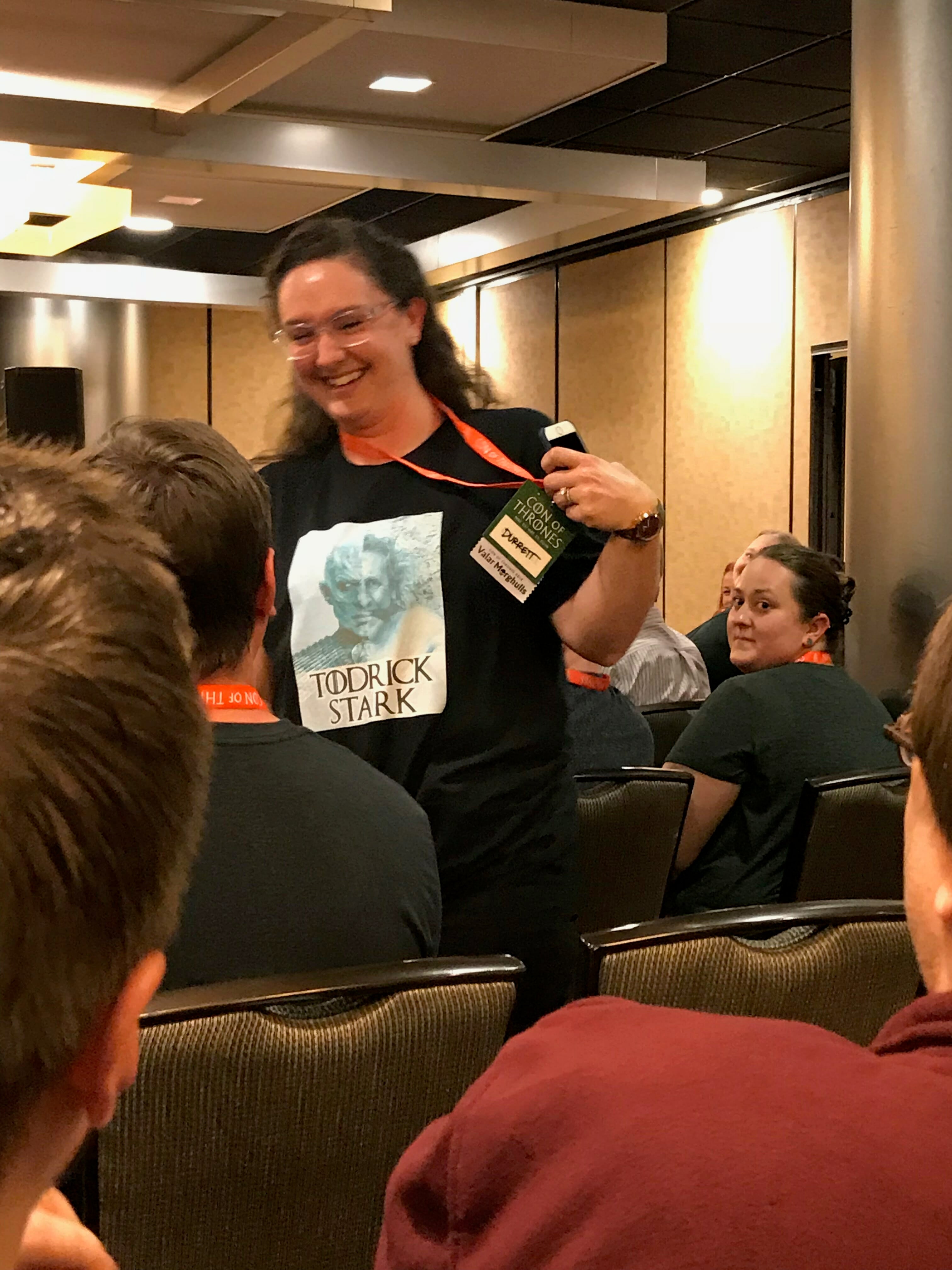 …
The makeup of Con of Thrones says a lot about who enjoys Game of Thrones (and who often isn't counted). The myth that the majority of viewers are men has persisted for years (a 2017 fan survey demonstrated that the audience heavily skewed toward men), but at Con of Thrones, women were everywhere.
"It also says a lot of assumptions on the writers and directors' parts about who [Game of Thrones'] audience is," the New York Post's Lauren Sarner said during the Queendom of Thrones panel. "It says that they think that the audience is only heterosexual men or people who are interested in women and that they are not capable of enjoying a scene about, you know, politics without naked ladies in the background."
Insider's Kim Renfro agreed: "I think for a while, me, like, behind my computer and just reading my books, I assumed that I was trying to tap into some sort of boys' club of Game of Thrones fandom, and it's really not like that at all. There are so many incredible women who are part of this community, and it's great that we get to have these conversations and meet each other."
The inclusivity is key to Con of Thrones' success; last year, the convention offered multiple gender-neutral bathrooms. This year, Mischief Management, the company that runs things, placed cards in each of the conference rooms asking panels to use gender-neutral language to address the crowd during the Q&A portion.
I love this #ConOfThrones pic.twitter.com/ZmUIjqScG9

— Lauren Sarner (@LaurenSarner) May 25, 2018
For some, that camaraderie also means having the kind of support system behind you when things don't go as planned. Laura Stone, an author who writes about Game of Thrones at Hey, Don't Judge Me, experienced that firsthand after a man came up to question her about the panel she had just conducted on sexual violence in Game of Thrones in the wake of #MeToo. (Stone and I appeared on two panels together.)
The discussion itself, which took place on the main stage, went off without a hitch: The all-female panel—which included actress Esmé Bianco, who played Ros on the show for three seasons—delved into the trauma faced by many of the show's female characters and some of the male characters such as Theon Greyjoy, Varys, and the Unsullied. It also touched on the nature of sex work and sexual slavery, with Stone making a point to not use the show's terminology for sex workers. Given the subject matter and how it predominantly affects women on the show, Stone felt that it was important to have women on the panel.
She thought that the panel was a success, but soon after, a man asked her why there wasn't a man onstage. She pointed out that the panelists made a point of discussing male victims of sexual violence, but the man repeated his question. She thanked him for his feedback and walked away with the impression that he didn't get it, and the interaction gave her pause.
In the annals of "missing the point" goes the very large/intimidating man who cornered me after today's panel on sexual violence/#MeToo wondering why there weren't men on the panel, A Mini-Thread by Me

— Laura Stone, y'all'd've is grammatically correct (@StoneyboBoney) May 27, 2018
"I would bet money that he did not understand why what he did was not the right thing to do," Stone told me. "I don't think that he was going to actually hurt me, I don't think anything like that. I think he was not thinking it through and didn't really realize that as an incredibly large man—and he was easily over 6 feet tall, very broad, very barrel-chested—physically overpowering me and towering over me as we were talking. I don't think that he understood the implications of physically controlling the situation as he did, and I was glad that I did not allow myself to be intimidated by that."
Afterward, Stone heard from Mischief Management founder Melissa Anelli, who checked in to see what she and Mischief Management could do after seeing Stone's Twitter thread. Although Stone didn't think the situation warranted an intervention, she appreciated the concern.
"This was just more of a person not understanding how to communicate, not something the convention itself fostered," Stone added.
And toward the end of the Queendom of Thrones panel, Kristine Kippins, a lawyer who hosts Game of Thrones-themed watch parties and manages listservs for book and show fans, told the audience to let a woman cosplaying as Daenerys Targaryen ask her question, addressing her as "Khaleesi." The woman responded to Kippins, who is Black, "You can be my Missandei."
The audience was mostly silent, but a few people in the room gasped at the reference: Everyone knew that in the series, Missandei is a former slave turned advisor to Daenerys.
"I was surprised that it happened because just based on last year, I know that our community is super progressive, you know?" Kippins told me. "Just a little surprised that it happened at the con but at the same time not surprised because it's just typical behavior, unfortunately."
(Kippins and I participated on a panel together later in the day and got to know each other throughout the convention.)
She tweeted about the incident, and a few hours later, that Daenerys cosplayer apologized to her. Of the interaction, Kippins said that the cosplayer immediately realized that she shouldn't have made the comment and realized she made an error in judgment; Kippins also noted that the Daenerys cosplayer "also said the light went out of my eyes when she said it."
Kippins noted that although it was the first time she experienced such a high-profile instance of racial insensitivity, it's something she deals with regularly. But she appreciated how many other people approached her about it after the fact who remarked on the "ridiculousness" of the situation and others who apologized for not speaking up. Although it happened in her first panel of the convention, Kippins—who was a first-time panelist at Con of Thrones—ultimately had a positive experience.
"It didn't last long," Kippins said of her reaction to the experience in the immediate aftermath. "I mean honestly, because everyone's reaction was so 'WTF,' you know, that I felt not alone, which was all I needed. I needed that validation that I'm not being overly sensitive or anything like that: No, that was a genuine 'WTF' moment and everyone was able to recognize that. So I felt very comfortable. It was like, I am definitely with my people."
…
Fans may be unwaveringly supportive, but there was some second-guessing now that our beloved series is winding down.
At a panel titled "How Game of Thrones Changed the World of Television," the panelists highlighted the fact that Game of Thrones—while a high-budget fantasy series—wasn't designed to become the prestige TV hit that it is; at the time, Watchers on the Wall's David Rosenblatt argued, Boardwalk Empire was supposed to fill that slot. But the show eventually found its footing and its massive audience and Game of Thrones episodes remain one of the few must-watch, non-sports events on TV. It's still something that fans are dissecting scene-by-scene. (Many of the panels I saw or appeared on could have easily gone on for another hour.)
Love and frustration were felt all over the Hyatt Regency, particularly as the conversation segued toward The Winds of Winter. The debate over whether Martin had to finish the books that he struggled to write (for a myriad of reasons) has gone on for years, with some going to extremes to ask Martin—whether he's watching football, going to one of the few conventions he allows himself to attend, or even mourning the loss of a beloved pet—why he isn't writing the book. And as Sibel Kekilli, who played Shae on Game of Thrones for four seasons and developed a friendship with Martin, told the crowd during her spotlight panel, that sentiment extended to her own social media whenever she posted Instagram photos of her spending holidays at Martin's home.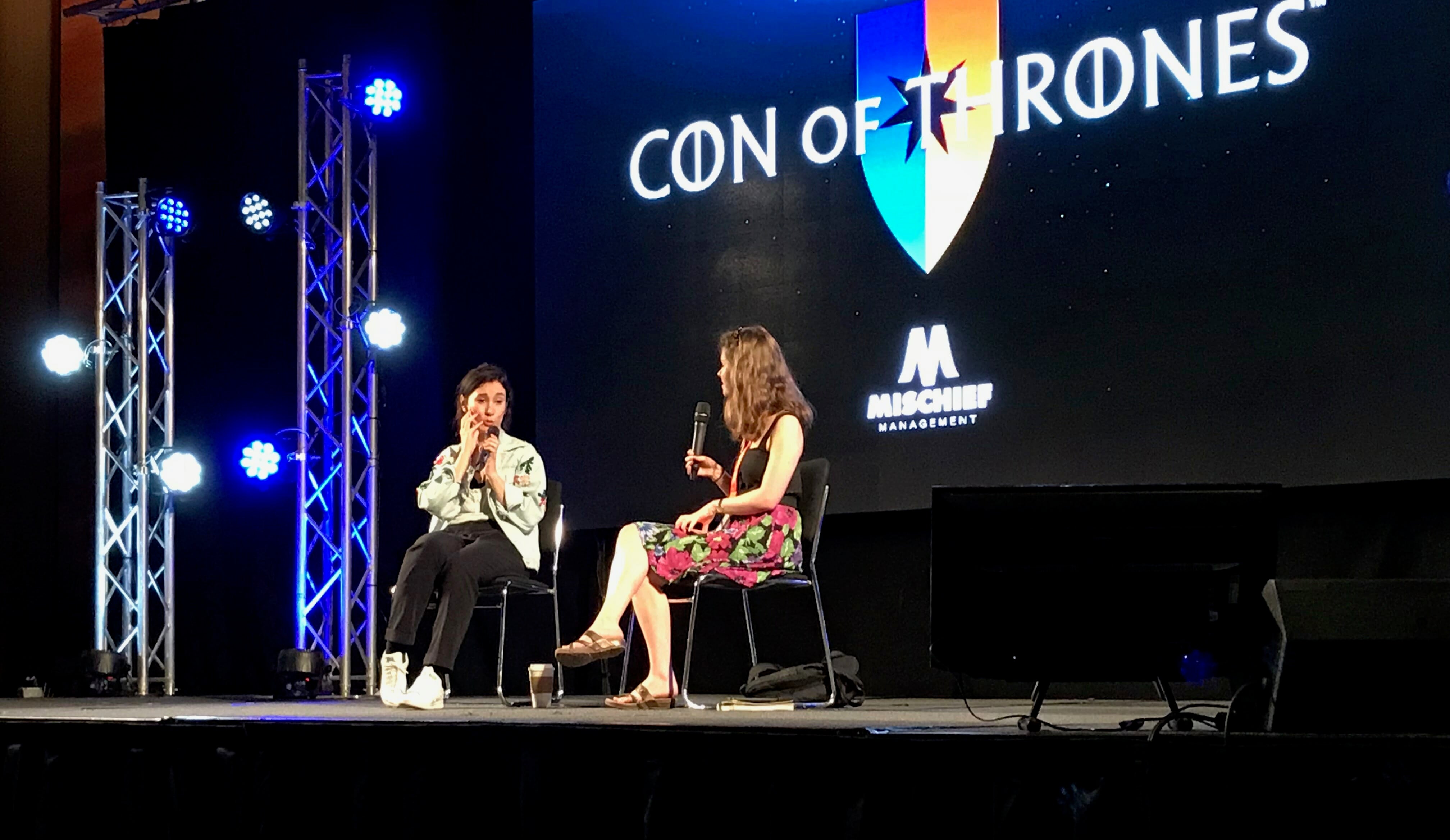 "People are mean," Kekilli said. "People ask [in Instagram comments], why is he celebrating Thanksgiving? Why is he celebrating Christmas? … I understand people, but I respect that and I feel that he is not feeling comfortable [talking about The Winds of Winter]."
The Game of Thrones fans I encountered over the weekend didn't feel that Martin was obligated to finish his fantasy epic, even as I participated on a panel debating the very subject—which turned into a more layered conversation about his work and legacy as we discovered we were all on the same side. (Everyone hoped that he would finish the series.)
But that doesn't mean fans couldn't laugh at the situation. One person wore blank paper and cosplayed as "all of the pages of The Winds of Winter that George R.R. Martin has written." He was a big hit.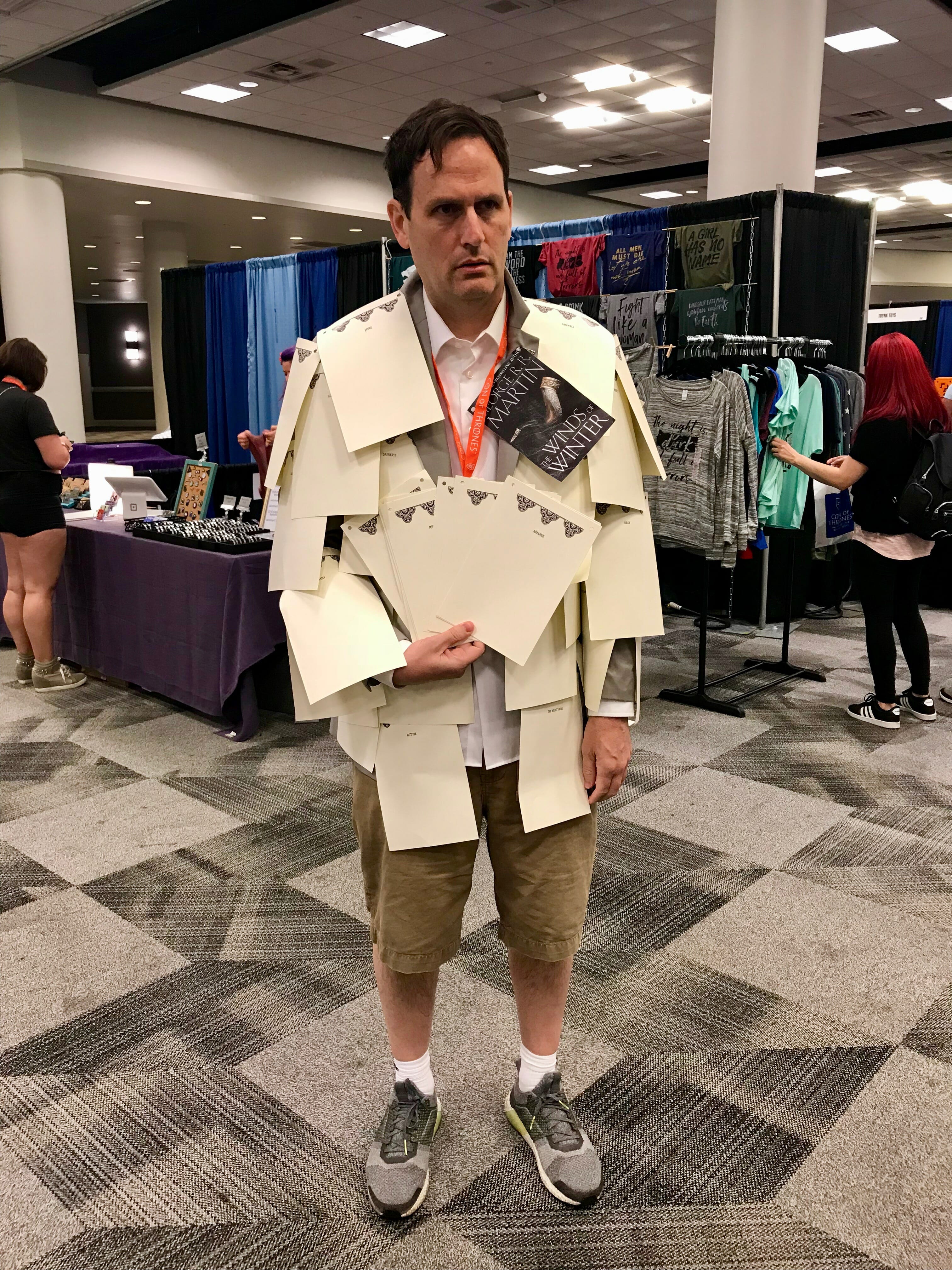 Back at the Great Debate panel, euphoric with the glory of young love, the audience resumed debating the best lover in Game of Thrones. With time running out, Robinson, Gonzales, and Miller put the candidates who made the cut to a bracket-style faceoff determined by cheering.
Like many of the other Great Debate panels, there were plenty of surprise victors, match-ups too close to call, and the unexpected. (Todrick Stark actually made it pretty far.) Justin, the person who proposed to his now-fiancée mid-panel, made it all the way to the final round as real-life love appeared ready to grab the mantle of Game of Thrones' best lover.
In the end, Justin lost to fan-favorite Oberyn Martell. But even though the Dornish Prince won it all, the proposal showed the might of our tribal fandom. If this Con was an existential assessment of where we go from here, it's clear the answer is: onward to Con of Thrones 2019, come what may.