In late June, Colleen Ballinger released what should have been a video addressing the numerous allegations against her from former fans. Instead, she pulled out a ukulele and blamed the "toxic gossip train."
Ballinger, whose massive YouTube empire rests on alter ego Miranda Sings, is now seeing an unprecedented unraveling of that empire, led by her former fans. Here are all the allegations that have surfaced against Ballinger so far.
Allegations of grooming and inappropriate behavior: June 2023
Miranda Sings has been around since 2008, so Ballinger is truly one of the first big YouTubers to still be active and doing the same schtick: a teenage girl who is annoying and a bad singer but has a lot of confidence.
Her fanbase was largely kids in middle school or high school, who packed her live shows and vied for her attention online. But many of those fans are now adults. And they have reassessed the relationships and experiences they had with Ballinger. 
In early June, Adam McIntyre resurfaced allegations about Ballinger's behavior, after YouTuber KodeeRants posted a video about leaving the fandom and included messages from a Twitter group chat called "Colleeny's weenies."
McIntyre first brought up the allegations in 2020, when he accused Ballinger of sending him a bra and women's underwear, and said she exploited him for content as a minor. He experienced backlash at the time and told Rolling Stone that over the last three years he was harassed and doxxed as a result. 
Ballinger initially addressed McIntyre's claims in May 2020, saying sending him the lingerie was "stupid."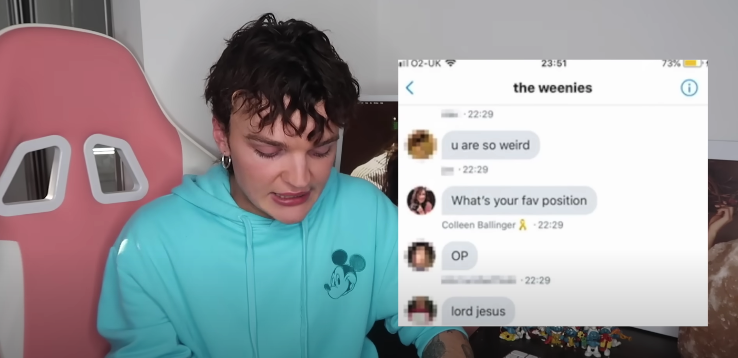 In June 2023, he posted more screenshots from the "weenies" group chat with Ballinger, and McIntyre says that among other things, she asked them their favorite sexual position and if they were virgins. McIntyre also claims Ballinger would confide in them about her then-husband Joshua David Evans, and claim he was abusive, in an attempt to turn fans against him. 
Trisha Paytas' experience with Ballinger
Former fan Johnny Silvestri claimed that working as an assistant on Ballinger's 2018 summer tour was a negative experience, and posted messages that show nude photos of fellow YouTuber Trisha Paytas were allegedly shared in the chat by Ballinger, and shown to minors. "We were all between 14 to 17 and they would play favorites," Silvestri told Passionfruit of his experience in the fandom.
Paytas addressed their relationship with Ballinger in a July 3 video, saying "She doesn't exist to me anymore." Silvestri also alleged Ballinger and her friends had "viewing parties" of Paytas' OnlyFans content. On July 8, Paytas said that their podcast with Ballinger, Oversharing, which debuted in May, would be ending.
Inappropriate live interactions
Other fans reconsidered the experiences they had at Miranda Sings live shows. TikToker @graypes posted about being called up on stage when they were 14 and Ballinger referring to their outfit as "porn" in a recurring segment of the live show. Another person claimed she was called up for the porn segment when she was 16 as part of the Miranda Sings Netflix special taping and similarly body-shamed.
A former fan named Becky posted a video of them at 16 to TikTok. It shows her lying on stage while Ballinger spreads her legs as part of something called the "yoga challenge" during a 2019 live show. She says she felt "exploited."
A 2016 Miranda Sings video, in which she does a dance tutorial with a 13-year-old JoJo Siwa and tells her, "You are not supposed to dress porn when you are dancing," was also called out.
Ballinger's brother and ex-husband
Ballinger's brother Trent has also been accused of inappropriate behavior. A former fan named Oliver, who identified as a girl when he joined the fandom in 2018, told Rolling Stone that Trent started messaging him and asking for photos when he was 13 and Trent was in his thirties. Oliver also posted messages on Twitter, which allege to show Trent asking more sexual questions and fixating on their sexuality.
After Ballinger posted her musical non-apology on June 28, her ex-husband claimed on Twitter that he "was gaslit too" during their relationship and expressed support for the victims. He posted an apology to Silvestri on June 15, after Silvestri accused Evans of inappropriate behavior as well.
Racist content and workplace allegations
A video of Ballinger allegedly in blackface performing "Single Ladies" at a live show resurfaced, though her legal reps told Variety it was actually green paint from a Wicked performance she apparently did at the time. Ballinger included the unlisted video as a QR code in her 2018 memoir My Diarrhe, according to YouTuber Paige Christie.
April Korto Quioh, who worked on Haters Back Off!, Ballinger's 2016 Netflix series, wrote about feeling uncomfortable with the incestuous overtones of the show, and the fact that the main cast was all white, something she says Ballinger defended. She says she was also the only Black person in the room:
"I recall overhearing her once brag that a creator was being 'cancelled' for saying the n-word (and if you think she went with 'n-word' instead of hitting that hard 'r' then you haven't been paying attention) and that she would never be stupid enough to get caught doing something like that."
Quioh also said that during auditions for the show, Ballinger made an insensitive comment about a dark-skinned Black actor.
In 2020, Ballinger apologized for the "racial stereotypes" in a 2006 video that resurfaced, in which she and her sister Rachel did Latina characters. A YouTube account posted a video claiming that Ballinger edited a 2014 Jason Derulo "Talk Dirty to Me" parody video to remove Asian stereotypes. A now-deleted 2012 "Gangnam Style" parody video was also called out as insensitive.
Miranda Sings tour cancelation
The remaining dates on Ballinger's summer Miranda Sings tour have been canceled, according to Ticketmaster.
Her ukulele song, now called "Toxic Gossip Train," was reportedly uploaded to CD Baby as well as iTunes and Apple Music. Ballinger's legal reps denied allegations that she uploaded the song to claim copyright or monetize it.

We crawl the web so you don't have to.
Sign up for the Daily Dot newsletter to get the best and worst of the internet in your inbox every day.