After being accused of "grooming" and making sexual advances on underage girls, comedian Chris D'elia released emails with three accusers to prove he asked their age.
In the emails, D'elia allegedly asked the three girls how old they were and turned one down when she said she was 16.
One of the emails D'elia released was an exchange with Colleen Riley, who initially shared a screenshot of D'elia asking her to "make out" with him on Twitter. The full email seemingly shows that after Riley said "I'm 16," D'elia replied "Oh sh*t. I thought you were at my show. Gotta be 18 [to get into that] at least. My bad. Bye," according to Page Six.
Riley allegedly cropped D'elia's last email out of the screenshot she shared on Twitter.
After sharing D'elia's emails with the press, a representative for D'elia told Page Six "It is important that the public has all the information to make an informed decision on the coordinated attacks on Chris D'elia […] these messages help prove that all of Chris's relationships were both legal and consensual."
Other emails D'elia released do not prove what happened after the exchange but do prove he seemingly asked some of his accusers how old they were. It should also be noted that D'elia allegedly made sexual advances on many of these girls before asking how old they were, not after.
Countless women recently came forward on Twitter accusing D'elia of sexual misconduct when they were underage, or barely legal. D'elia has been accused of requesting and sending nude photos, pulling his penis out in front of women, and blackmailing women with their own nude photos when they no longer wanted to talk to him.
Many young women shared their stories with popular Twitter account SheRatesDogs. The allegations and screenshots were detailed in a lengthy thread.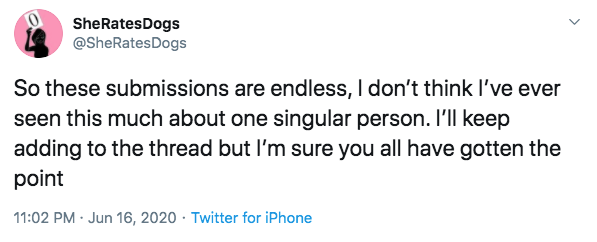 An article in the Los Angeles Times detailed four women's stories further. Two of the women interviewed were in high school when D'elia allegedly pursued them. The other two were 19.
"I was excited when [D'elia] first started messaging me," Simone Rossi, who first shared her story on Twitter, told the LA Times. "I was obsessed with celebrities and always wanted to be on E! News. I wanted to brag about it to my friends. But it took me years to understand that [his behavior] was predatory."
D'elia, who was dropped by his agent at CAA, denied the allegations made against him in a statement to TMZ.
"I know I have said and done things that might have offended people during my career, but I have never knowingly pursued any underage women at any point," D'Elia said. "All of my relationships have been both legal and consensual and I have never met or exchanged any inappropriate photos with the people who have tweeted about me. That being said, I really am truly sorry. I was a dumb guy who ABSOLUTELY let myself get caught up in my lifestyle. That's MY fault. I own it. I've been reflecting on this for some time now and I promise I will continue to do better."
READ MORE: