Charlie Morgan, the ball boy Chelsea's Eden Hazard appeared to kick in the torso during a game against Swansea, is speaking out. 
With Chelsea two goals down Wednesday night, Morgan, the son of a Swansea director, fell as Hazard tried to retrieve the ball from him. Hazard then tried to kick the ball from under Morgan, but the video appears to show something more violent: Hazard loses his cool and kicks the 17-year-old instead.
The kick caused a major debate online as players including Michael Owen and Phil Neville, and even Deputy Prime Minister Nick Clegg, weighed in on whether Morgan, Hazard, or both were at fault.
The referee sent Hazard off as players from both teams tended to Morgan, who was left with tender ribs. Of course, it was all caught in a video, which went viral shortly after. 
Morgan, whose Twitter followers rocketed to more than 102,000 following the incident, spoke about the scuffle just after midnight GMT Friday.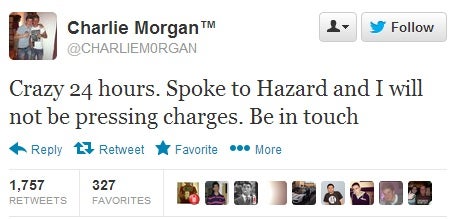 Hazard apologized for his part in the incident. Despite Morgan's insistence that he would not press charges, the BBC reported that South Wales Police are investigating and members of the public made a number of calls to police.
However, Morgan was accused of deliberately wasting time after Swansea went into the game with a two-goal lead from the first leg of the Capital One Cup semifinal. Just a couple of hours before the match, Morgan tweeted: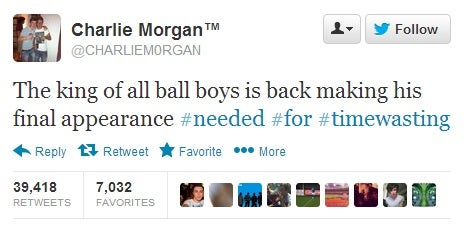 Photo via skynews/YouTube