Sisters Dixie and Charli D'Amelio are massively popular on TikTok, and their ascendance on the app happened quickly. That's fairly common on TikTok, but Dixie has now addressed a conspiracy theory about why they got so popular.
The TikTok account spicyopinions collects anonymous unpopular or controversial opinions about trends and personalities on the app. Last week, one post cast suspicion on 16-year-old Charli's "sudden rise to fame" and wondered how someone could now have close to 90 million followers in less than a year. It goes on to allege that the sisters' popularity is tied to D'Amelio's father, Marc, a Republican who ran for a Connecticut State Senate seat in 2018 but lost and that he plans on using their fame to help draw in younger voters in a "future election."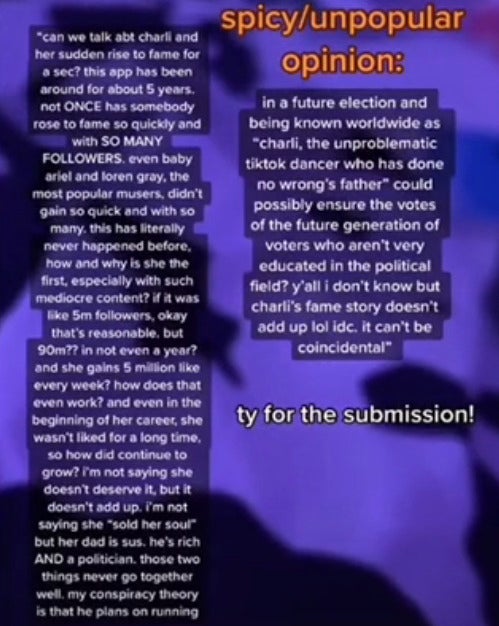 Earlier this year, Dixie, 19, denied ever supporting President Donald Trump, after a 2017 photo of a Trump-Pence campaign sign circulated. She simply commented "lol what" on the post. Other commenters alleged that their dad is buying followers for them, or that he is an investor in TikTok, though there's no proof of either claim.
Marc D'Amelio is also on TikTok, where he has 7 million followers. He's inserted himself into some of Charli's relationship drama, and both her parents appear in her videos. His visibility isn't that unusual; YouTube dads have become TikTok dads. (And the family recently started its own YouTube channel.)
But TikTok is in a transitional stage: A deal (not a sale) was allegedly reached with Oracle over the weekend to take over U.S. operations, but it's still not entirely clear what role the tech company will play. Oracle's founder, Larry Ellison, is a vocal Trump supporter and this "deal" doesn't seem to address what Trump claimed was the main issue with TikTok: security.
While many users celebrated TikTok being "saved," others were left wondering what Oracle is.