Thanks to Barbenheimer, movie theaters are busier than they've been in years. Yet there's shockingly little hype for the next superhero blockbuster, Blue Beetle.
Blue Beetle fans already accused Warner Bros. of failing to promote it properly, prioritizing the beleaguered Flash over DC's first Latino-led film. Combine this with 2023's palpable superhero fatigue and the Hollywood strikes, and it's easy to see why Blue Beetle's flop status became a meme.
Amid jokes about the film's dire box office forecast, cinemagoers have started posting evidence of its nonexistent ticket sales.
"Look at the seats here guys, this is Blue Beetle opening night," said one viral TikTok labeling Blue Beetle the "biggest flop ever." "There's no one in this theater besides two or three people."
You'll find similar posts on X, sharing screencaps of empty auditorium seating charts. It's the opposite of the Oppenheimer phenomenon, where a three-hour historical biopic achieved weeks of sold-out IMAX screenings.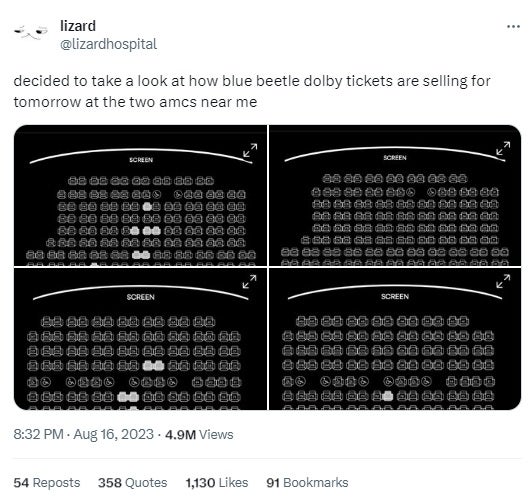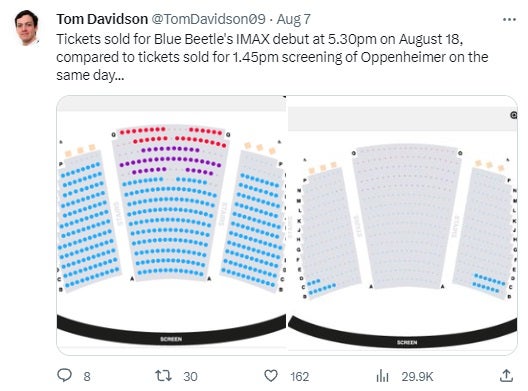 Among all these images of empty movie theaters, we only found one person posting a crowded screening: A Los Angeles local who cited "the A-List crowd's desire to watch literally every new release."
Why superhero fans care about Blue Beetle's box office
In some ways, this obsession with box office success is a little weird or even mean spirited. Ticket sales aren't connected to artistic quality, and they certainly shouldn't impact your enjoyment of a film. In the past, normal moviegoers just wouldn't express this level of interest in studio marketing.
But this fascination is an inevitable result of modern blockbuster promo strategies, which encourage fans to care about box office stats.
People welcomed the success of films like Black Panther and Wonder Woman as a political milestone, indicating a public desire for diverse representation. And Spider-Man: No Way Home's commercial popularity led to a ridiculous Oscar campaign, predicated on the idea that massive ticket sales deserve awards recognition. The philosophy of "vote with your wallet" spawned a culture where fans view studio profit as a personal victory.
In that context, it makes sense for people to pay similar attention to films that flop – whether they genuinely want Blue Beetle to succeed, or if they just view its failure as a juicy source of schadenfreude.


We crawl the web so you don't have to.
Sign up for the Daily Dot newsletter to get the best and worst of the internet in your inbox every day.