Out on August 18, the DC Comics adaptation Blue Beetle is the most underhyped blockbuster of 2023.
With a budget of $120 million, it's the franchise's first film with a Latino lead. But fans are worried that Warner Bros. is failing to promote it properly, overshadowed by other summer releases like The Flash, Barbie, Oppenheimer, and the new Indiana Jones and Mission Impossible sequels.
The solution? Invent a fake publicity campaign. Inspired by the bright red Spider-Verse burger, the star of this fan-created PR push is a (completely nonexistent) Blue Beetle burger.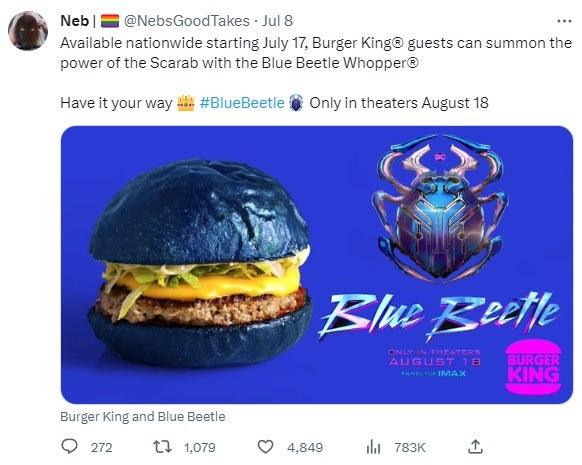 "Announced" by Twitter fan account @NebsGoodTakes, the Burger King Blue Beetle burger is one of several fake tie-in products for the movie, including a soundtrack album featuring Bad Bunny and Blackpink (an ideal target for K-pop Twitter), and a Nintendo game. You'll also find photoshopped promo images tying into other summer blockbuster memes like Barbenheimer: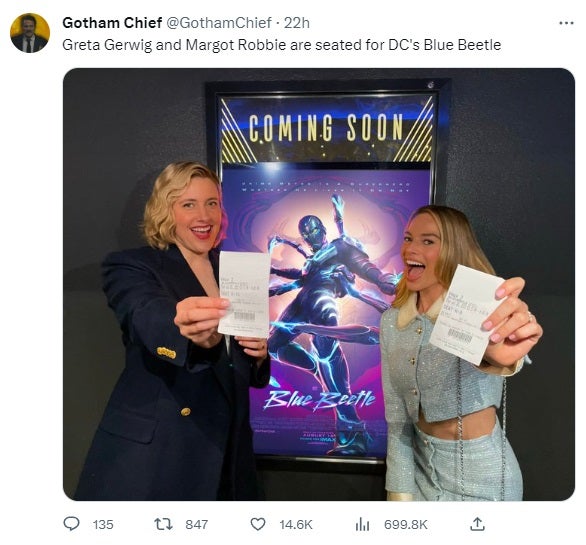 The buzz around Blue Beetle resembles a more well-meaning version of Morbius fandom. People do want this movie to succeed, but there's an ironic air to the semi-fake hype, with fans pre-emptively acknowledging Blue Beatle's flop status and joking about it having a miniscule advertising budget.
The reactions range from fans pointing out that DC franchise boss doesn't even know when the next trailer will arrive, to sharing images from an alternate universe where Blue Beetle is being projected across the NYC skyline, receiving White House press conferences, and appearing at the Avengers theme park.
But mostly, people seem obsessed with the burger. It's now taking off on TikTok, with fans sharing Blue Beetle whopper ads with an audience who may or may not realize it's a joke.
Blue Beetle's low-energy marketing campaign may be because Warner Bros. wanted to avoid competition with its other two big summer releases, The Flash (June 16) and Barbie (July 21).
But even if the official press campaign heats up over the next few weeks, Blue Beetle's future doesn't look great. Live-action superhero movies are having a difficult year at the box office, and Blue Beetle suffers from poor name recognition outside of DC Comics fandom. Warner Bros. still has an uphill battle to make audiences aware this movie actually exists.


We crawl the web so you don't have to.
Sign up for the Daily Dot newsletter to get the best and worst of the internet in your inbox every day.