What does a national protest look like on the Internet? It looks a lot like the outrage the people of Turkey are feeling today over the death of a 15-year-old-boy. And as outcry over the Internet grows, so are the on-the-ground protests in Istanbul.
Hashtags, slogans, and headlines across Turkey today are proclaiming that Berkin Elvan Ölümsüzdür—Berkin Elvan will live forever—after citizens learned that the 15-year-old had died after spending 269 days in a coma as a result of injuries sustained during last year's political protests.
His family announced the loss this morning over Twitter: "To our people: We lost our son Berkin Elvan at 7 a.m. in the morning. Condolences to us all."
Elvan is the eighth person to die as a result of the Gezi Park riots, a conflict that began last May as a protest over urbanization in Istanbul that spilled over to the rest of the country. Then 14-year-old Berkin Elvan was on his way to buy bread in Istanbul on June 16 when he was struck in the head by a teargas cannister issued by riot police.
Doctors reportedly claimed that in order to cause the injury, police had to have fired the teargas directly at Elvan from close range, using the cannister itself to injure Elvan. The Humans Rights Watch has documented a number of similar claims by protesters of similar illegal use of the cannisters as weapons.
But Elvan wasn't a political activist. He was just a boy on his way to the grocer's, and his death seems to have united all of Turkey in mourning:
The text above depicts Turkish Prime Minister Recep Teyyip Erdogan next to a picture of Elvan. Erdogan is quoted as saying "I gave police the orders" to begin the offensive against the protestors in May 2013. (Photo via faunriz/Instagram)
Elvan's death comes at an equally tense time for Turkey. On the heels of last year's protests, the Turkish government began to apply pressure on social media, which sparked new protests in February. Prime Minister Recep Teyyip Erdogan had only just backed down earlier this week from threats to shut down Facebook and YouTube when the Internet exploded in a new wave of outrage over Elvan. Turkish citizens have taken to the web to post artwork and video tributes to Elvan.
"Our spirits are very tired," writes dilarayazzz on Instagram, posting art of Elvan wreathed in sheaves of wheat: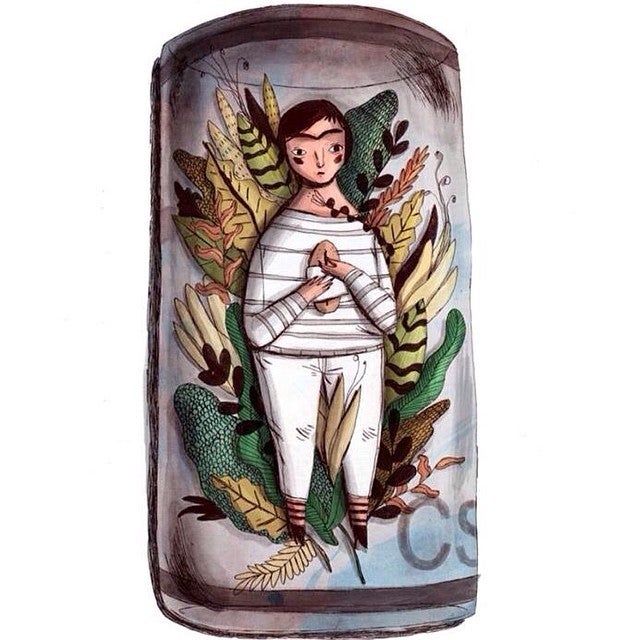 Illustration via dilarayazzz/Instagram
The outrage is manifest on the streets of Turkey as well. One Twitter user captured a poignant message in honor of Elvan's fateful trip to buy bread:
A grocery "The breads are free today, we have lost #BerkinElvan" (berkin was shot while he was going to buy bread) pic.twitter.com/utWcdenb5Y

— z?? (@zy_bia) March 11, 2014
As the groundswell of sorrow over Elvan's death grows, police are facing protesters once again. Reports coming from Ankara show protesters gathering in the streets:
Cops have started to attack protesters @ Kizilay, #Ankara #BerkinElvan #ACAB pic.twitter.com/wTu0w857tQ

— AC (@Unidadpopular_s) March 11, 2014
ODTU students block main road in #Ankara, protesting #BerkinElvan's death. Police fired tear gas. Pic by @bektasumit pic.twitter.com/yRk9O6JHnh

— Humeyra Pamuk (@PamukHum) March 11, 2014
Thousands of students in #Ankara have started marching in protest of the death of #BerkinElvan https://t.co/yIz10JdaR2 pic.twitter.com/RuGukPapVU

— Selin Girit (@selingirit) March 11, 2014
And just as before, the movement is spreading.
People of #Erzincan out on the streets, demonstrating. #BerkinElvan pic.twitter.com/cUXiVCUwqt

— Occupied Taksim (@OccupiedTaksim) March 11, 2014
It seems as though the death of a boy who was an innocent bystander to the 2013 protests is now sparking even more political unrest from the citizens who want to honor him.
Photo via unidadpopular_s/Twitter