A popular fan account for actress Ana de Armas has returned, after going dark earlier this week.
The Twitter account Ana de Armas Updates posted a statement on Wednesday, reiterating that it is a fan account, while also accounting for some of the controversy and hate that arose over paparazzi photos of de Armas and Ben Affleck walking their dogs or getting Dunkin':
"The past few months have been a whirlwind ever since I applied a tone of constructive criticism to posts of candid photographs. This tone was so that I can take control of a narrative, even though it is not mine to begin with, and make people know that, as an Ana de Armas fan, I am aware that she should not have allowed herself to be portrayed by the paparazzi in an unfavorable light during our current moment in time." They also took responsibility for "allowing a breeding ground of bullying, misogyny, and hate speech."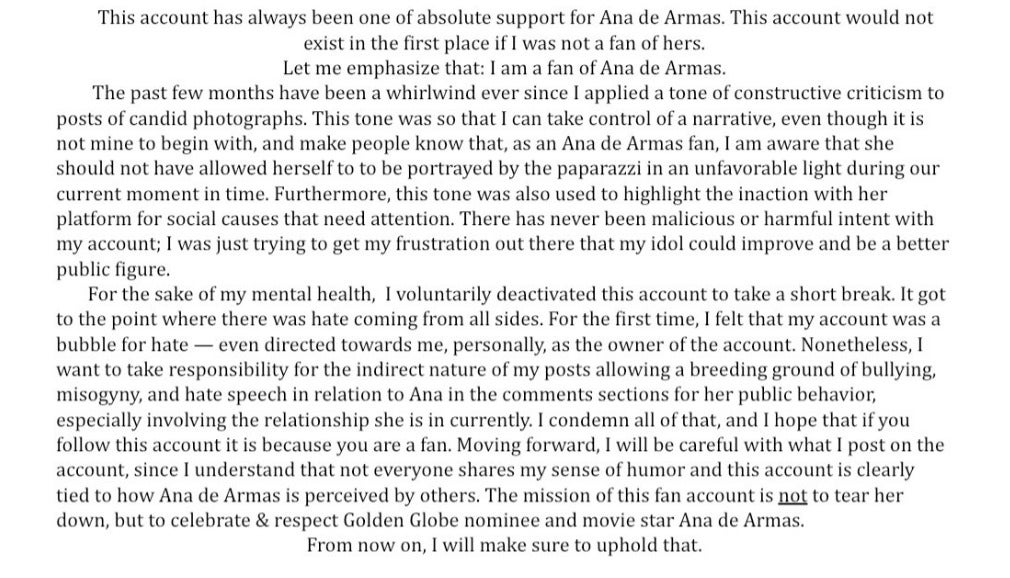 Back in April, de Armas blocked the account, after it started posting paparazzi photos of her and Affleck on walks, though with more pointed critiques of the couple's pandemic etiquette. While many stan accounts offer unconditional praise for the objects of their affection, this account used a bit of humor in a difficult time, which helped draw in thousands of new followers. Even de Armas got in on the joke, using a cardboard cutout to thwart the paps in June. It became a form of entertainment.
The owner of the account stated they "voluntarily deactivated" it earlier this week for "the sake of my mental health" and that they'll be "careful" with future posts, "since I understand that not everyone shares my sense of humor and this account is clearly tied to how Ana de Armas is perceived by others." A more recent post includes photos of de Armas moving out of her Venice home with Affleck's help.