This review is spoiler-free.
Veronica Mars season 4 is a rare revival that lives up to the original. Following 2014's Kickstarter-funded movie, it brings back the show's neo-noir wit and tightly plotted mystery writing, without succumbing to the gloopy nostalgia we saw from more disappointing revivals like Gilmore Girls.
On Friday, the series was surprise-released by Hulu during San Diego Comic-Con.
Veronica Mars

RELEASE DATE:
7/19/2019 [released a week early at San Diego Comic-Con]
SHOWRUNNER:
Rob Thomas
STREAMING:
Hulu
Twelve years on from season 3, the cult classic series is as sharp and witty as ever.
Now in her thirties, Veronica (Kristen Bell) still lives in the sunny beachfront town of Neptune, co-running Mars Investigations with her dad Keith (Enrico Colantoni). She and her high school boyfriend Logan Echolls (Jason Dohring) are finally in a stable relationship, trading deadpan banter and living out the happy ending fans always wanted to see. However, that relationship is our first hint that while Veronica's adult life resembles our fond memories of her teen years, that isn't necessarily a good thing.
In many ways, Veronica has barely matured since her days as a precocious crime-solver at Neptune High. Her tough nature and snappy comebacks are a successful coping mechanism, but while it's fun to see her swap cute banter with her dad, it's less cute when she's using it to dodge serious issues. Logan was the volatile bad boy of Veronica's youth, but with regular therapy sessions and a responsible job in Naval Intelligence, he's actively working to tackle his issues. Meanwhile, Veronica refuses to acknowledge her own damage, using sex and humor to avoid discussing her feelings. In a life beset by shocking revelations and violent attacks, you can see why she'd want to stay in her comfort zone. But that just a nice way of saying she's stuck in a rut?
Season 4's big mystery is a bombing during Spring Break. The town is overrun with obnoxious frat bros and party girls, providing an essential boost to the local economy—and a rich seam of potential suspects and motives. Was the bombing a personal vendetta? Is it connected to Neptune's property market, with real estate mogul Big Dick Casablancas (David Starzyk) befriending a charming criminal fixer played by J.K. Simmons? What about the PCH biker gang, resurrecting Veronica's complicated friendship with Weevil (Francis Capra)? Or is it one of several newcomers with skin in the game, like a quirky pizza delivery guy (Patton Oswalt) or a charismatic nightclub owner played by Killing Eve's Kirby Howell-Baptiste? Not to mention my personal new faves, a pair of Mexican cartel hitmen (Clifton Collins Jr. and Tyler Alvarez) who'd feel right at home in a Coen Brothers movie.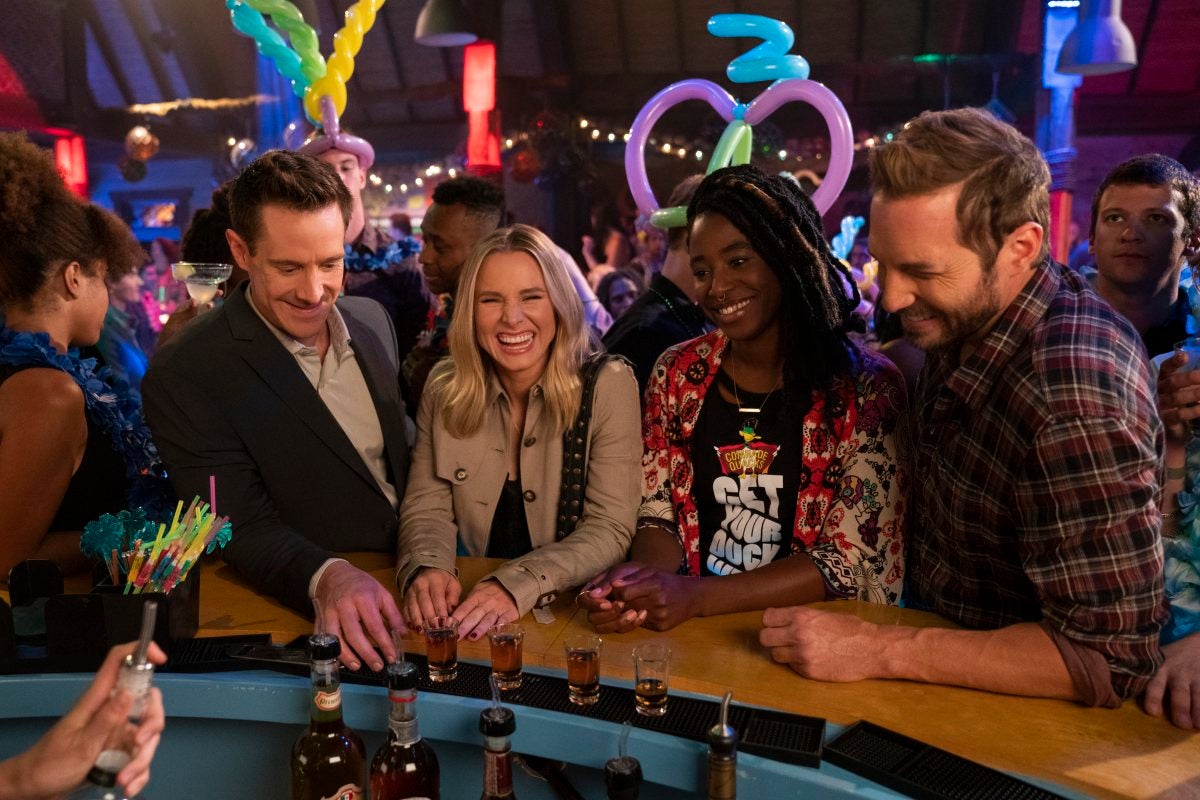 Led by showrunner Rob Thomas, the writers (Heather Regnier, David Walpert, Raymond Obstfeld, and Kareem Abdul-Jabbar) deliver one of the sharpest whodunnits in the business. Every stomach-lurching twist and intriguing new clue is perfectly pitched and timed, balancing darker moments with Keith and Veronica's trademark wit. Like the original show, season 4 offers juicy material to the smallest of roles. We're also treated to a crowd of returning cameos, none of whom feel like unnecessary fanservice. It makes sense for Neptune fixtures like Vinnie the sleazy detective and Cliff the honey-voiced lawyer to stick around, sharing screentime with new arrivals like Matty (Izabela Vidovic), a resourceful teen who calls back to Veronica's early years.
This eight-episode miniseries made me reevaluate my thoughts on Jessica Jones, a detective show that shares similar themes but ultimately pales in comparison. Veronica Mars packs twice as much plot and personality into its 55-minute episodes, with a crime story to rival Agatha Christie, and a holistic view of Neptune's messy community. The writing is razor sharp, with Bell, Dohring, and Colantoni building on characters they've played for years, a wryly cynical trio who learned long ago how to quip their way through trauma.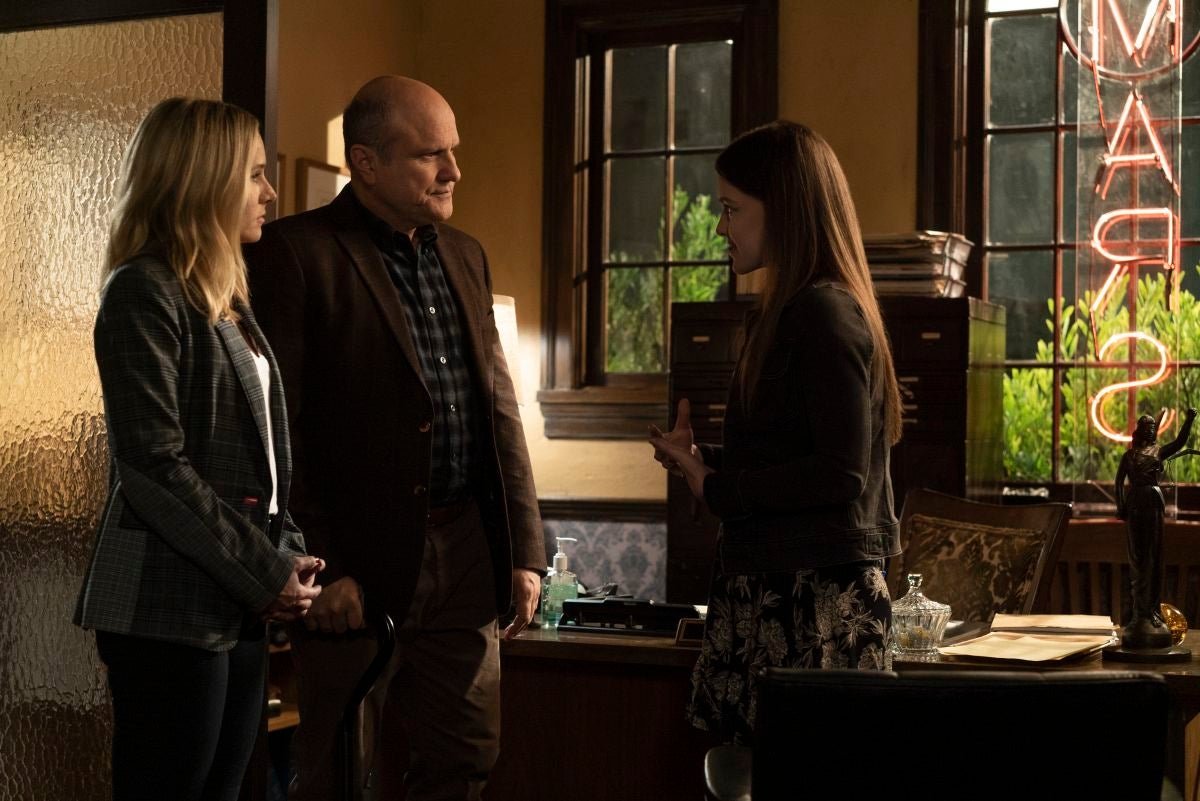 Bell is a rare TV star with more than one truly iconic lead role under her belt, and it's interesting to see the threads linking Veronica with her recent work as Eleanor Shellstrop in The Good Place. Eleanor initially felt like the kind of selfish dipshit Veronica skewered in high school, but they both share dark, biting humor that disguises a deep well of pain, trying (and often failing) to do the right thing.
In 2019, Veronica's flaws are more painful to witness because she's meant to be a grown-up. We love her because we know her and because she's a rare spark of intelligence and moral backbone in a stupid, corrupt world. But she can also be cruel and callous, which makes me wonder how new audiences will view her dysfunctional adult life.  Season 4 works surprisingly well as a standalone show, even if newcomers miss out on the rich backstory of Neptune's background cast.
TV revivals are a notoriously mixed bag, with certain old favorites—Gilmore Girls, Arrested Development—either outstaying their welcome or earning a dubious response from fans. The new Veronica Mars works because it feels like a natural progression instead of a nostalgic attempt to relive the hits. The neo-noir tone is the same, as are the themes of small-town corruption and class divides, but season 4 isn't a time capsule of a show we loved in 2005. Its main characters have aged and evolved with the times. We watched them struggle with grief, violence, and injustice 15 years ago, and they didn't emerge unscathed. They make for an altogether more mature show than we remember, but it's still as addictive as ever.
After watching the finale, I can't decide if I'm hungry for season 5 or worried that they can't possibly deliver something as good as this again.
READ MORE:
This review has been updated.
Want more reviews and interviews from Gavia Baker-Whitelaw? Sign up here to receive her biweekly geek culture newsletter.