When Hasbro launched an online Transformers poll last year to create the first fan-built robot, the result sparked an interesting and heated discussion in the fandom.
The majority of fans chose to create a female robot called Windblade, who would get her own toy and appear in the IDW Publishing comic books. While female Transformers have appeared in the franchise before, they are rare compared to their male counterparts. Some fans upon seeing Windblade felt there was no need to specify her gender. These fans argued that the robots are gender-neutral, ignoring the fact that the majority of other Transformers look and sound male.
Windblade, as a result, has become a sign of hope for female fans who want to see more of themselves—as much as robots allow—in the franchise. But even more is riding on the new Windblade mini-series by IDW. That's because it's the first Transformers comic to have an all-female creative team featuring artist Sarah Stone and writer Mairghread Scott. The Windblade writer has a lot of credibility in the Transformers fan community. Not only is she the first woman to officially write a canon Transformers comic, but she has written episodes for The Hub's animated TV series' Transformers: Prime and Transformers: Rescue Bots. For better or worse, the team's gender added to the anticipation surrounding the introduction of Windblade.
"It certainly added a bit more pressure," Scott told the Daily Dot. "But when it came to writing Windblade, it just made it that much more important to me that she be a complex, three-dimensional character (funny, brave, naïve, doubtful, hopeful, the whole range.) Sarah and I wanted to put our stamp on the book and I think we've made sure it stands out on the racks."
While fans visually designed Windblade, her personality and every other aspect of her character were left to Scott to develop. Before the current Windblade miniseries, the character appeared in the Dark Cybertron storyline as a new Transformer arriving on Cybertron. Scott knew she would come in at that point and came up with a plan.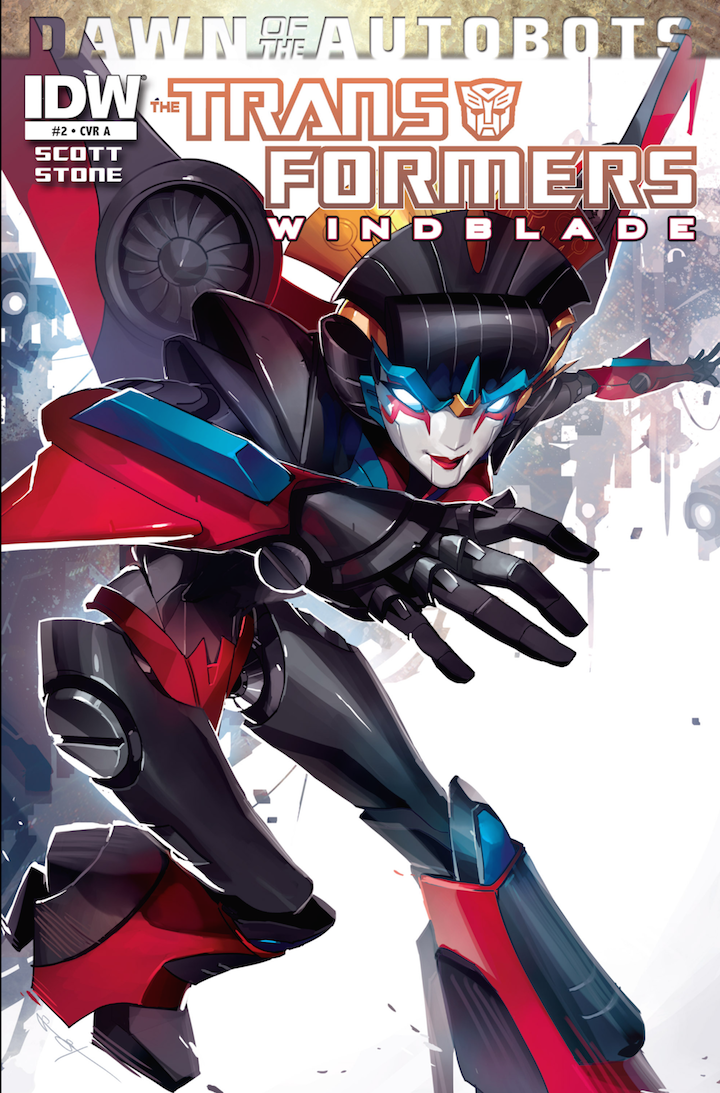 "My strategy was to backtrack her design into a character. Work from the outside in, as it were. It was pretty clear she had a very important, formal position. But, because I don't like any of my character's lives to be easy, I thought it would be more interesting to make that a major contrast in her. So Windblade became a very hopeful, youthful character trying to fill a role that's a little too big for her. Everything else built from there," she explained.
Two issues out of the four-issue miniseries have been released so far. It's not necessary to read other Transformers comics to get into Windblade. In fact, Scott said the comic can actually be a good introduction into the Transformers comics for fans new to the series and a jumping-on point for the Dawn of the Autobots arc. As for what readers can expect from the story, Scott told us readers should get ready for lots of feels.
"More than anything Transformers Windblade is about the journey Windblade herself goes through, so it's a very intense, personal story. But it was important to me that it also be a hopeful one. Windblade is a good person and the primary struggle of the book is how long she can stay that way and what that costs her and everyone else," Scott said.
Windblade's gender is not a focal point of the series, even though she's one of the only Transformers referred to as "she" in the comics. The only time anyone inquires about this is a brief, funny moment in Issue 1. Otherwise, gender is not important to the other Transformers, leaving no real reason to bring it up beyond what we may see of Windblade's past. Scott is more concerned with just writing the best story she can.
Of course that doesn't mean Scott is unaware of the importance of Windblade's character to the franchise and the fact that there have been few female robots. Her own comments about the history of female Transformers in the franchise have appeared in the spotlight, particularly how the only other canon female Transformer in the IDW series, Arcee, was forced to be female and was driven to violence as a result.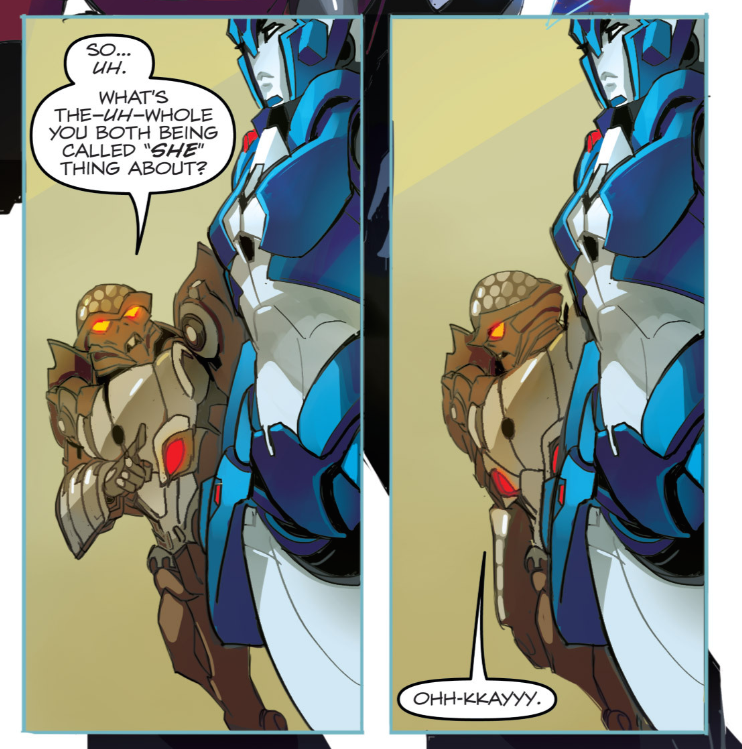 Scott told the Daily Dot that Hasbro has made an honest push to support Windblade and her creative team, and that she wouldn't try to justify or explain away the past.
"It feels great to be a part of Windblade's creation, and hopefully this is the start of something very positive for the brand, something that will keep it vital for generations to come," she said.
Despite the negative response from certain parts of the fandom, Scott feels the franchise has been more accepting of her than other professional women in comics. All too recently we've seen the kind of harassment women can face in the comics community.
"Something is seriously wrong with the way female professionals are treated in comics, particularly from the more anonymous portion of the fandom. Female friends of mine get death threats, assault threats, and have had people try to hack their financials just to punish them for working in this industry. They aren't prison guards! They're illustrators!" Scott said. "They shouldn't have to worry about their safety because they drew the wrong character. The fact that they do and that these actions have made it harder to get women interested in working in the field (and I know this from experience) disgusts me. It should disgust us all."
Scott told the Daily Dot this hateful fringe is largely absent from the Transformers fandom, and that there are many reasonable fans who don't like Windblade, which is fine. She describes the fans as wonderful, rational people and said she refuses "to let a group of fringe weirdos claim a power they do not have."
While there are only two more issue of Windblade planned at the moment, there is a hope that the miniseries may become a full, ongoing series. Considering Scott's vision for this new female character and an increasingly inclusive fandom, it would certainly be a powerful, positive statement for Windblade.
"I, personally, am working toward the future, and the future I want to see is one where more little kids, and grown men, and teenage girls—where more people like Transformers and get joy from it," Scott said. "It's not the grandest dream, but it's mine."
Art by Sarah Stone, screenshots by Lisa Granshaw via the IDW Publishing iPad app