You've probably seen Nathan Pyle's Strange Planet comics. Usually depicting two aliens discussing a human ritual or interest, the comics have spread like wildfire across Instagram, Twitter, and other sites over the last month. On Instagram, Pyle's official account for the series has 1.5 million followers. There's even Strange Planet merchandise for sale. But, as is now the tradition for all people who go viral on the internet, someone has discovered Pyle's old, problematic tweets. Yep, that's right, Pyle has been milkshake duck'd.
Early on Monday, Twitter user @anarchopupgirl shared a Jan. 27, 2017 tweet from Pyle in which he expressed support for the March for Life, an anti-abortion organization that plans annual rallies. "When I think of the #MarchForLife, I first think of the life story of my girlfriend, Soojin. I am thankful she was given the gift of life," Pyle wrote in the tweet, which included his then-girlfriend's social media post.
oh yikes, the cute alien comics dude is anti abortion https://t.co/1YcuW2DmmQ

— ⚑⚧︎ Anarcho-Chompette ⚧︎⚑ (@anarchopupgirl) April 8, 2019
So, yeah. It appears that Pyle, who creates cute comics about aliens, supports an anti-abortion organization. It didn't take long for people to react to the news on Twitter.
Some people used the illustrator's own work against him:
April 8, 2019
https://twitter.com/guyver3x/status/1115246091618988032
"It's a strange planet alright, when woman aren't encouraged to have control over their own body," Twitter user @3gingertea wrote.
it's a strange planet alright, when women aren't encouraged to have control over their own body.

— áurla (@3gingertea) April 8, 2019
The guy who makes those shitty one-joke alien comics is anti-abortion, thus validating my strategy of hating them from the beginning.

— big time dumb ass (@boring_as_heck) April 8, 2019
As some people pointed out on Twitter, Pyle's bio on every site notes that he "follows Jesus."
https://twitter.com/discoscientist/status/1115256501579464704
The comments on Strange Planet's Instagram posts are also receiving a lot of criticism from (probably now former) fans. "Unfollowing this anti-choice right-wing nut who thinks women are baby factories. Goodbye," one comment on the account's most recent post read.
Some of the more critical comments appear to have been deleted since this morning.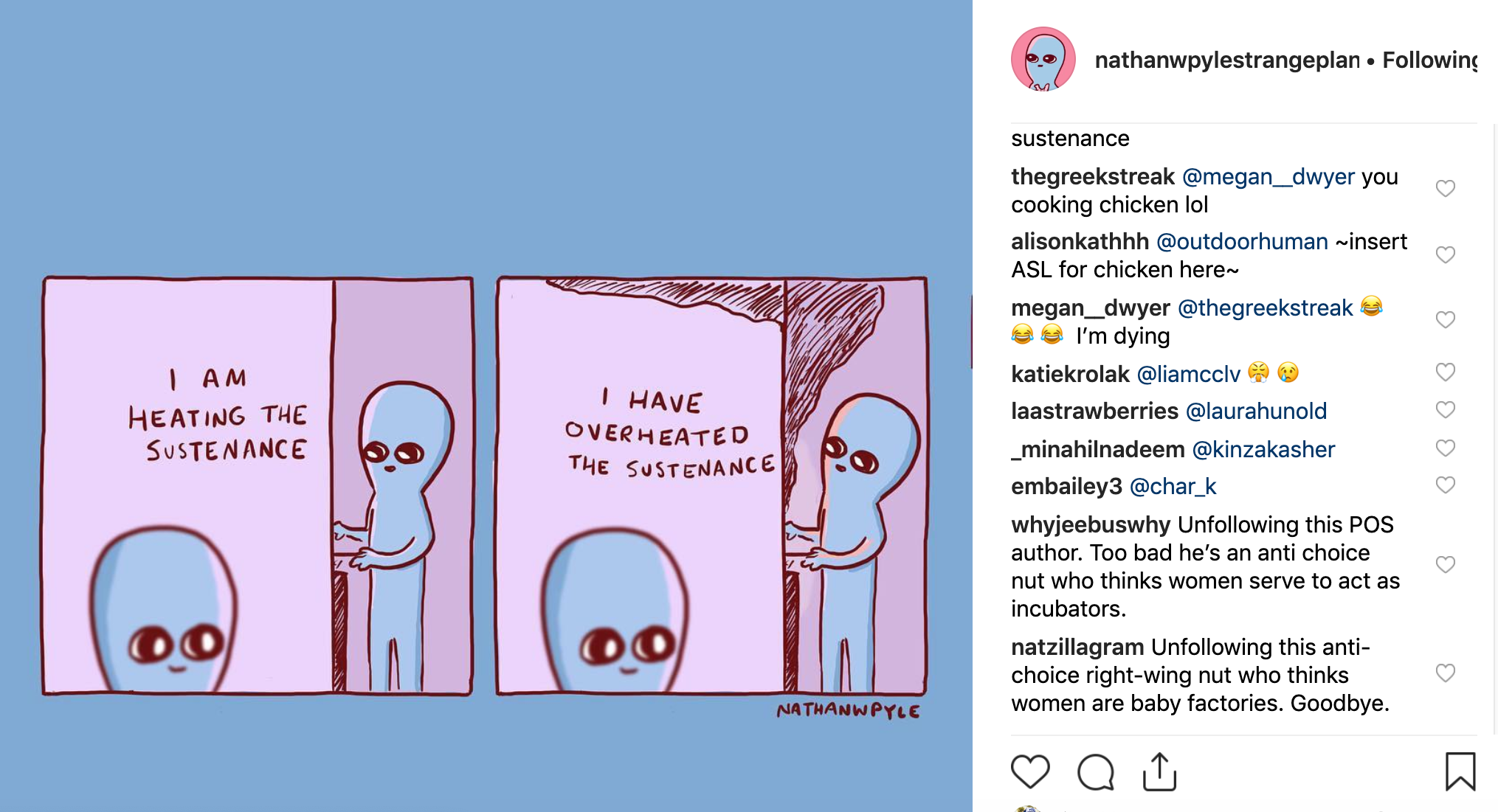 Pyle created Strange Planet earlier this year. The four-panel comic became a hit after people began sharing it on social sites. The future of the comic is now unclear as people claim that they won't follow Pyle's work after finding out his views on abortion.
recently I started drawing a series called ✨Strange Planet✨

here is a thread of these comicshttps://t.co/WcqCOljAIJ pic.twitter.com/uuYnqeuCc8

— Nathan W. Pyle (@nathanwpyle) February 21, 2019
Pyle has not publicly commented on the criticism of his anti-abortion views as of Monday morning. The Daily Dot emailed him for a comment, and we'll update this article if he responds.
READ MORE:
Update 4:14pm CT, April 9: In a tweet on Tuesday afternoon, Nathan Pyle said his beliefs relating to Christianity are "private" but he supports the Democratic Party.