The theatrical release of The Rise of Skywalker is upon us, and fans are taking the limited time they have left to absorb as much of the Star Wars universe as they can. And while that means completing their latest rewatch in time, there's even more for fans to explore beyond the films.
The Star Wars tie-in novels and comics have always been a way to offer fans who want more stories from a galaxy far, far away. They expand upon minor fan-favorites who are barely in the films or TV shows, reveal backstories and side quests, and ahead of a new entry in the Skywalker Saga, they can begin to tie two stories together. With The Rise of Skywalker, which takes place about a year after The Last Jedi, it's no different. Plus, they often have fun details. For example, Poe Dameron: He's canonically a babe who was once featured on a propaganda poster for the Resistance and he has "touseled hair" that's noteworthy enough to be a running gag in the Star Wars novel. (It also made him instantly recognizable by one First Order stormtrooper.)
Could you go into The Rise of Skywalker without reading any of these and still enjoy it? Certainly! With so little time before the film's release, it's practically impossible to get to all of them at once. But if you want more information beforehand, or context afterward, this is a good place to start.
What to read before seeing Star Wars: The Rise of Skywalker
The Rise of Kylo Ren #1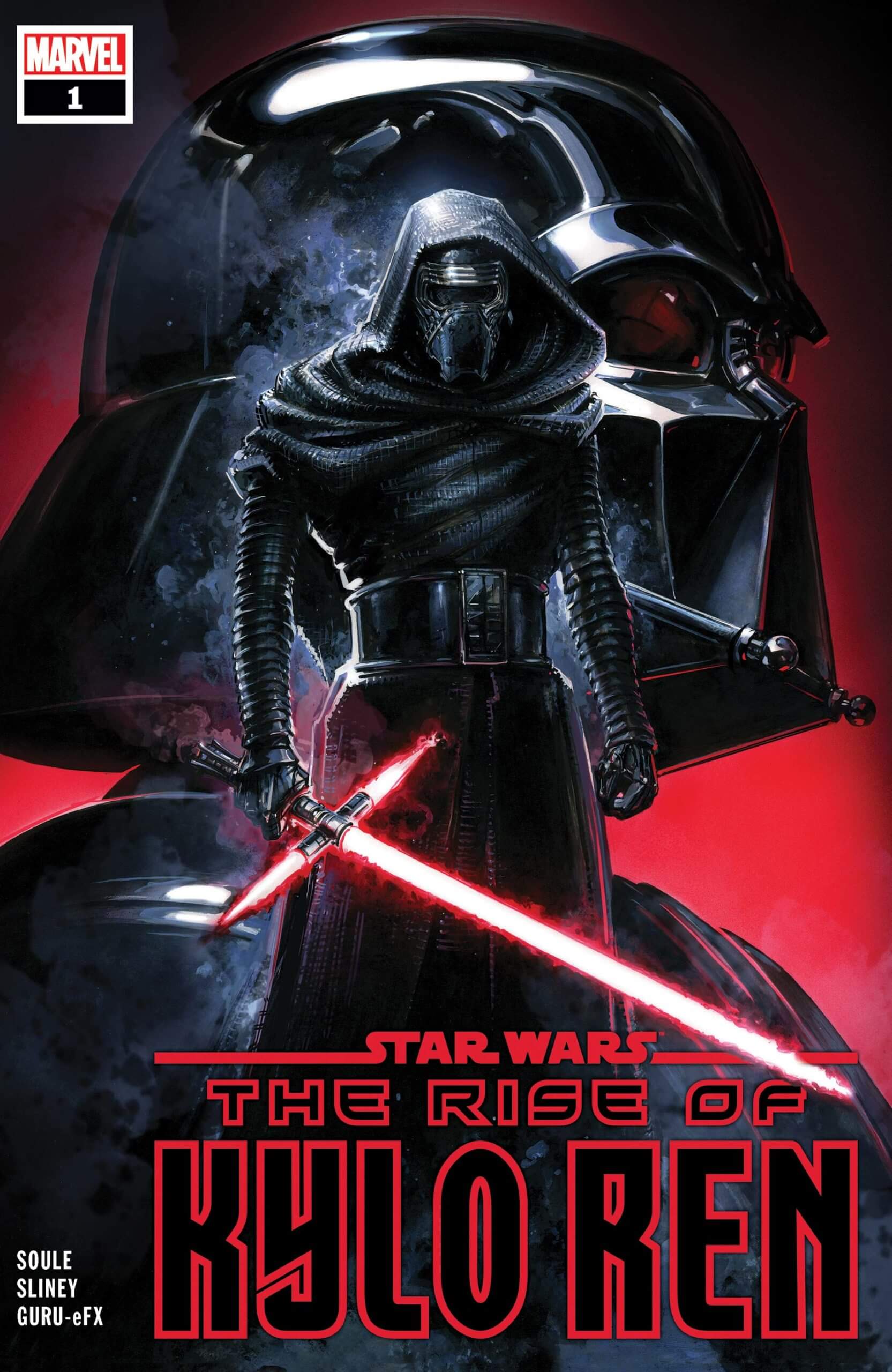 Format: Comic
Creators: Charles Soule (writer) and Will Sliney (artist)
Where to buy: ComiXology (subscription); Marvel Digital; your local comic book store
Why you should read it: Aren't you a little curious as to how Ben Solo became Kylo Ren? (Bonus: the Knights of Ren make an appearance.)
One of the biggest questions hanging over The Rise of Skywalker is the matter of Kylo Ren, who took control of the First Order after murdering Snoke in The Last Jedi. We know that he clashes with Rey several times in The Rise of Skywalker and that he's drawn to a mysterious location where an even darker figure lurks. But will he, like Darth Vader before him, be redeemed before the end of the Skywalker Saga?
We won't know for certain until the end of the film, but what The Rise of Kylo Ren does is show us how he got there; only the first issue is out so far. Kicking off after Ben Solo burns down Luke Skywalker's Jedi temple, we'll learn how Snoke ensnared him. Plus, considering we know that Ben and Luke confront the Knights of Ren, we'll be even more curious how an adversary eventually took over commanding all of them. (Except for maybe the one holding a lightsaber.)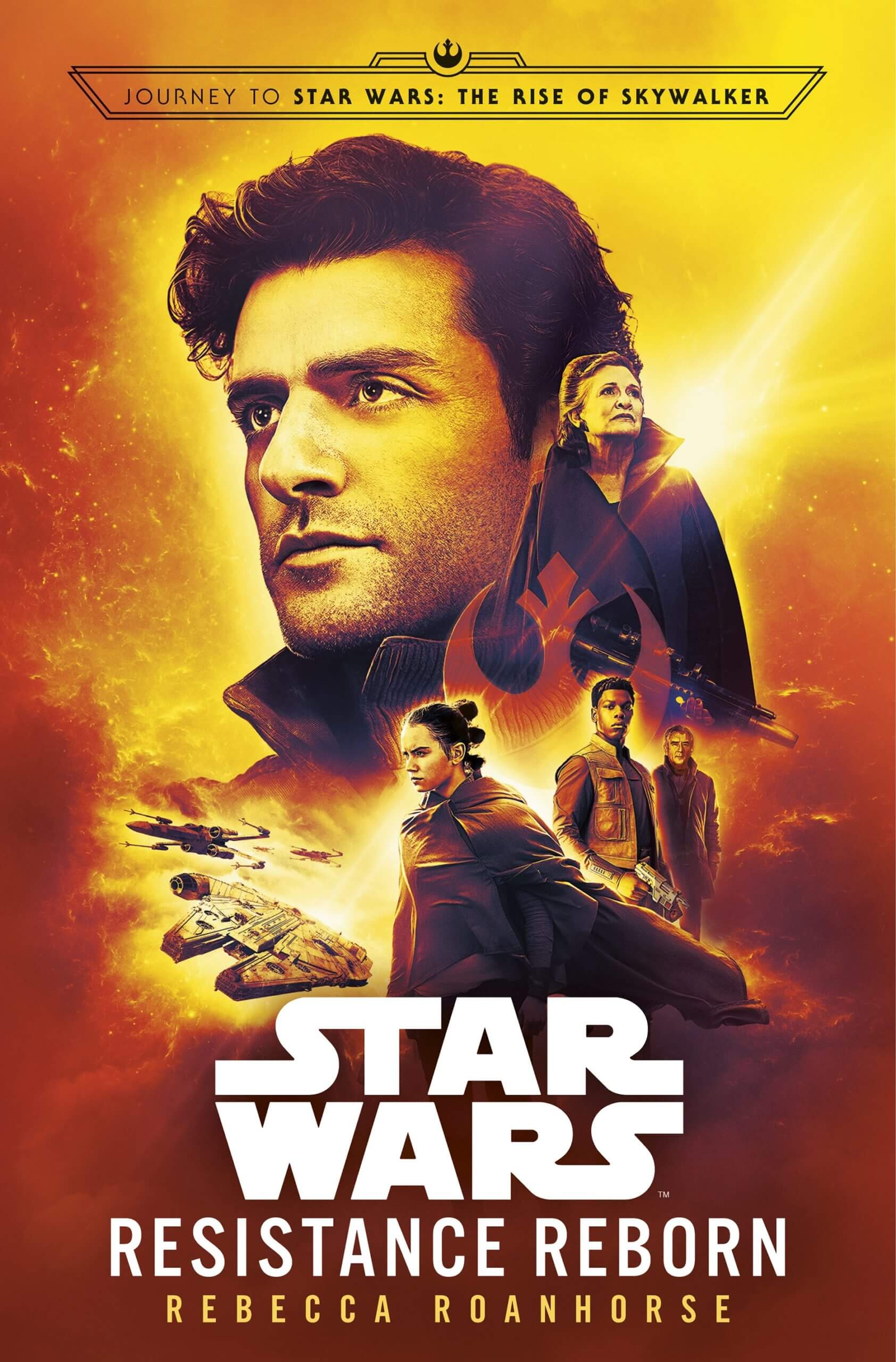 Format: Novel
Author: Rebecca Roanhorse
Where to buy: Amazon, Barnes & Noble, Books A Million, IndieBound, Penguin Random House
Why you should read it: It directly addresses the aftermath of The Last Jedi.
At the end of The Last Jedi, the Resistance is on its last legs with most of its members residing on the Millennium Falcon, so when they're able to take a breather, it's all hands on deck. It's a novel that's full of familiar faces across all spans of Star Wars canon and takes us to familiar planets, yet it never feels like a retread.
Although we're given glimpses into Leia's mind (and Rey and Rose Tico are more in the background), this is largely Poe's book. He has a lot of blood on his hands (albeit from decisions made with the best of intentions), he showed disrespect for a direct superior, and he led a short-lived mutiny on the Raddus. He came out of The Last Jedi a wiser leader, someone who might take over for Leia one day, but one wracked with guilt. And he feels it constantly, whether he's being called out for his mistakes by new allies or seeing Rose, only to think of her sister Paige, who died taking out a dreadnaught on Poe's orders.
Spark of the Resistance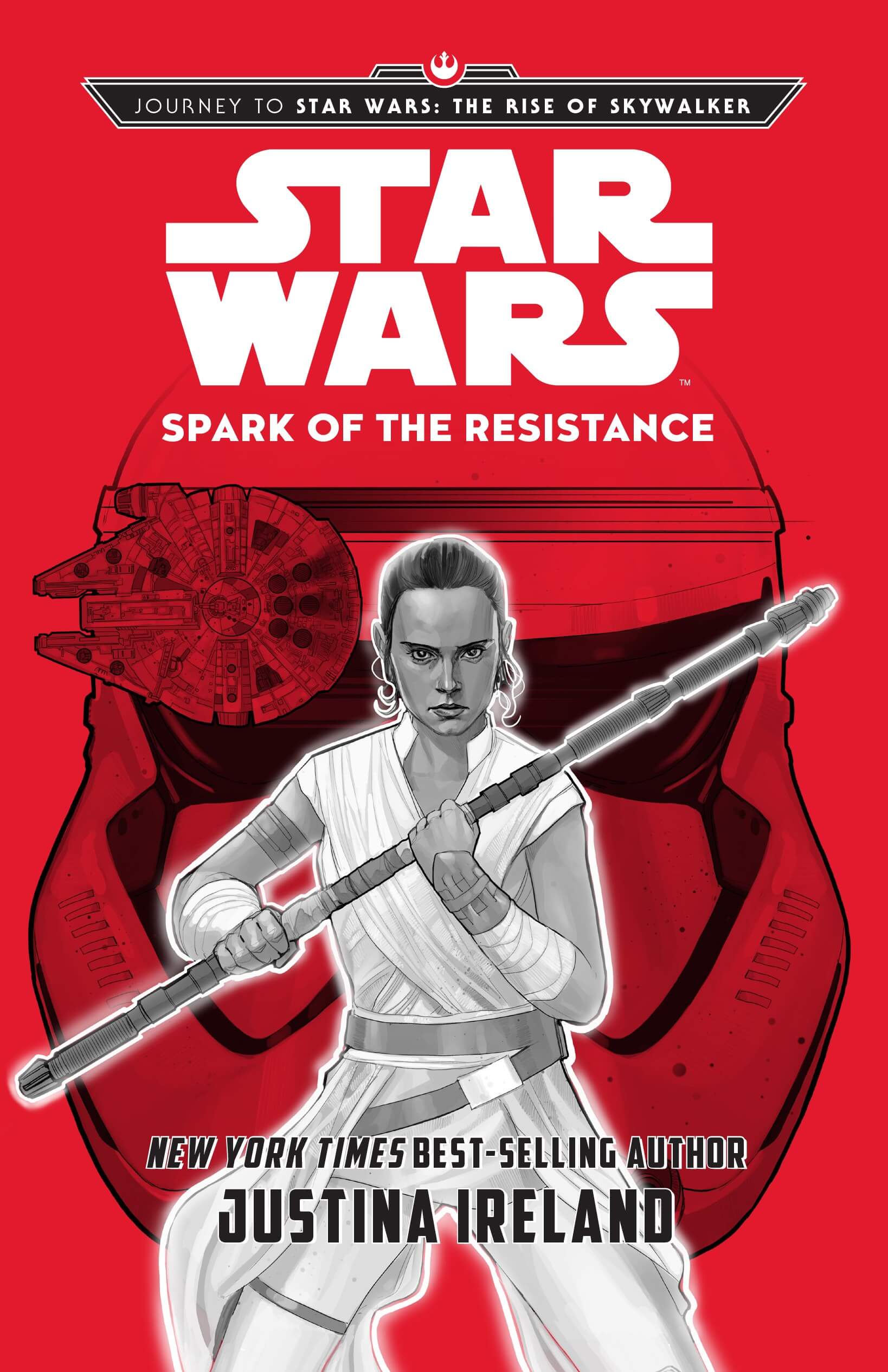 Format: Novel
Author: Justina Ireland
Where to buy: Amazon, Barnes & Noble, Books A Million, IndieBound, Disney Books
Why you should read it: It's a Rey/Poe/Rose adventure that gives us the best of the Resistance on a smaller scale and gives us our first real look at the dynamic between Rey and Poe.
The Resistance is focused on rebuilding, and with the First Order taking over much of the galaxy, it'll do what it can to gain allies and fight back. For Rey, Poe, and Rose, that means answering an unknown distress signal to aid a peaceful species who face the threat of being controlled by the First Order.
It's a lighter adventure, but it also puts the focus on one unexplored aspect of the sequel trilogy's new "trio"; Rey and Poe only officially met at the end of The Last Jedi. They butt heads a little bit at first—Poe initially puts his foot in his mouth after doubting her abilities to fly—but you also see just how well the Resistance clicks when they're all on the same page.
Star Wars: Allegiance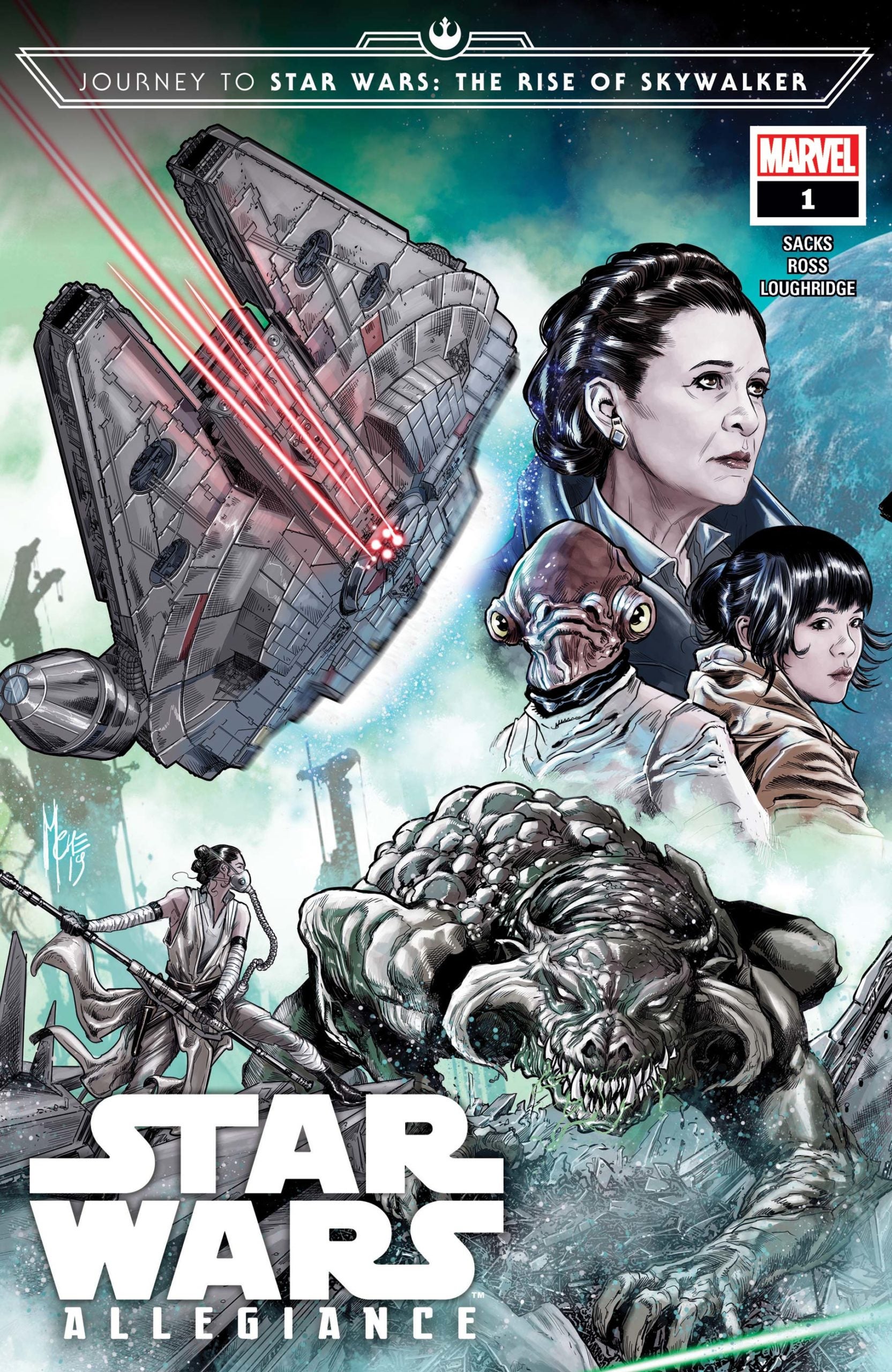 Format: Comic
Creators: Ethan Sacks (writer) and Luke Ross (artist)
Where to buy: ComiXology; Marvel Digital; your local comic book store
Why you should read it: One of the Resistance's many efforts to rebuild the Resistance.
Things aren't looking great for the Resistance, so Leia Organa reaches out to an old ally—the Mon Calamari—for aid. But with Admiral Ackbar out of the picture and decades between their role in aiding the Rebellion and now, it's not going to be as easy to get the Mon Calamari on the Resistance's side this time around. 
Our heroes are split as Rey and Leia try to negotiate with the Mon Calamari while Finn and Poe are tasked with getting the Resistance more weapons. We also meet Ackbar's son Aftab, who may appear in The Rise of Skywalker. But we get to see their intuitiveness up-close, just one of the things the Resistance will need to defeat the First Order.
READ MORE: