At the climax of The Last Jedi, Luke Skywalker declares "the rebellion is reborn today." It's a good scene—swelling music, dramatic lighting, the works. But it may be easier to say if you're a force projection about to yeet yourself out of existence, and not one of a handful of rebels barely escaping with your lives.
Luckily, Resistance Reborn, out now from Del Rey Books, is here to pick up the pieces left behind on Crait and show us how the Resistance goes from the ragtag survivors that escaped on the Millenium Falcon to the forces seen in the latest The Rise of Skywalker trailer. 
[Warning: Spoilers ahead]
The book opens with our heroes in dire straits, without a home base and all their allies mysteriously radio-silent. Leia's exhausted both physically and psychically by her Force-assisted space-walk, and Poe is still wracked with guilt after his disastrous mutiny against Admiral Holdo. But a plan has come together between them, one last-ditch hail mary that will send their skeleton crew to the far corners of the universe in one of the most satisfying getting-the-gang-back-together sequences a fan could ask for.
While there are times Rebecca Roanhorse's natural storytelling talent chafes against the restrictions of writing in the lead-up to a release as massive as The Rise of Skywalker (Rey is pitch-perfect in her few exchanges with Leia, but otherwise mysteriously inert, as is Rose Tico), having some of the cinematic cast take a backseat frees up vital oxygen for the novel's ambitious ensemble act. Resistance Reborn is a treasure trove for Wookieepedia veterans and dilettantes alike and rallies an impressive complement of characters from across the films, tie-in novels, video games, and comics. Roanhorse's versatility with character voice here can't be overstated–she evokes Leia's wry humor and hard-won wisdom just as well as she channels Battlefront II's grouchily paternal Shriv or the Black Squadron comics' peppy muckraker Suralinda, while also casting a surprisingly tender new light on classic recurring characters like Wedge Antilles (he raises space chickens now).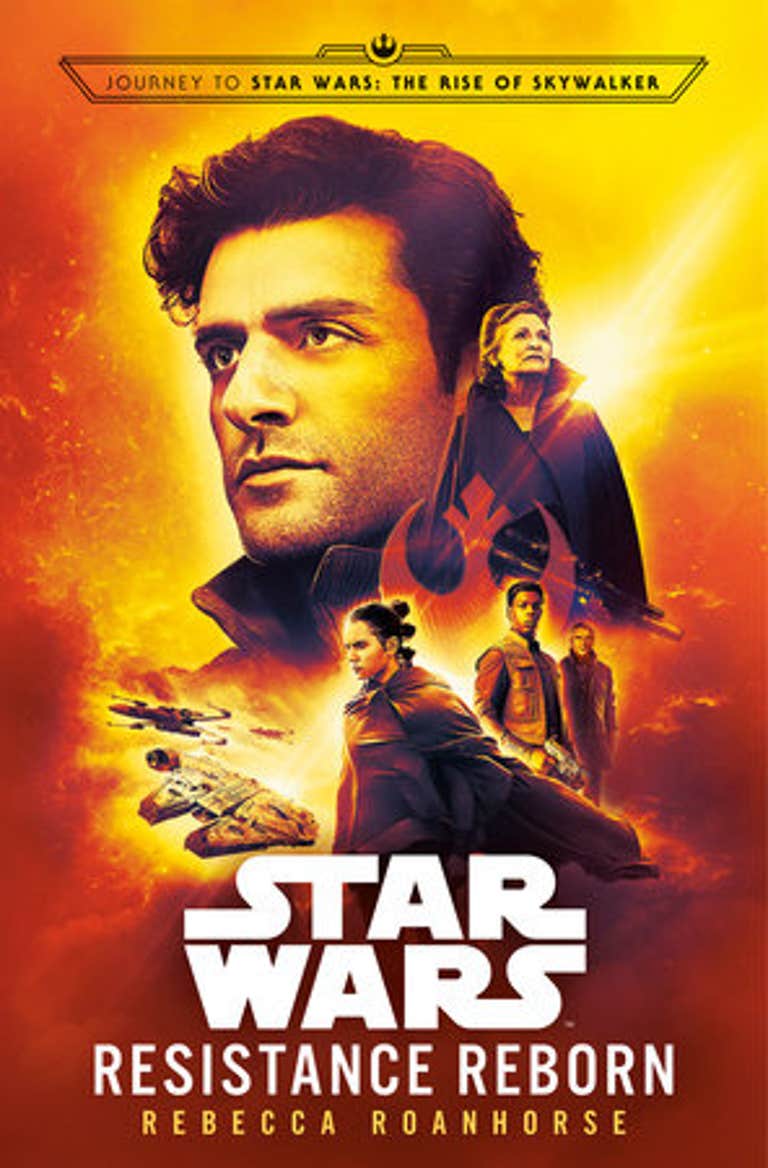 The novel also finds time to introduce some fresh faces, and it's worth mentioning that Roanhorse does her part to make a galaxy far, far away queerer and more melanated, from the young upstart pilot Poe can't help but see himself in to the glamorous matriarch of a data piracy ring to an ex-Imperial warlord (the excellently rendered Teza Nasz, whose origin story frankly begs for a spin-off). The stage can feel slightly crowded at times, but the effortless weaving of marquee characters with deep-cut favorites and originals alike is a love letter to anyone who's stanned Zay as hard as Rey.
But even among a star-studded cast, the heart of Resistance Reborn lives with Poe Dameron. Getting his point-of-view in the novel affords a level of interiority that's hard to come by in the films, and in particular, it takes time to highlight his relationship with Finn. To put it bluntly, this is probably the gayest a Star Wars book has dared tread with top-billing movie characters.  There's nothing so explicit that it couldn't be waved off as a particularly dedicated bromance between two comrades-in-arms, and an on-screen canonization remains unlikely no matter how down Oscar Isaac is; but for queer shippers used to reading subtext, Resistance Reborn seems to have provided more than enough grist to galvanize the FinnPoe fandom, and certain scenes read as if engineered in a lab to launch a thousand fanfics:
finnpoes having real hopes after reading resistance reborn pic.twitter.com/CG3CrisXf8

— poe's beard pr manager (@forcepiIots) November 8, 2019
resistance reborn really said finnpoe rights huh

— Margot (@koyikomad) November 11, 2019
You could take an excerpt from a Finnpoe fanfic and tell me it's from Resistance Reborn and I'd probably believe you.

— Soul | Finn Dameron (@Serious_Taco) November 10, 2019
https://twitter.com/vaderaphra/status/1191582959285002240
https://twitter.com/OmgMoreJames/status/1191684946986815489
finnpoe has to be canon after resistance reborn and here is why ; a thread
[warning : spoilers, of course]

— poe's beard pr manager (@forcepiIots) November 9, 2019
So many great queer characters in Resistance Reborn. Plus some very strong StormPilot hints in there. I don't wanna get my hopes up for seeing it as canon in 9 but hope is basically the theme of the book #ResistanceReborn #RepresentationMatters #FinnPoe #representationishope

— Force Friends Rewatch Podcast (@forcefriendspod) November 7, 2019
But on a broader level, Poe remains the emotional center of the novel and his redemption arc doubles down on a core theme to be taking into The Rise of Skywalker—moral grayness and the capacity for change. Far from a black-and-white, cut-and-dry showdown, Roanhorse demonstrates in remarkably timely fashion how insidious the creep of authoritarianism can be—it's not always superweapons blowing up Hosnian Prime; sometimes it's pencil-pushers promising stability while detention camps quietly crop up on the city limits.
It turns out the Resistance's strength against this sort of despotism isn't in claiming a binary goodness over evil; in a pivotal come-to-Jesus moment about midway through the action, Poe has to publicly reckon with the consequences of his actions in The Last Jedi or risk it all falling apart again. The newly cobbled-together Resistance doesn't come together around absolute moral superiority, but rather a shared responsibility for their own checkered histories that expertly ties together years of in-world storytelling–and only lightly invokes Mighty Ducks 2.
Even as we barrel towards the end of the Skywalker saga, Roanhorse reminds us how many more stories there are to tell in this universe. For those feverishly counting down the days to Episode IX, Resistance Reborn celebrates the old canon while fearlessly building a new one.