Disney and Lucasfilm are notoriously tight-lipped about its Star Wars films, so we're often learning new information from supplementary material. And in the case of one of the more mysterious factions of the sequel trilogy, that information arrives in an upcoming comic.
Charles Soule (Poe Dameron, Darth Vader, Star Wars) is penning a four-issue miniseries launching in December called The Rise of Kylo Ren, which will give us the story of how Ben Solo became Kylo Ren. The second issue, which comes out in January—after the release of The Rise of Skywalker—follows Ben after he burned down Luke's Jedi school.
But, as the cover (which is by Will Sliney) reveals, it includes another parallel story. Shared by Soule on Twitter, it shows Luke Skywalker and Ben Solo (with his blue lightsaber) facing off against the Knights of Ren, one of whom is wielding a red lightsaber.
This is the cover to THE RISE OF KYLO REN #2, written by me with art from @WillSliney. Out in January.

And yes, that's Luke Skywalker and Ben Solo fighting the Knights of Ren. pic.twitter.com/dPdbmHQTSz

— Charles Soule (@CharlesSoule) October 24, 2019
The solicitation for The Rise of Kylo Ren #2 goes even further to branch out Ben's story as he seeks out Snoke. At some point prior to becoming the master of the Knights of Ren (and even before burning down the school), Ben joined Luke on a mission to the Unknown Regions and encountered the Knights of Ren. While we definitely know that both of them survived, the rest is shrouded in mystery for now.
holy fuck pic.twitter.com/rBKAsL1eUi

— slimeman (@nicolecieux) October 24, 2019
The reveal that the Knights of Ren pre-date Kylo Ren's rise provides a very interesting wrinkle in what little we know about the knights themselves. But it also, like The Last Jedi did, makes us question what happened the night that Ben burned down Luke's school.
Technically it's not new information: Adam Driver (who plays Kylo Ren in the sequel trilogy) told the Los Angeles Times in 2015 that the Knights of Ren "was a group that existed before him," although that point isn't explicitly made in The Force Awakens. The Last Jedi seemed to suggest something else, with Luke implying that his surviving students followed Ben and became the Knights of Ren. Instead, the comic reveals that the students who survived Luke's school being burned down went after Ben themselves.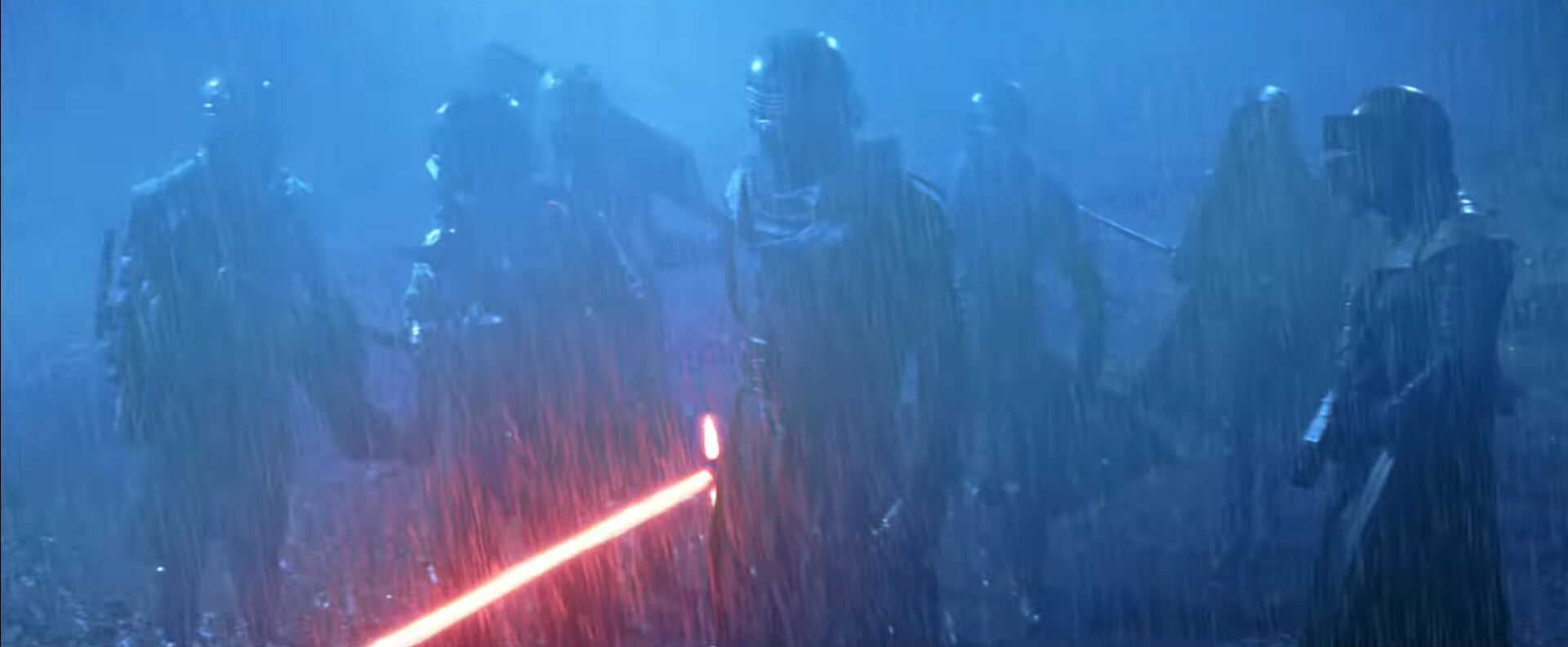 But Ben's first encounter with the Knights of Ren does make things interesting, regardless of how it plays out.
Do the Knights of Ren know that Kylo Ren is Ben Solo? It's not out of the realm of possibility given that General Hux also knows about Kylo Ren's true identity. If they know that Kylo Ren is Ben, do they also know that he's Darth Vader's grandson? Was he appointed the master by someone like Snoke or his fellow knights, or did he rise in the ranks? And if the knights aren't composed of Luke's former students, what happened to them?
And what happened to the knight who is wielding a lightsaber? Although we know very little about the Knights themselves and have barely seen them at all, none of them apart from Kylo is wielding a lightsaber.
Fans' interest in the Knights might vary given how little they've factored into the sequel trilogy so far, but even the teaser we're getting now is enough to keep us intrigued until that issue is released.
READ MORE: