Wonder Woman took the world by storm in 2017, deservedly became one of the highest-grossing films of the year. But 2017 also featured a hugely underrated story about Wonder Woman, one that you can stream right now on Hulu.
We're not talking about Justice League, although Wonder Woman is admittedly one of the better parts of that movie. We're referring to Professor Marston and the Wonder Women, a biopic about the origins of Wonder Woman as a comic book character and the polyamorous relationship between Wonder Woman creator William Moulton Marston, his wife Elizabeth Holloway Marston, and student Olive Byrne. Released in October 2017, it was well-received by critics but barely made a blip at the box office with a domestic gross of nearly $1.6 million.
Professor Marston and the Wonder Women quietly arrived on Hulu earlier last week, although it wasn't previously announced on Hulu's monthly arrivals and departures list. And so far, its presence on the streaming platform has mostly spread by word of mouth from both director Angela Robinson and people who had already seen the movie.
If you haven't seen it yet (or want to see it again) @marstonmovie is now available to stream on @hulu!

— Angela Robinson (@RobinsonAngela) March 21, 2018
https://twitter.com/cevangelista413/status/976455758509428736
PROFESSOR MARSTON AND THE WONDER WOMEN IS ON HULU AND YALL HAVE TILL EASTER TO ATONE FOR YOUR SIN OF NOT GETTING REBECCA HALL AN OSCAR NOM.

— Nick Isaac (@thenickisaac) March 22, 2018
Professor Marston and The Wonder Women is on HULU!
See the movie that was bizarrely robbed of any chance at award season glory despite Rebecca Hall ABSOLUTELY SLAYING! https://t.co/38LMgIbzZb pic.twitter.com/9ikPXKUmdl

— Kristy Puchko (@KristyPuchko) March 21, 2018
Many comics fans read about Wonder Woman's origin story in Jill Lepore's 2014 book The Secret History of Wonder Woman, but some audiences learned about it for the first time from Professor Marston and the Wonder Women. The story is also not without controversy: Christie Marston, the granddaughter of William and Elizabeth Marston, has said that the relationship between the Marstons and Olive Byrne was not sexual in nature.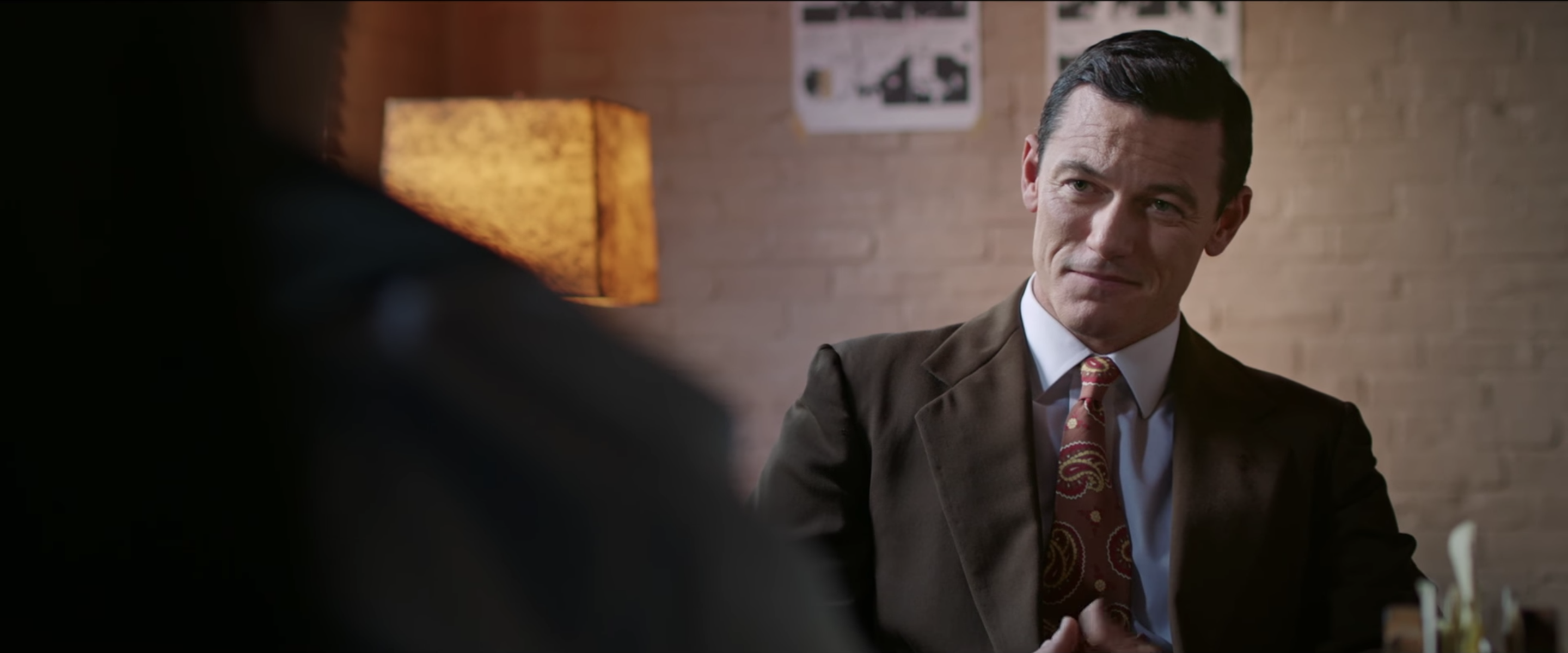 As far as biopics go, it's a fairly standard film with an engaging story, familiar framing, and a historical basis that takes plenty of liberties along the way. But is also a really good movie with incredible visuals and stellar performances, especially from Rebecca Hall, who plays Elizabeth Holloway Marston. And the story that it told—and how it was told—is a radical and feminist one, even for today.
The women of Professor Marston and the Wonder Women are a marvel to behold
William Moulton Marston (Luke Evans) may be the titular professor of the movie and the sole writer credited for Wonder Woman (under the pseudonym Charles Moulton) when it first launched in 1941. Professor Marston and the Wonder Women is partially told from his perspective, with his life (and his work) framed in a series of flashbacks as he's questioned by Josette Frank (Connie Britton), who believes that Wonder Woman was too violent and sexualized. It's a criticism that Wonder Woman still faces today. And yes, the film does reveal parts of Wonder Woman's origins (although it doesn't mention Wonder Woman's original illustrator, H.G. Peter), but it's far more interested in the human, not the Amazonian, story. Making Elizabeth Holloway Marston (Hall) and Olive Byrne (Bella Heathcote) a central part of that story makes for a much more nuanced biopic.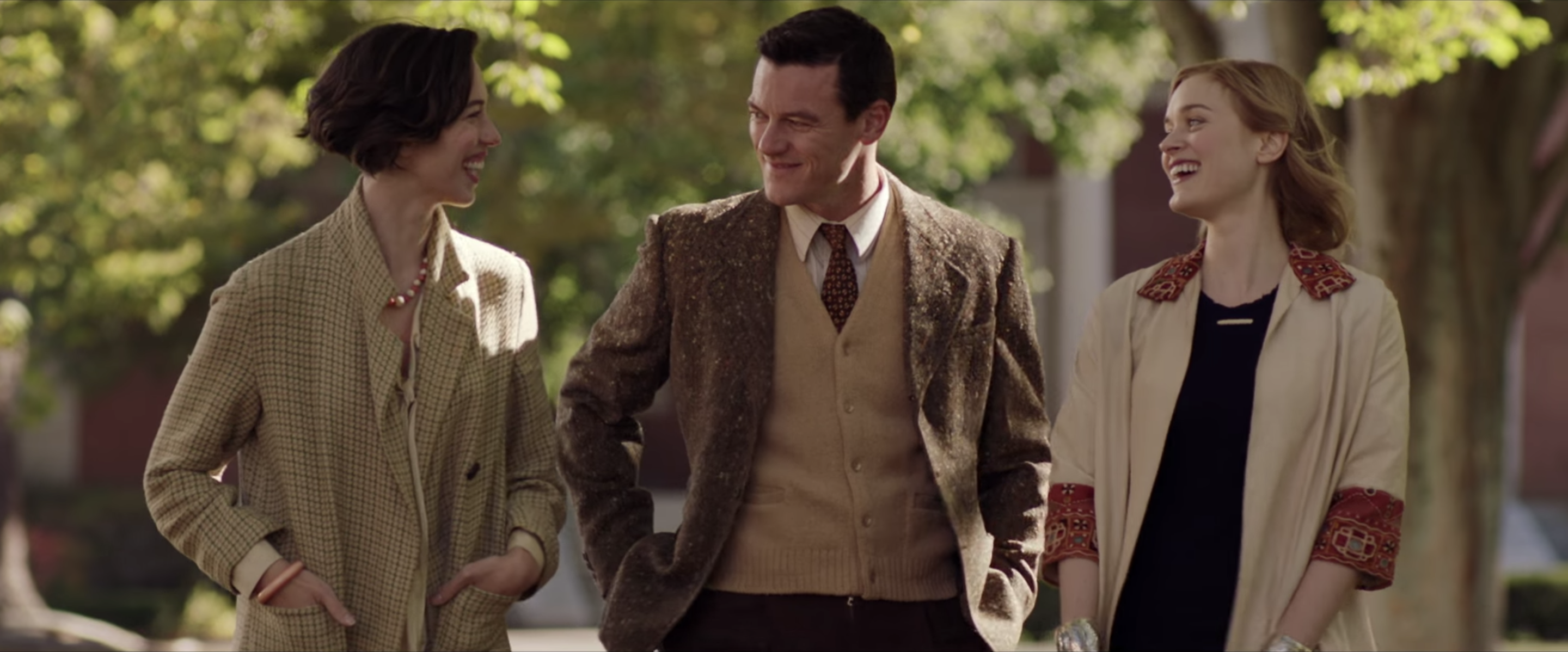 To just describe Elizabeth and Olive merely as Marston's muses is an insult to both of them. They were restricted by the limits of what women could do at the time, but within those margins they shined. Elizabeth had a brilliant mind, arguably even more so than her husband, but no matter what she did she couldn't get the position that she wanted. Olive, who attended the university where Marston taught and is recruited to be Marston's assistant, was just as intelligent and driven; the film also highlights her feminist background by name-checking her mother and aunt, who ran the U.S.'s first birth control clinic. They hypothesized alongside Marston and challenged his views (which were radical at the time but have not all aged well), and some of those views made their way into Wonder Woman itself.
In the film, both Elizabeth and Olive played a part in testing out Marston's lie detector, and they play just as much of a role in the polyamorous relationship they enter. They had to hide their relationship from the world, but it was a relationship that thrived and endured.
It's a refreshing and beautiful LGBTQ story that doesn't try to shame its subjects
While the exact nature of the relationship between the Marstons and Olive Byrne may be debated to this day, Robinson had a very simple way of depicting it.
"It was very important to me to tell an organic love story," Robinson told Syfy Wire last October.
With this, Professor Marston and the Wonder Women succeeds. It portrays multiple dynamics of that love story, setting it up both as one of mutual attraction and something much deeper and more meaningful across all fronts. The Marstons pushed and pulled, but you never doubted that they loved one another. The connection between Marston and Olive begins with an uneven power dynamic (he starts out as her professor) but she gains an equal footing in the relationship—and toward the end of the film, she gains the upper hand. The connection between Elizabeth and Olive is the most electrifying of the three, one filled with sexual tension and love.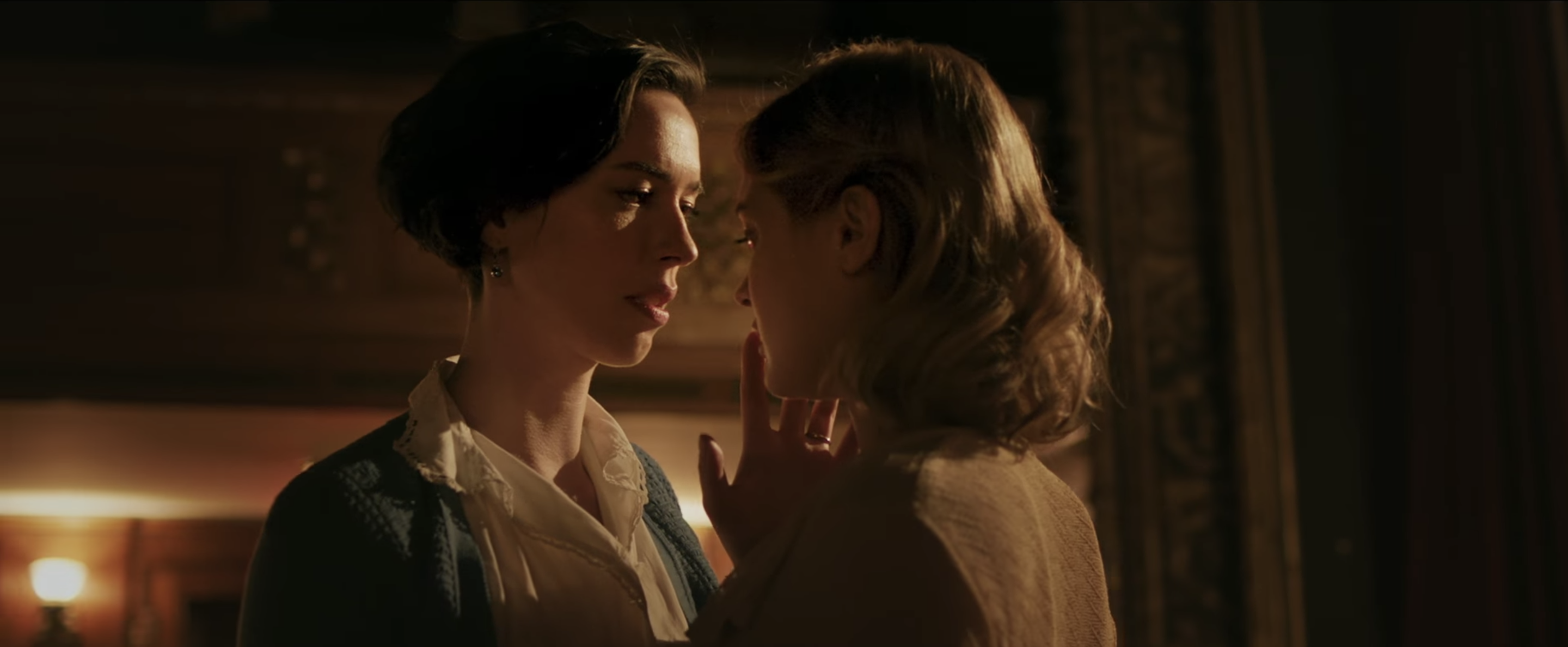 A movie like Professor Marston and the Wonder Women could have easily framed the story as one where Marston is just in a relationship with both Elizabeth and Olive, but the film takes great lengths to depict the importance of Elizabeth and Olive's relationship, which lasted decades: They continued to live together after Marston's death in 1947 until Olive's death in 1985. In this regard, at least, they were equals. Marston fathered children with both of them, and the three of them lived together and raised their children together. Their story is an important one that doesn't erase the women in it.
The relationships they share with one another were kept a secret from the world; once they move to the suburbs, they concocted a story that Olive was a widow who lived with the Marstons. And whenever their relationship is discovered, the world reacts swiftly and cruelly. But the film never sees the Marstons or Olive to be the ones at fault. They were people ahead of their time.
Professor Marston and the Wonder Women was directed by a woman—and it shows
Professor Marston and the Wonder Women features multiple scenes depicting foreplay and palpable sexual tension between its three leads, multiple sex scenes, depictions of BDSM, and an extended scene where Olive is wearing a burlesque outfit that may have inspired Wonder Woman's original costume. Sex scenes are often hard to get right in movies—particularly ones involving three partners—but not only does Professor Marston and the Wonder Women get it right, it does so without exploiting any of the actors and characters involved. And that's largely a testament to Robinson, the woman who wrote and directed Professor Marston and the Wonder Women.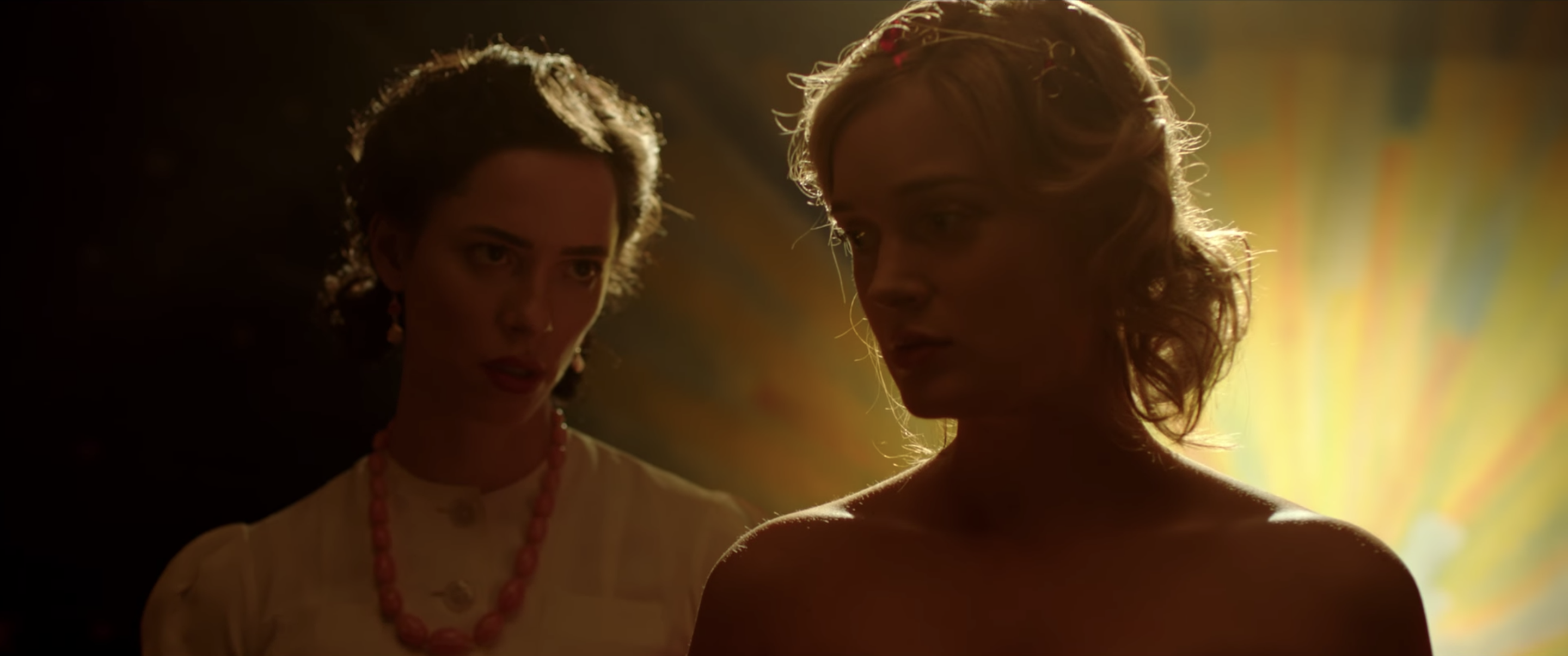 As was the case with director Patty Jenkins and Wonder Woman, having a female director made all the difference. Under Robinson, the camera doesn't leer at Marston, Elizabeth, and Olive, even during the burlesque scenes. The sex scenes are sexy but not titillating—and according to Robinson, the sex in the film is "about freedom and discovery and fantasy." Evans, Hall, and Heathcote's performances come off as nuanced and sensual. In the process, the film provides a positive portrayal of a polyamorous relationship.
"We have all this contemporary language to describe what the Marstons were doing, like poly and kink and BDSM," Robinson told Vulture last year. "But they didn't have that language then. Lesbian was barely an identity at the time. The word had just been created in that usage. So, to me, they were just doing what they were doing. They didn't have any of this. It was just that they fell in love and they had to figure out how to be together, quite literally, in the world."
Professor Marston and the Wonder Women gives viewers a glimpse into the creation of Wonder Woman but also the remarkable story behind it; even the parts of it that aren't in dispute are a wonder to behold. Just like Wonder Woman herself, the people who had a hand in creating her were pretty extraordinary.
Still not sure what to watch on Hulu? Here are the best movies on Hulu, what's new, the best shows on Hulu, the sexiest movies you can stream on the service, and the must-see Hulu originals.