On Nov. 26, NASA will land a new exploration vehicle on Mars. The NASA InSight lander (that's Interior Exploration using Seismic Investigations, Geodesy and Heat Transport) is the first new NASA arrival in six years. It's set to explore previously undiscovered territory on the red planet.
Here's everything you need to know, including NASA InSight's mission goals and how to watch the landing live.
What is the NASA InSight Mission?
Unlike mobile robotic landers like the Curiosity rover, InSight is a stationary probe. Its job is to examine the planet's interior by penetrating the surface—an important mission because most of our current knowledge comes from aerial photos and scans. For instance, when scientists found evidence of underground liquid water this year, this was thanks to ground-penetrating radar. A very different situation to physically digging into the surface. At the risk of making a stupid pun, this mission is groundbreaking: No landing probe has ever done this before.
The InSight lander will gather data on temperature and seismic activity using sensors that will be placed onto the planet's surface using a robotic arm. This information will teach us more about the geological structure of Mars, including whether it has a liquid or solid core. In turn, this could change how we understand the formation of other solid planets like Earth.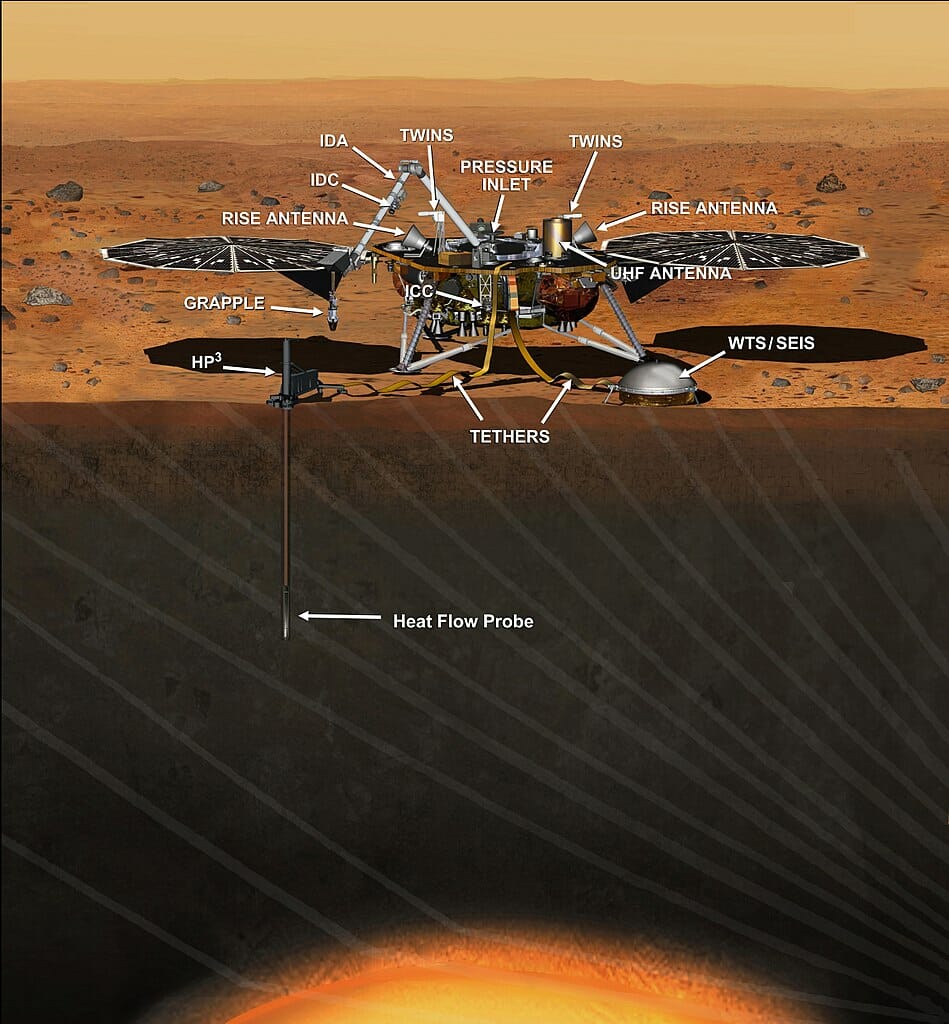 The lander is about 6.0 m (19.7 ft) wide including two large, dish-shaped solar panels. It will land on a smooth plain called Elysium Planitia, 373 miles from Curiosity's landing site. This is an ideal location because it's flat, it's close to the Martian equator (meaning lots of solar energy to power the lander), and it's low-lying land (meaning there's enough atmosphere above to cushion InSight's descent).
Once the lander arrives, it will spend two years examining the planet's interior. For more info on InSight's mission, this short video includes some helpful explanations from NASA scientists along with footage of the lander in action on Earth. In the words of one scientist, placing InSight's seismograph and heat sensor on the Martian surface is kind of like playing a claw game without a joystick.
If seismographs and heat sensors sound a little dry, don't worry. InSight also has something for space enthusiasts who just want to look at cool pictures of Mars. The lander can take photos of the Martian landscape around its landing site, which will then be posted on NASA's social media accounts.
When will the InSight lander arrive on Mars?
After leaving Earth in May 2018, InSight is scheduled to land at 3pm EST on Nov. 26. That means you should tune in before 3pm because, well, by that point it's basically over. (In fact, it will technically have landed by about 2.52pm, but it takes eight minutes for any signals to reach Earth. In this case, watching in "real time" involves an unavoidable eight-minute delay.)
READ MORE:
There are several stages to the landing process, which the NASA website explains here in detail. Clocking in at six minutes 45 seconds, the landing process begins with entry into the Martian atmosphere, followed by a parachute deployment, and a final descent slowed by engines and an automated guidance system. About half an hour after landing, InSight will deploy its solar panels and stop relying on battery power. Hopefully, we'll see our first new photos from Mars at 5.15pm EST, when NASA receives the probe's first packet of landing data.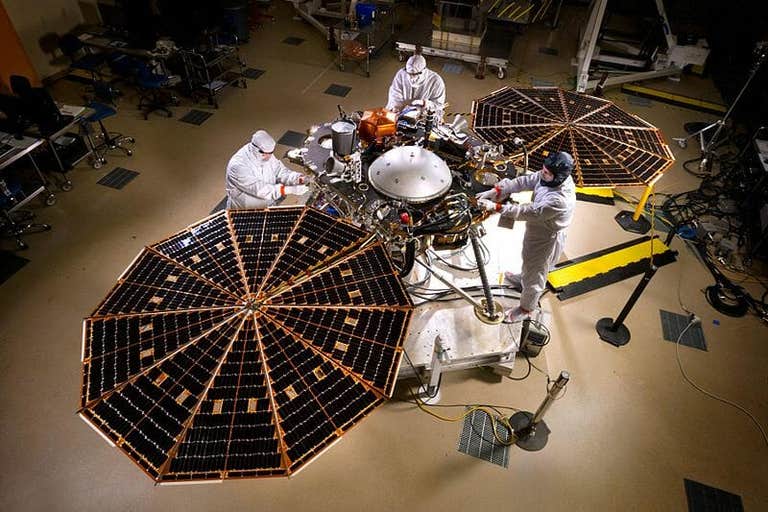 How do I watch NASA's Insight landing?
Like all major NASA events, the InSight landing will stream live online. You can find it on NASA TV, NASA.gov, YouTube and Ustream, with live viewing events taking place in various locations including Times Square and the Smithsonian museum. Or you can just come back to this page and stream it live from here:
On landing day, there will be live commentary from 2pm to 3.30pm EST on the channels listed above, along with an uninterrupted audio/video feed from mission control on NASA's TV Media channel. If you've watched one of these before, you know what to expect. NASA experts will explain the mission and you'll see live footage from mission control. Plus the channel will feature video simulations of what the Insight lander is doing at any given time.
These viewing parties can get pretty dramatic because there's no guarantee the mission will succeed. The eight-minute delay means the landing is automated. So, if it arrives during a particularly dangerous dust storm or lands on an unexpected boulder, there could be unforeseen consequences. We won't know for sure until 3pm EST. NASA will hold an in-depth press conference two hours later.