Mute doesn't pan out the way you might assume. Starring Alexander Skarsgård as a bartender searching for his missing girlfriend, you expect him to follow a certain formula. The John Wick route, if you will. A troubled, enigmatic man struggles to protect or avenge a vulnerable woman, amping up to a crescendo of retribution. But Leo the bartender isn't an action hero; he's a gentle Amish artist who happens to have the physique of Alexander Skarsgård. Muscles are useless without the training to back them up.
Billed as the spiritual successor to Moon, Mute marks Duncan Jones' return to lower-budget filmmaking. After the high-concept Source Code and the bombastic Warcraft, it's positively chill. It may also be a slight disappointment to fans of Moon's clever sci-fi conceit, because Mute is a rather by-the-book noir story. Near-future Berlin offers a few Blade Runner gadgets, but otherwise, this could be a film from the 1940s. Adrift in an underworld of gangsters, sex workers and undocumented immigrants, Leo is poorly suited to the grim task of tracking down Naadirah (Seyneb Saleh).

Leo is not someone to whom life comes easily. His futuristic, voice-operated surroundings are unsuited to a mute man from a tech-phobic religious sect—but beyond that, he's just not a good communicator. Even when he resorts to written messages, he can't articulate the straightforward questions that might lead him to Naadirah. He just doesn't have a middle gear between puppy-dog eyes and helpless rage.
Those soulful looks make Skarsgård a sympathetic figure in a rather formulaic story, while Paul Rudd and Justin Theroux balance things out with a touch of Tarantino. They play a pair of wisecracking surgeons working for local criminals; Rudd as a single dad who needs paperwork to leave the city, and Theroux as his sleazy partner. Their lives weave in and out of Leo's quest, in a way that's fun to watch but ultimately feels kind of shallow.
I mention Tarantino in part because Mute shares the slightly immature tone of Baby Driver or Ben Wheatley's Free Fire. These films follow Tarantino without adding much substance—which comes as a surprise from Jones. His first film was praised for its sophisticated concept, and he's hardly an inexperienced writer or director. So why does Mute feel so unoriginal by comparison? It could be because, like Baby Driver, it's a passion project that Jones wanted to make for years, but could only film after finding blockbuster success. He completed Mute's initial draft back in 2006, and he'd already rewritten it with a Blade Runner tone when Moon came out in 2009. This idea sat in cold storage for over a decade, and in the intervening years we saw Drive, Blade Runner 2049, and a slew of lesser films in a similar vein.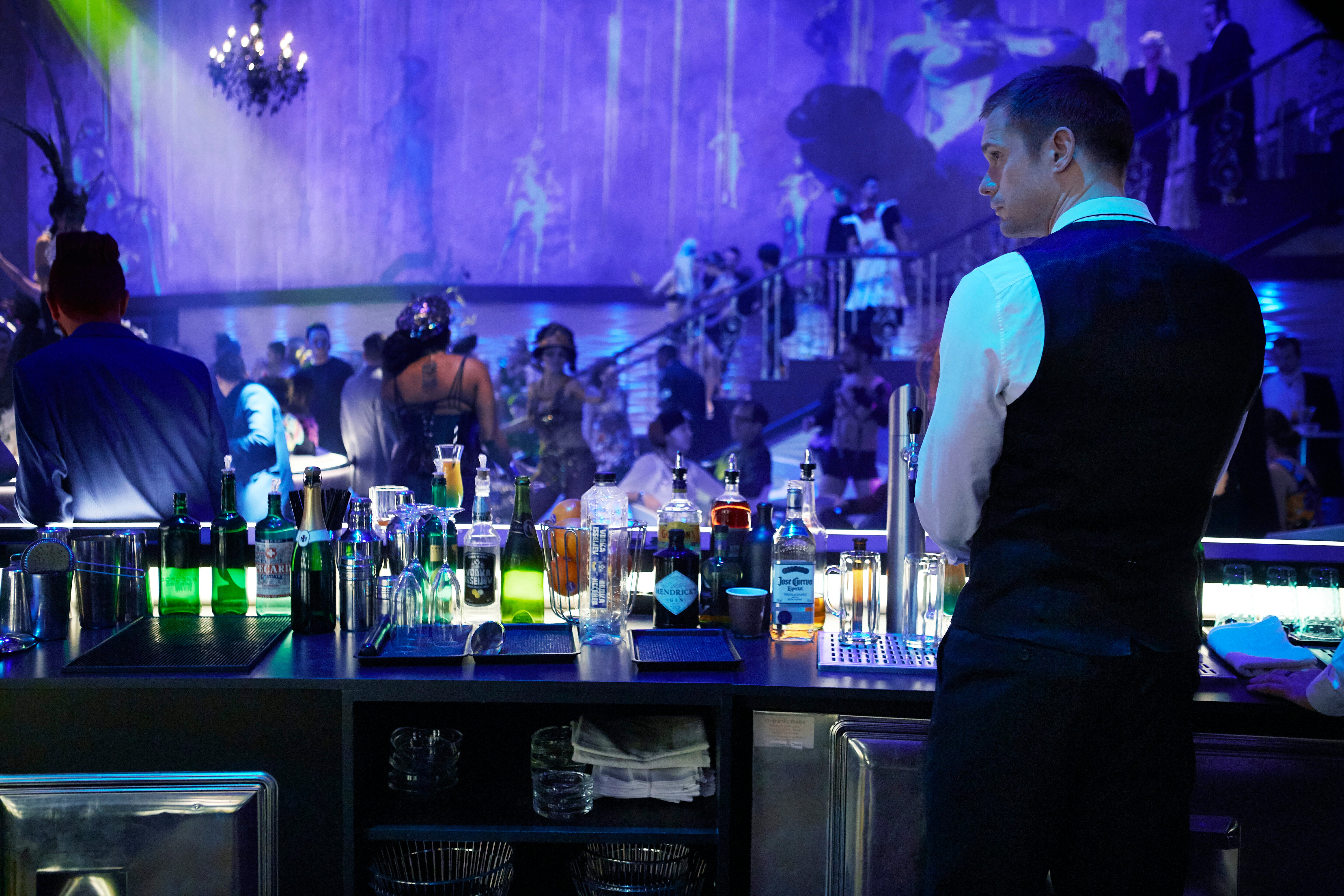 When playing in such a specific genre like neo-noir, you either have to be stand-out brilliant or do something subversive. Mute doesn't manage either. It gives us another beautiful missing woman, beloved by another lonely man with anger management issues. More neon-hued cityscapes; more misogynist gangsters; more idiosyncratic weapons. Even Alexander Skarsgård feels familiar, echoing Ryan Gosling's combination of softness and brutality.
Mute's cyberpunk setting is, oddly enough, one of the most interesting aspects of the movie. Not because it's particularly original, but because it's subtle. Rather than diving headlong into complicated worldbuilding like Altered Carbon (Netflix's other cyberpunk thriller about a Scandinavian hunk searching for missing women), it uses its backdrop like a historical drama. It doesn't overthink itself or bother to explain things that don't need explaining. We're vaguely aware that Berlin is overrun with AWOL American soldiers, but would it be realistic for characters to pause and explain the geopolitical reason why? No. So they don't. Everyone is far more focused on their own problems because that's how people work.
Maybe on the big screen, Mute's neon visuals would have a more effective impact. But as it is, it feels like a lot of Netflix releases we've seen before: A well-executed spin on an old idea, without enough kick to make it truly great. If you're a longtime Duncan Jones fan who hoped for another original sci-fi hit, you may have to wait a little longer.
Still not sure what to watch on Netflix? Here are our guides for the absolute best movies on Netflix, must-see Netflix original series and movies, and the comedy specialsguaranteed to make you laugh.