Marvel Comics just shared plans for its next relaunch, titled Marvel Legacy.
This isn't a full reboot like Secret Wars in 2015. It's more like a soft relaunch after Secret Empire (the Hydra Captain America storyline) concludes this summer. Marvel is going back to basics, emphasizing classic characters like Iron Man and Peter Parker's Spider-Man.
According to a press release from Editor-in-Chief Axel Alonso, Marvel Legacy "will take things back to our iconic history, with a firm eye on the future." Decoded, that means they're aiming for nostalgia value, without actually jettisoning popular new characters.
The promo image highlights vintage heroes like Thor, Iron Man, and Jean Grey, but newer characters like Miles Morales and Robbie Reyes are still visible in the background. (Kamala Khan, Marvel's breakout star of the 2010s, is sort of hiding on the right hand side, under the dinosaur.)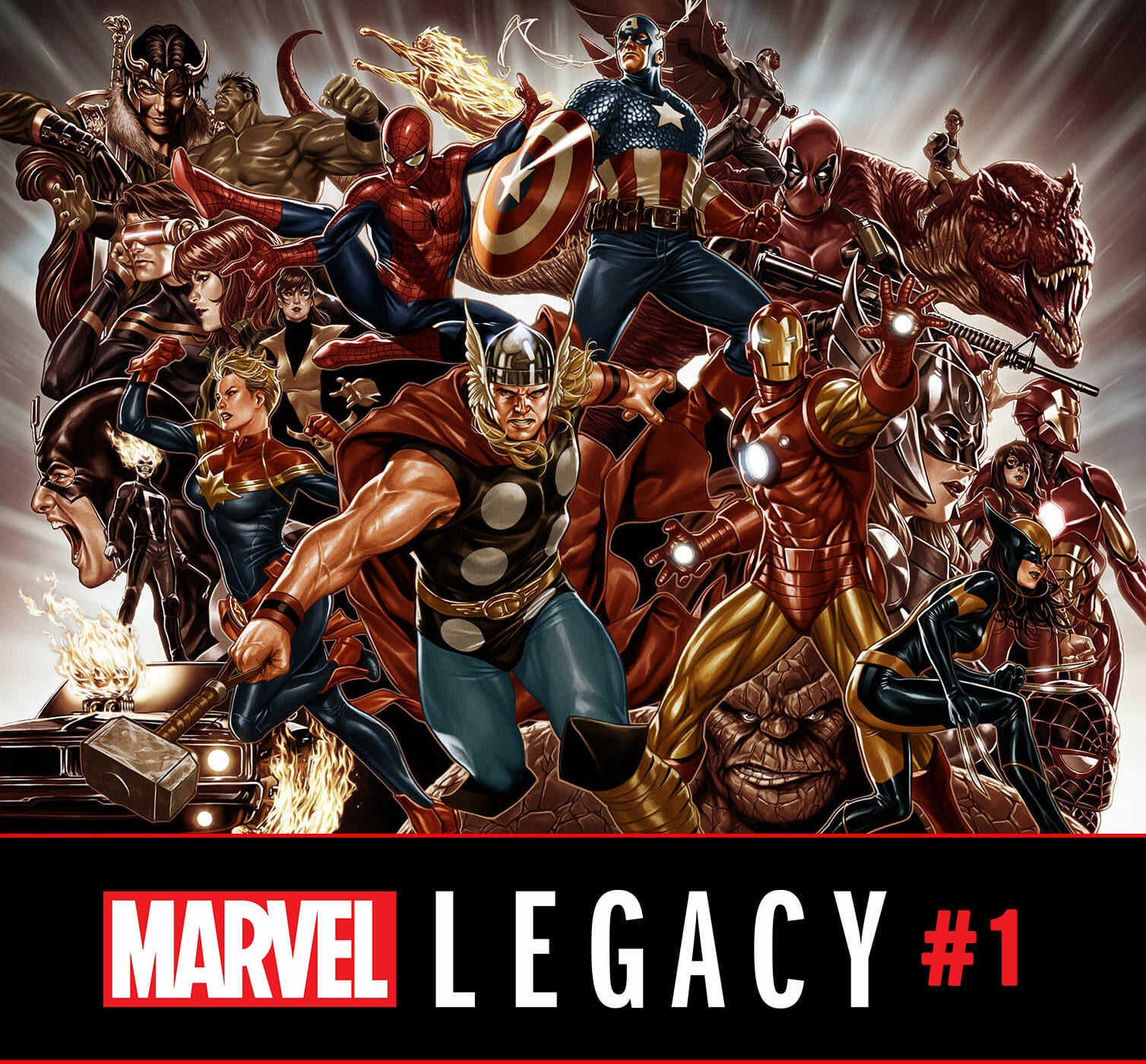 The relaunch begins with a 50-page special called Marvel Legacy #1, ushering in a new-old vision for Marvel Comics. This involves the return of a "fan-favorite" character, possibly signaling a reboot for the Fantastic Four, who were discontinued last year. Alonso tweeted a picture of the Thing this week, wearing a "2" badge that suggests a Fantastic Two team.
Reading between the lines of Marvel's optimistic press release ("Marvel Legacy changes the comic book industry!"), it's hard to say what Marvel Legacy actually means yet. Here's what we know for sure:
Classic heroes like Iron Man will still share the title with their new counterparts—which in Tony Stark's case is Riri Williams.
Several core comics will go back to their original numbering systems, making them easier to follow from the start of Marvel history. For instance, instead of getting Captain America: Steve Rogers #22, you'll get something like Captain America #691.
Some comics will get retro covers, drawn in the style of comics in the 1960s and '70s.
Some characters will go back to old-school interpretations of their role. Marvel Legacy #1 writer Jason Aaron described one storyline as "prehistoric Avengers," referring to what he characterized as the "prehistoric" era of Marvel canon.
Some characters will wear their classic costumes.
This is good news for fans of vintage Marvel, especially those who felt the publisher has been making too many ambitious changes. However, it's hard to see how this will appeal to new readers, or retain newer fans. Marvel has faced growing criticism due to its repeated reboots and relaunches, which make it harder to follow ongoing storylines. This looks like it will do the same thing, restarting the clock once again.