Aquaman and Starlord may never meet on the big screen, but in real life their actors are buds.
They may not have the same casual relationship as Hugh Jackman and Ryan Reynolds, but Jason Momoa and Chris Pratt like to occasionally rib one another online. In response to a recent Instagram post from Pratt, Momoa gently chastised the Jurassic World actor for posting an ad with a single-use plastic bottle in hand. The internet was thoroughly behind Aquaman stepping up to protect our oceans IRL.
Pratt's post was aimed at advertising an upcoming collaboration with Amazon. "I'm teaming up with @amazon to show you guys everything I use for my workouts, keeping active, and all that fun stuff to get you prepped for 2020," the post reads. While most people in the comments were busy ogling Pratt's well-defined muscles or jesting with the comedic actor, Momoa slipped in some quiet criticism.
"Bro I love u but wtf on the water bottle," Momoa wrote. "No single use plastic. come on."

Considering the massive damage plastic bottles are doing to our environment—particularly our oceans—Momoa's criticism was welcomed by most people. While a few commenters criticized the Game of Thrones actor for publicly voicing his disapproval, most rallied behind his sentiment. "Thank you," one commenter wrote. "Sometimes you have to call your friends!"
"Good job Aquaman," another commenter said. A horde of people rallied behind Momoa, airing their own grievances with the massive pollution plastic has caused over the years. According to the Center for Biological Diversity, the amount of plastic in the sea will outweigh the fish by 2050. The center estimates that there is currently between "15-51 trillion pieces of plastic in the world's oceans."
"Not one square mile of surface ocean anywhere on earth is free of plastic pollution," the center's site says.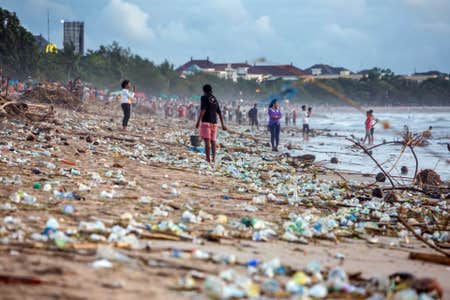 Plastic is durable and cheap, but the Environmental Protection Agency reports this is a massive part of the problem. The agency reports that every piece of plastic ever made still exists, and is floating around on a beach, in an ocean, or perhaps shipped off to other countries to be dealt with.
Momoa sent a follow-up message to Pratt. In his own Instagram post, Momoa directly addressed his 40-year-old colleague. "BRO you know my children and I are madly in love with you and I love everything you do," Momoa wrote. "I'm sorry this was received so badly today I didn't mean for that to happen. I'm just very passionate about this single use plastic epidemic. the plastic water bottles have to stop i hope u make a reusable water bottle for amazon so we all can purchase. You're an inspiration to many I'm one of them. I'll send you a case of MANANALU. All my Aloha, Da Momoa's."
In his follow-up post, Momoa recommended that Pratt create his own reusable water bottle for Amazon to sell. People were entirely behind the idea, commenting on their support on both Momoa's post and the original ad from Pratt.
Thanks for protecting our oceans, Aquaman.
READ MORE:
H/T BuzzFeed