?Squares are trendy," explains 26-year-old Russian game designer Andrey Shevchuk, thinking about the massive popularity of the Internet sensation 2048. ?Triangles aren't even close, let alone hexagons."
Building off of 2048's four-sided momentum, Shevchuk decided to make his latest game about squares. Literally, it's about squares—it's right there in the title. Called Game About Squares, Shevchuk's latest project is both addictive and original enough to start taking off—seeing a massive spike in traffic over the weekend.
Unlike the long line of of games that 2048's teenage Italian designer is accused of ripping off, or the even longer line of games blatantly ripping off 2048, the only significant aspects Game About Squares takes from 2048 are a clean and seamless ability to be played in your web browser, a disinclination to monetize its popularity with things like in-game purchases, and, yes, squares.
Gameplay itself is pretty simple. There are a bunch of colored squares with arrows on them, and a bunch of dots with colors matching the squares. Every time you click on a square it moves in the direction of the arrow. The goal is to get all of the squares lined up on their corresponding dots.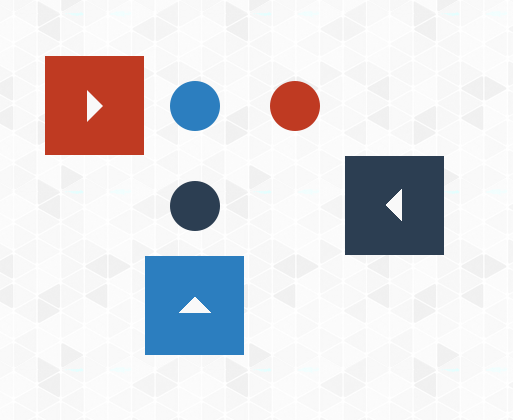 ?Right from the start I was thinking about creating a simple game," Shevchuk noted. ?With simple graphics and simple game design."
The simplicity of the gameplay is deceptive, with each level requiring increasingly complex solutions. However, what separates Game of Squares from the litany of other quality online puzzlers out there is that Shevchuk imbued it with a self-deprecating sense of humor worthy of its wryly matter-of-fact title.
After completing each level, a little message pops up gently chiding players for spending their time playing a game so incredibly simple and plotless. ?Squares are what this game is about, for the most part," it says after the first level. ?Hence the title," it adds after the second. ?You see, this game is about exactly what it claims to be about," following the third.
?Well, every game nowadays has a narrative," Shevchuk explained. ?Strategies, shooters, racing games, even card games. So I thought, why not games about squares?"
Shevchuk posted the game on Reddit a few weeks ago, right after he finished creating it, but it didn't get much traction. However, in recent days it has gotten more attention—both positive and negative.
?I was surprised that so many people found these messages annoying. I mean, I get that they may not be that fun, but annoying?" he asked. ?At the end of the day, nobody forces you to read, you may as well click through them. Surprisingly, most Russian people seem to like them. I wonder if there are subtle national differences in the sense of humor in action."
You can play Game About Squares here.
Screenshot via Game About Squares