The long-awaited Borderlands 3 game is squarely in the crosshairs of some angry gamers and getting review-bombed simply because it will be exclusively sold in the Epic Games Store instead of Valve's ubiquitous Steam … for six months.
Review-bombing has become a favorite tactic of jerks on the internet who are upset that something they don't like is being enjoyed by other people. It's gotten so bad that, for example, Rotten Tomatoes removed its audience score for Captain Marvel because it was artificially deflated by an "uptick in non-constructive input"—which is one way of putting it.
Borderlands 3, developed by Gearbox, was announced at PAX East last weekend to much excitement. It's been seven years since Borderlands 2 on the PlayStation 3. There's been one "pre-sequel," a Telltale adventure game, and one mobile strategy game in the time since.
The exclusive part of the equation is just for PC players. Of course, Borderlands 3 is coming to both the PlayStation 4 and Xbox One. It will launch on consoles and the Epic Games Store on Sept. 13 but won't be available on other PC platforms until April 2020.
It's the latest in a line of exclusives Epic Games has been able to pull off since its launch in 2018. Before then, Valve's Steam was the go-to place for digital PC game purchases. Though other services existed, it was considered foolish for developers to not launch a game to Steam's large market share. Things changed when Epic Games made $2.5 billion in 2018 from a little game known as Fortnite.
Since then, Epic Games has attempted to nab a piece of that digital purchase pie by scooping up exclusivity rights on certain games like Metro Exodus and Ubisoft's popular The Division 2. Add that Epic only takes a 12 percent revenue cut (Steam currently takes 30 percent) from games sold on its platform, and it's a party for game makers big and small.
The move to make Borderlands 3 temporarily exclusive has made some folks angry enough to review-bomb prior Borderlands games on Steam. This might only encourage Gearbox to continue hosting its game on Epic's platform, which offers developers the option to turn off customer reviews.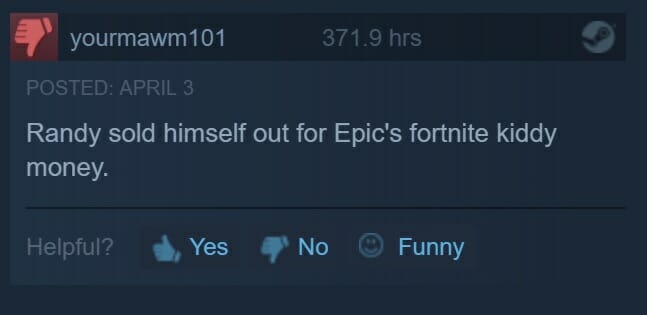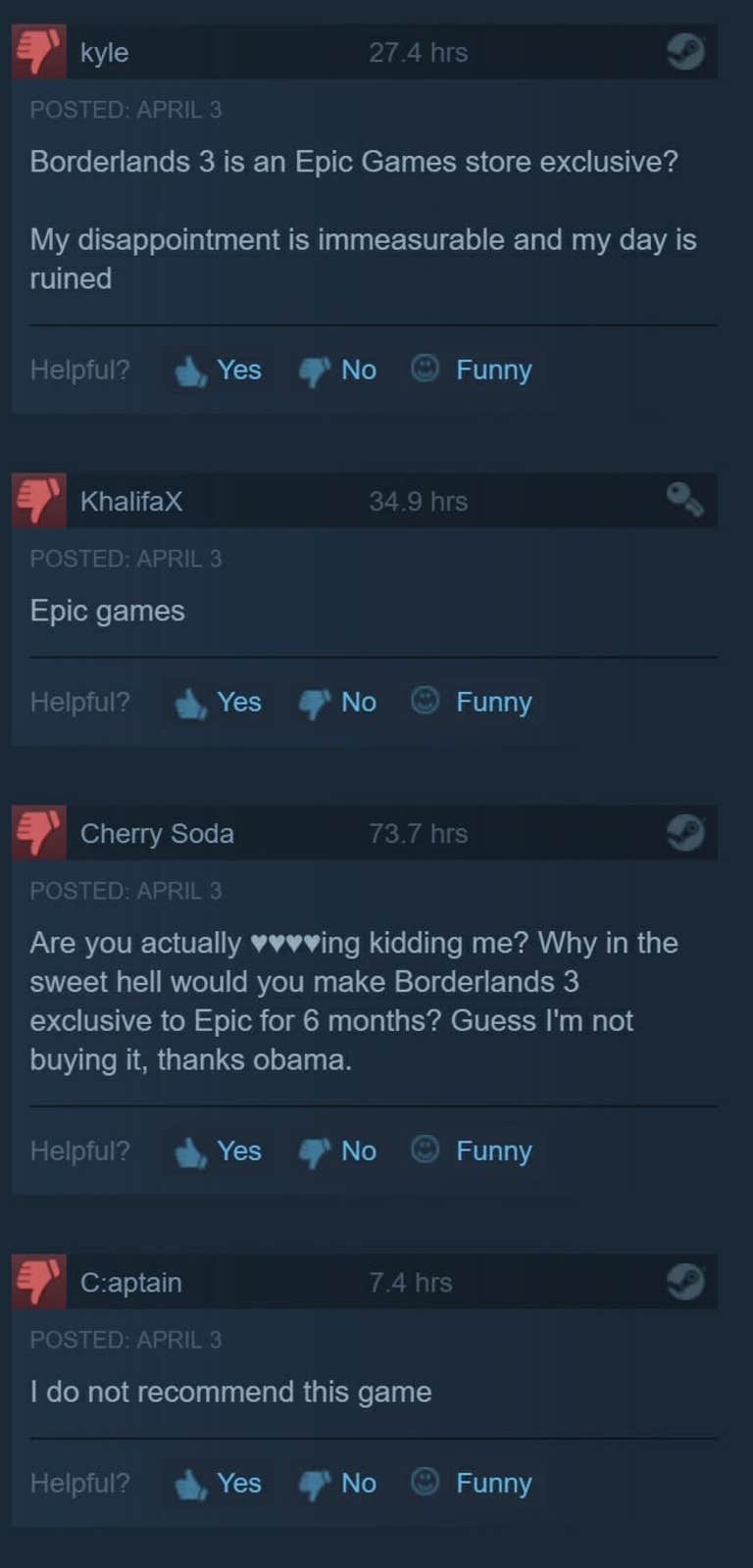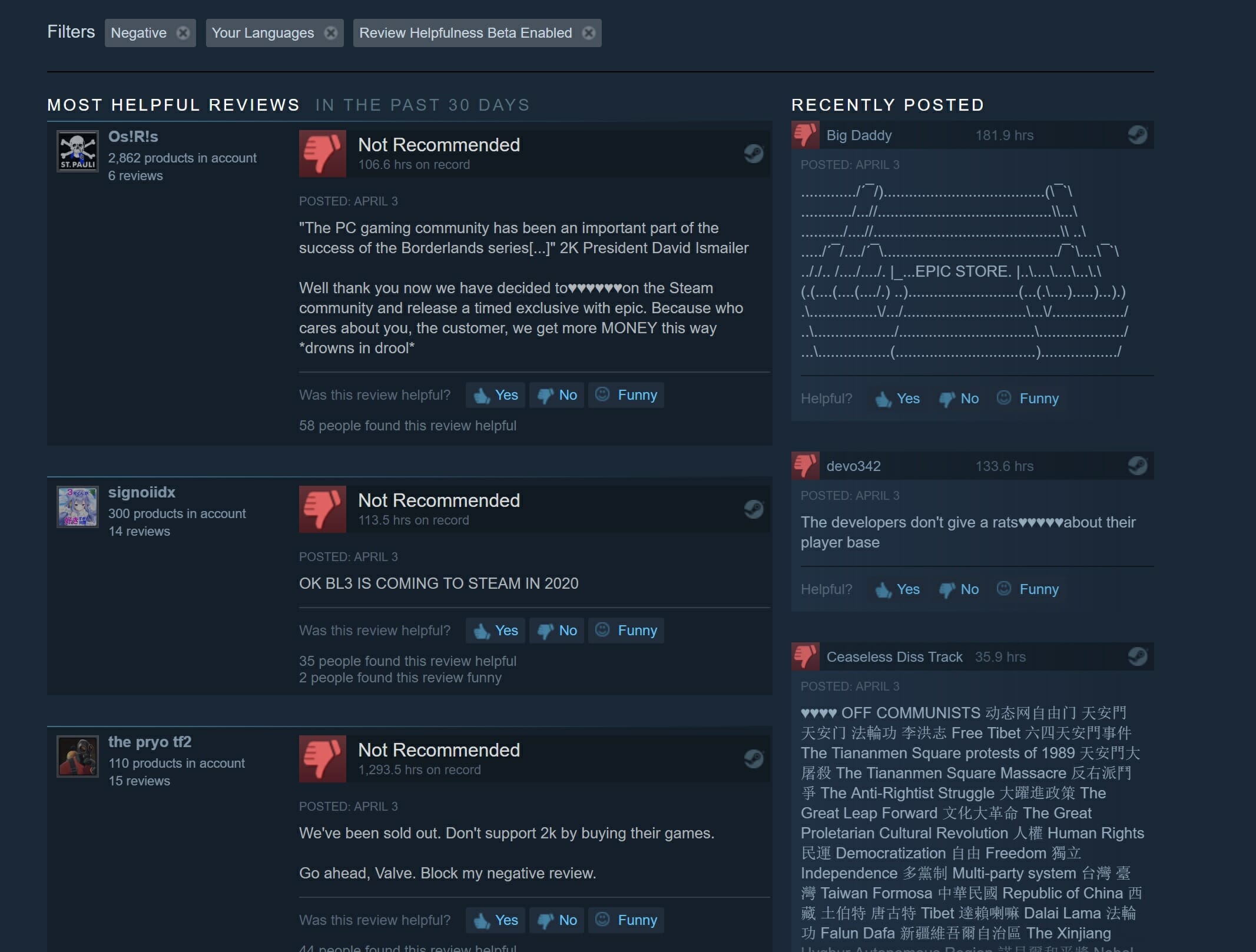 Since Borderlands 3 was announced, the negative reviews on Steam have spiked in number and surpassed the number of positive reviews. By April 3, the day the exclusivity was announced, 419 negative reviews had been submitted. Some people evidently tried to counteract the negative reviews, as 255 positive reviews were posted on the same day.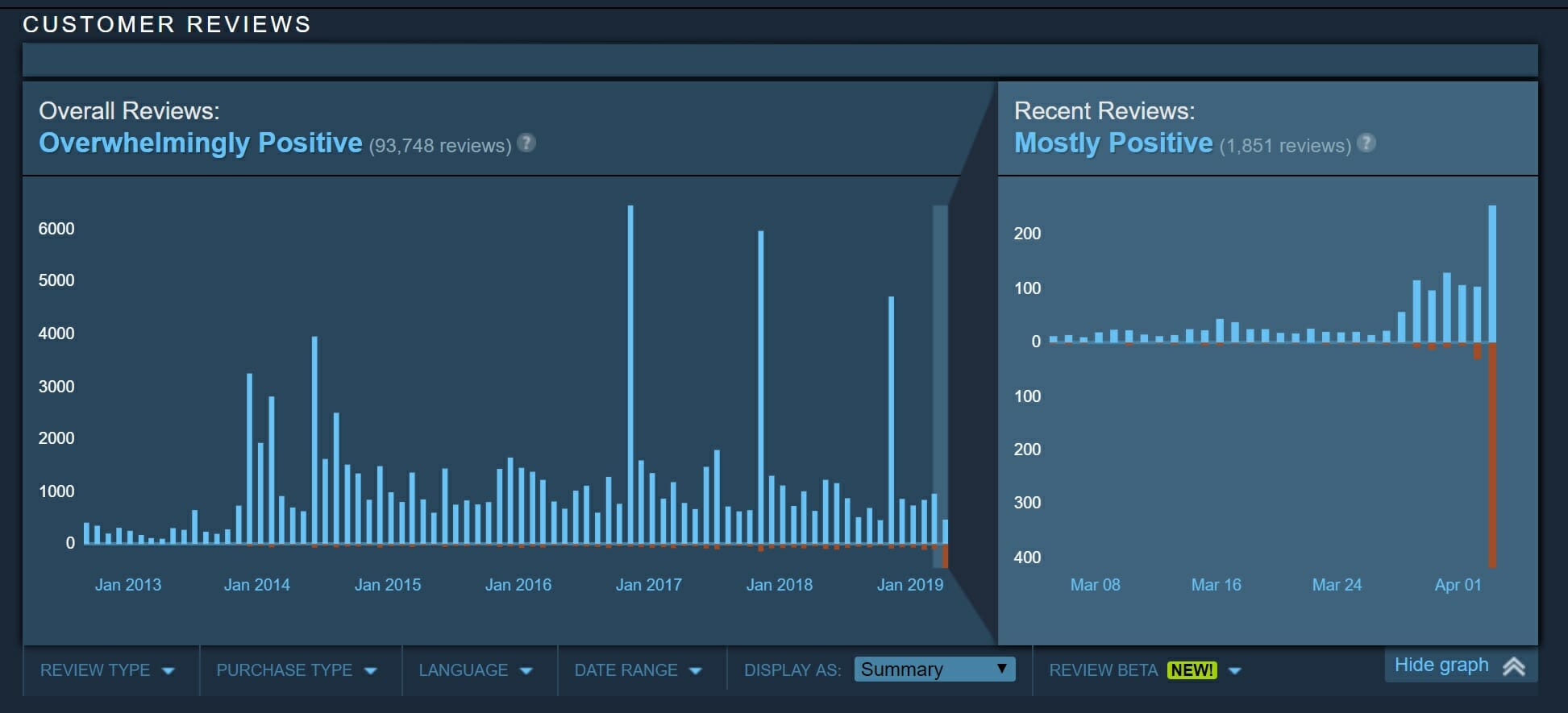 Like most review bombings, this one doesn't seem poised to have much effect. After all, Captain Marvel soared to $1 billion in worldwide box office despite the anger of internet naysayers. Borderlands 3 players don't even have to worry about missing out on the fun with friends since it will support co-op cross-platform play, according to IGN.
READ MORE: