It's official: Tumblr is going to belong to Yahoo.
After days of speculation, Yahoo's board approved a deal to buy the popular blogging site for $1.1 billion in cash, according to the Wall Street Journal. Yahoo chief Marissa Mayer is likely to make the announcement Monday at a press conference in New York City. 
The Tumblr community has gone into full-on freakout mode. The Yahoo tag on Tumblr is packed with anti-Yahoo reaction GIFs, petitions, and posts declaring Tumblr "dead." 
 
MORE: 5 reasons Tumblr is doomed

"I can't breathe. My life is over," wrote one user after hearing the news. And that seems to be the Tumblr community's reaction in a nutshell.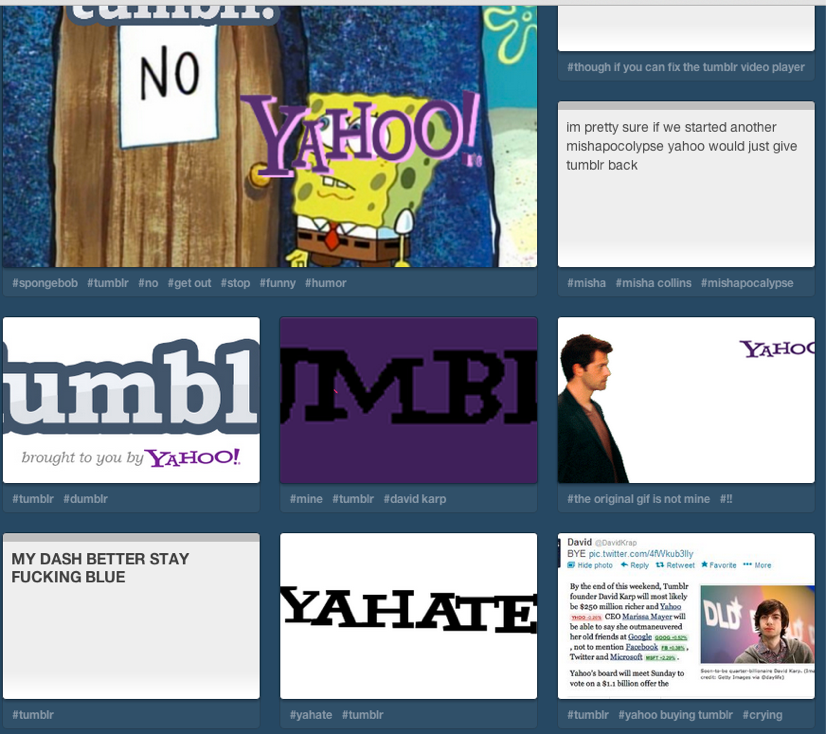 They may have good reason to worry—Yahoo's track record of acquiring thriving online communities and watching them wither on the vine has been well-documented. Flickr, once considered the premiere photo sharing community on the Web, lost its momentum after being bought out by Yahoo in 2005.
Things got so bad that when Yahoo brought on rising Google star Marissa Mayer as CEO in 2012, she was immediately greeted with a petition begging her to save Flickr and make it awesome again.
And, to her credit, Mayer stepped up. Monday's press conference is also expected to include an announcement about Flickr updates. 
Amid all the doomsaying from Tumblr's userbase, some pundits think the Yahoo CEO's cool-factor could be enough to prevent Tumblr from turning into the next Geocities—the popular early web community that Yahoo bought, ignored and shuttered.
The old Yahoo would have ruined Tumblr, unquestionably. But under @marissamayer I have faith….

— Jeff Jarvis (@jeffjarvis) May 19, 2013
Although Mayer may be starting a sea change in Yahoo's corporate culture, the company's main business is still advertising. The Wall Street Journal reported that "people familiar with the matter said Yahoo believes it could help Tumblr bring in more money by selling ads, boosting its own revenue in the process." 
Yahoo's focus on ads could make the mostly uncensored Tumblr community a bad fit, because Tumblr's big "porn problem" is now Yahoo's to deal with. 
Tumblr users understand that, too. "So when are we spamming everyone's dashboards with porn to get Yahoo to leave?" asked MyApplePieIsFreakingWorthIt.
Illustration via FrickYeah1990s/Tumblr