While Vine has had verified badges for its employees for several weeks, it is only more recently that the little "V" logos have started appearing for high-profile users.
Actor and most excellent viner James Urbaniak asked Bobby McKenna, a designer with Twitter's video-sharing app, why the mark suddenly showed up on his profile.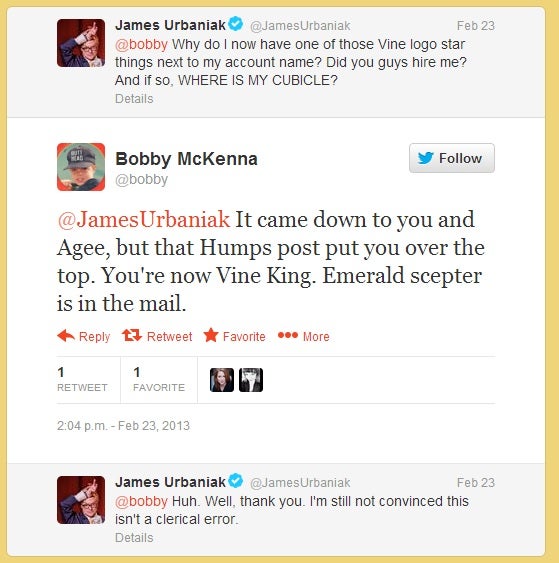 Here's what the verification mark looks like on Urbaniak's profile:
As we pointed out when Vine first hit the App Store at the end of January, it's not always easy to tell if a Vine account is legitimate. Duplicate usernames abound, and it's not easy to ascertain if the person you're following is actually who they say they are.
Prior to now, the only way to do that would be to check if their name pops up when browsing through the list of your friends who have connected their Twitter accounts, or look to see if they've tweeted their vines.
Ensuring the legitimacy of a viner's identity, especially when it comes to celebrity and high-profile figures, is a welcome move.
Other prominent viners, including Paul McCartney, Kevin Smith, the Brooklyn Nets, Lucky Mag, and early Vine stand-out Adam Goldberg, have all scored the new "verified" badges.
We've reached out to Twitter for comment, and will update if we hear back.
Meanwhile, if you're unfamiliar with Urbaniak's vines, here are a couple of his masterpieces to show why he's a must-follow.
Photo by Joelk75/Flickr