Over the weekend, news that Olive Garden was supporting Trump's reelection campaign spread like wildfire across Twitter. #BoycottOliveGarden trended for hours.
There's just one problem: It isn't true. The Daily Dot could find no record of Olive Garden or its owner, Darden Restaurants, donating to Donald Trump.
But no matter; the pyre was stacked and Resistance Twitter was ready and willing to roast Olive Garden.
Some took aim at the fare. "No one should ever eat at a chain Italian restaurant, where your money goes to the highly paid execs who can't even cook. You go where mama, the owner, is in the kitchen, fixin' your pasta herself. #BoycottOliveGarden," one wrote.
"Y'all want me to boycott Chick-Fil-A, Taco Bell, In-N-Out Burger, Pizza Hut, KFC, Waffle House, IHOP, Wendy's, KFC, AND OLIVE GARDEN?! What's left I'm sorry, but I'ma still eat their crusty, oversalted breadsticks #BoycottOliveGarden," another lamented, referencing the numerous politically-motivated restaurant boycotts, such as that of Nestle.
Trump supporters, meanwhile, busily proclaimed their intention to eat copious amounts of unlimited breadsticks and salad in solidarity. "Thanks for letting us know! Not a fan of Olive Garden but will now go to show my support!" said one woman.
https://twitter.com/cmclymer/status/1165795100271755265?s=20
I mean who even wants to eat cold ass overpriced wannabe Italian food

#BoycottOliveGarden pic.twitter.com/DAyy2DGF50

— Queen B (@TheBigestFandom) August 26, 2019
https://twitter.com/NYPolJunkie/status/1165777358361681921?s=20
https://twitter.com/PhoenixEamon/status/1165684187648724992?s=20
https://twitter.com/mynameisNegan/status/1165802830470496256?s=20
https://twitter.com/CurlyNerdyBry94/status/1165785122873970691?s=20
The rumor appears to have originated in a single tweet.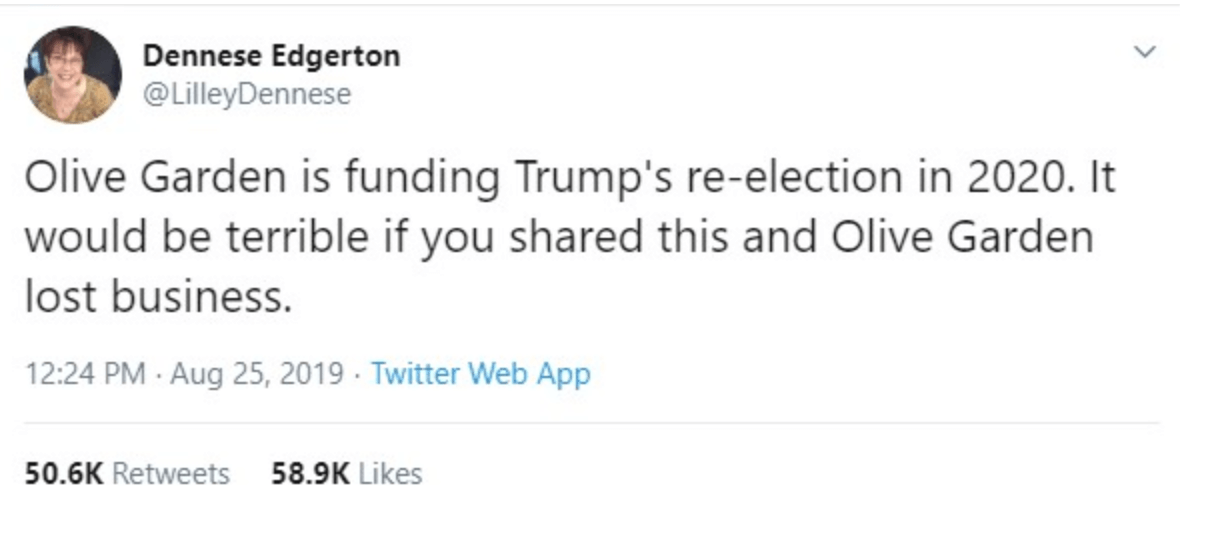 The Daily Dot contacted the account via tweet and at an email address that appeared to belong to the account holder. As of press time, @LilleyDennese had not responded. The tweet has been deleted.
According to OpenSecrets.org, Darden Restaurants has not donated to Trump or any other presidential candidate. Which Olive Garden itself has continuously insisted since the rumor took hold, tweeting over and over and over again, "We don't know where this information came from, but it is incorrect. Our company does not donate to presidential candidates."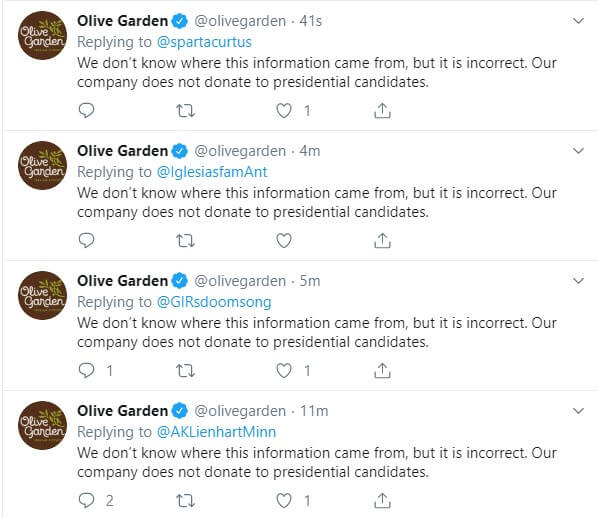 As news slowly circulated that Olive Garden and Darden Restaurants do not in fact donate to Trump, some took to blaming Twitter for allowing the rumor to take root in the first place.
https://twitter.com/charles_bellows/status/1165980694968971264?s=20
leave it to twitter to get a whole boycott trending based on information that's straight up false #BoycottOliveGarden pic.twitter.com/W4RSlrzoYu

— Jordan Lancaster (@jordylancaster) August 26, 2019
Perhaps next time people will do their own research before they boycott a company based on a tweet.
READ MORE: