It was just a "throwaway line" on Twitter—something only a few dozen people might see.
Or, at least, that's what Mike Holden thought when he typed "He's a fascist, so not unusual" in a reply to a Fox & Friends tweet promoting a story about President Donald Trump considering pardoning former Arizona Sheriff Joe Arpaio.
Then came the retweet that would send Holden's Twitter feed into a frenzy. It wasn't from a fellow Twitter follower chuckling at Holden's latest joke or someone who agreed with Holden's assessment of the president—it was from Trump himself.
For the 20 or so minutes that Trump had mistakenly retweeted Holden's "fascist" tweet up on his page, the mentions and notifications began to grow. Then things went "bananas" on his Twitter page, Holden said.
"I'm a bit fazed, it's been quite crazy today," Holden said, laughing, during a phone interview with the Daily Dot on Tuesday. "I had a couple hundred followers this morning, now I've got quite a few more than that." (At the time of publication, Holden has more than 3,300 followers.)
Holden, who described himself as a "left-winger," said he was waiting for the daily barrage of tweets Trump tends to send out in the morning—which roughly comes around lunchtime for Holden, who lives in England. The recent violence in Charlottesville, Virginia, and the criticism Trump has received for his response to it, made Holden feel like there would at least one tweet from the 45th president that would be worth commenting on.
While working at his day job as an information technology consultant, Holden replied to the Fox & Friends tweet, tagged Trump, didn't think much of it, he said.
Then the notifications started pouring in.
"I just tweeted this thing and got a few likes and a few retweets, then more and more—and a few Trump trolls, but I can cope with all that," Holden said. "I'm thinking, 'why are they retweeting this? It's a throwaway line.' My notifications feed just kept going and going."
He's a fascist, so not unusual.

— Mike Holden (@MikeHolden42) August 15, 2017
'The internet doesn't forget, does it?'
When Holden read a tweet from someone that said Trump had retweeted his "fascist" line, it hit him—today wasn't going to be a normal Tuesday.
He rushed to the @realDonaldJTrump account and could barely believe it: Trump had retweeted his insult.
"It was quite surprising, obviously," Holden said, adding that he took a screenshot of the retweet because he knew it would soon be deleted. "But the internet doesn't forget, does it?"
While one might expect a flood of mentions, notifications and tweets might come with its fair share of trolls, Holden said his day of fame on Twitter has been "overwhelmingly positive."
Most people are laughing at the ridiculousness of a president mistakenly retweeting an insult while others are congratulating Holden on the rarity of what had just happened, he told the Daily Dot.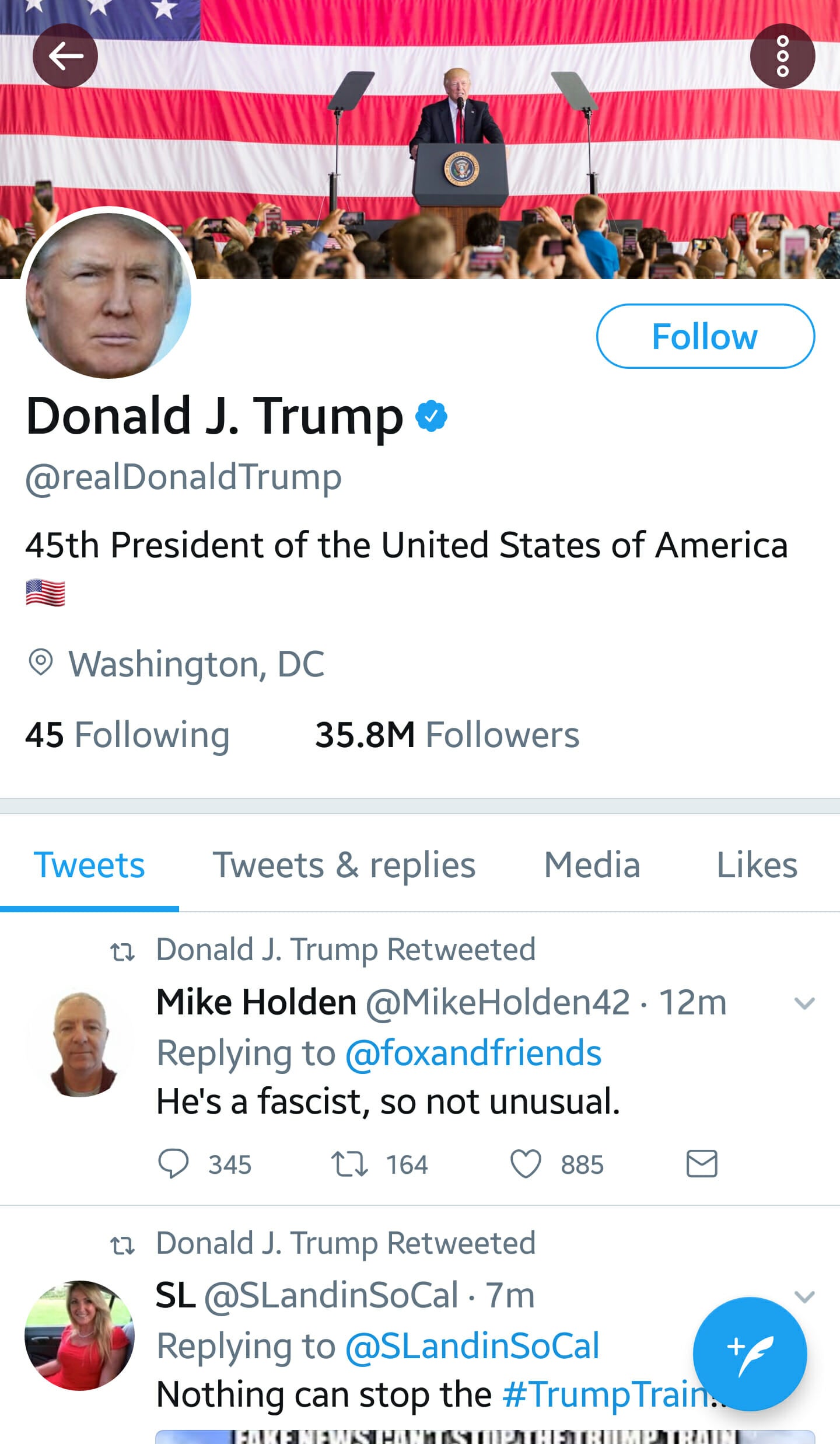 Since Trump's mistake, Holden has been chatting with fellow Twitter users, bantering with people, sifting through his thousands of notifications and fielding media requests. Holden did say he wouldn't be surprised if a few of his new followers were Trump supporters waiting to troll him in the future.
"I'd say it's been 90 percent positive," Holden said. "I think it's because it's just so funny to people."
As for his growing follower-base and newfound moment in the spotlight, Holden is humble. He said he knows the nature of the internet—and based on his interactions with the dozens of people congratulating him for his bizarre Twitter accomplishment, he's trying to just enjoy the moment and take it all in stride.
"I'm aware that the internet and internet fame is very fleeting," Holden said. "It'll all be gone tomorrow, and I have no problem with that."