Although they did not attract as much attention as the crowded and raucous Republican primary debates, the Bernie Sanders and Hillary Clinton showdowns on the left were as equally contentious and fractious.
In her new book What Happened, Clinton addresses her fight for the Democratic nomination with Sanders, referencing his constant one-upmanship of her policy points, making promises she believed he couldn't actually deliver on.
To point out what she thought was the absurdity of Sanders' actions, she used the example of Harland Williams's deranged hitchhiker in There's Something About Mary and his idea to best the 8-Minute Abs franchise with his own 7-Minute Abs series.
After the frustrating experience, Clinton writes that she found solace in a viral Facebook post.
SWEET JESUS HILLARY HAS NO MERCY! God I love this. pic.twitter.com/FZomIui7t0

— Adam (@AdamJSmithGA) September 4, 2017
Magic abs!
The post Hillary references comes from Helen Stickler, in March of 2016, a day after Sanders and Clinton tangled in Miami.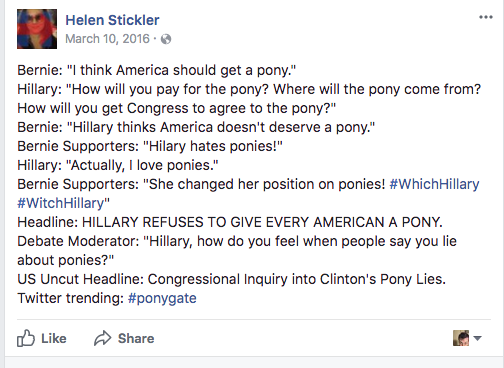 Stickler said she was honored that her meme was included in What Happened.
"I am amazed to find out that Hillary included my #ponygate meme in her upcoming book," she wrote on Facebook. "I gave it to her in a private note in May 2016, but she may have seen it around virally. So proud, for myself and the other ladies (and one gent) who contributed to the original thread that it came from!"