YouTube stars Diamond and Silk have made names for themselves as pro-Trump personalities. But a Gizmodo investigation reveals that the pair had help building that image—from the Trump campaign itself.
Diamond and Silk appeared at a number of President Donald Trump's 2016 campaign events, and they continue to make appearances on conservative programs, such as Sean Hannity's Fox News show.
On Aug. 7, the Commerce Department posted a now-deleted photo on Twitter of Diamond and Silk visiting the department's Minority Business Development Agency (MBDA), where they discussed "discuss how to grow their business and build their brand."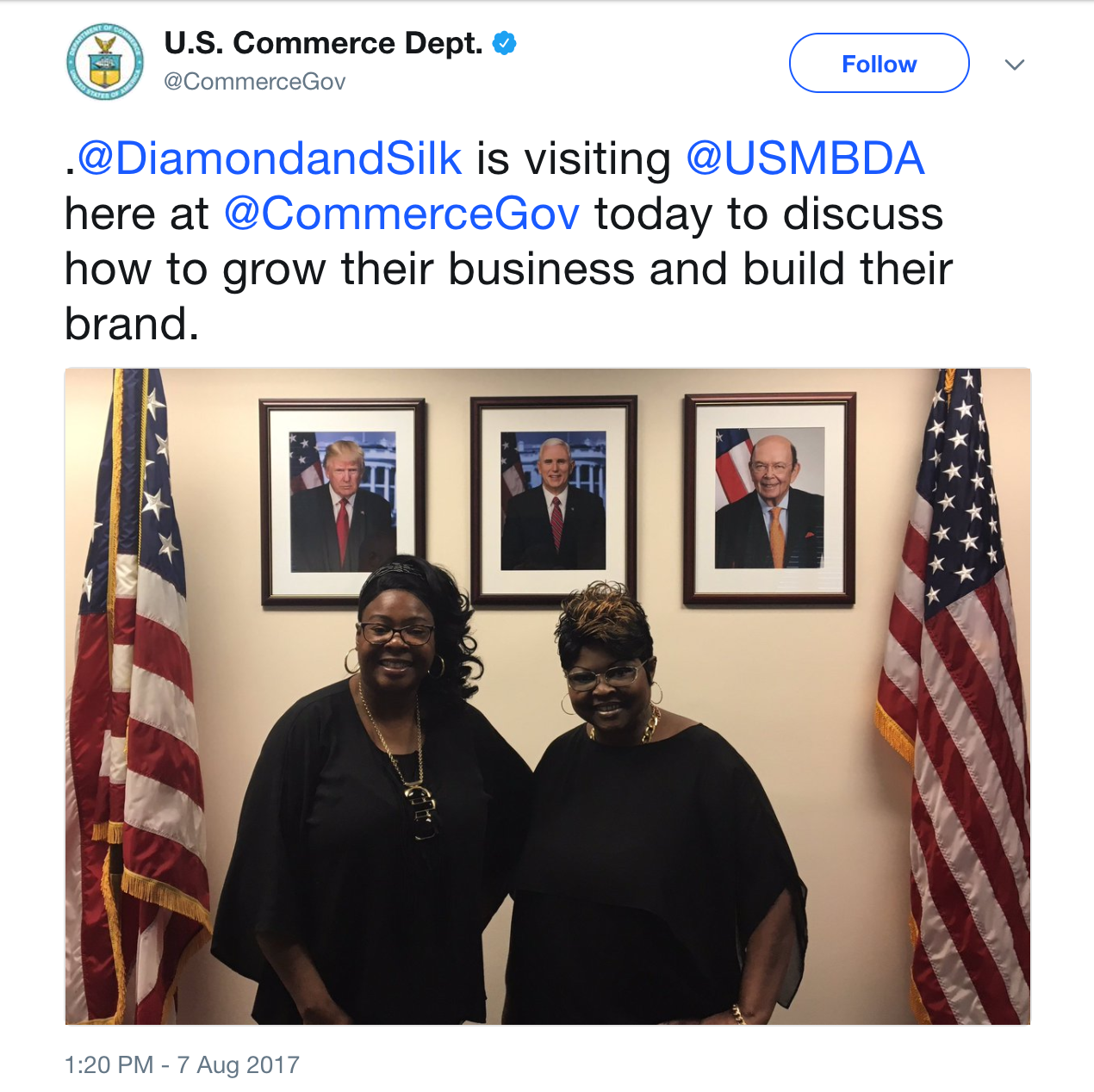 As Gizmodo's Dell Cameron reports, the meeting was set up by Chris Garcia, head of the MBDA, who previously worked for the Trump campaign. (Disclosure: Cameron previously worked for the Daily Dot.)
Diamond and Silk primarily post vlogs about politics to YouTube, which presumably provides advertising revenue. They also have a store on their website, which currently includes just two items: a pair of "Trump" pins.
Questioned about the relationship between Trump and Diamond and Silk, whom the president said at the time had become "very famous and very rich," a Trump campaign spokesperson told ABC News in April said the duo "have never been paid by the campaign, which you can verify in our FEC reports." The spokesperson also said there was "no connection" between Diamond and Silk and Ace Specialties, a firm the Trump campaign paid $2 million for promotional merchandise.
However, an amended filing the Trump campaign submitted to the Federal Election Commission reveals that this was not entirely true. Diamond and Silk had, in fact, been paid $1,274.94 for "field consulting."
Now, isn't that rich?
Read the full Gizmodo report here.