Large protests, from London to Scotland, are in the works for President Donald Trump's scheduled July 13 visit to the United Kingdom. During the trip, Trump will meet with British Prime Minister Theresa May and Queen Elizabeth II, but will he also get to meet a giant twenty-foot-tall baby Trump balloon flying over Parliament? That remains to be seen.
The balloon is the brainchild of self-proclaimed "troublemaker" Leo Murray, who easily achieved his crowdfunding goal to create the helium-filled Trump. However, London Mayor Sadiq Khan, although no fan of Trump, said Murray and his crew won't be allowed to fly the balloon over Parliament, stating it doesn't qualify as a protest, but rather as art.
@MayorofLondon says I am "not a protest"! WRONG! I am the greatest at protest, the best. Not good! pic.twitter.com/LYp05FMV8I

— Trump Baby (@TrumpBabyUK) June 13, 2018
I am a giant orange baby with tiny hands. I just want to fly above Parliament on July 13th when little Donald visit Britain. But @MayorofLondon says I can't. Sad!

Tell @SadiqKhan to let #TrumpBaby fly! https://t.co/qjbolEge6r

— Trump Baby (@TrumpBabyUK) June 13, 2018
"Donald Trump is a big, angry baby with a fragile ego and tiny hands," Murray wrote on the Crowdfunder page, "He's also [a] racist demagogue who is a danger to women, immigrants and minorities and a mortal threat to world peace and the very future of life on earth. Moral outrage is water off a duck's back to Trump. But he really seems to hate it when people make fun of him."
The mayor's office is arguing that, since the balloon would need a little over 16 square feet to inflate and take off, that's space in Parliament Square that would not be available to other protestors.
Murray has stated that Baby Trump will fly one way or another. Alternative plans including finding someone "with a large garden in central London,"possibly hiring a barge and floating baby Trump over the Thames river, or taking the ballon to a different location where adult Trump will see it.
For instance, there's a chance the president will stop by the golf course he owns in Aberdeen, Scotland, and seeing a giant baby version of himself, complete with diaper, might very well throw his putting game off.
Launching a balloon in the air is certainly an unconventional form of protest, but it does have a history of upsetting authority figures. It certainly worked well when Bart Simpson employed similar tactics back in 1995.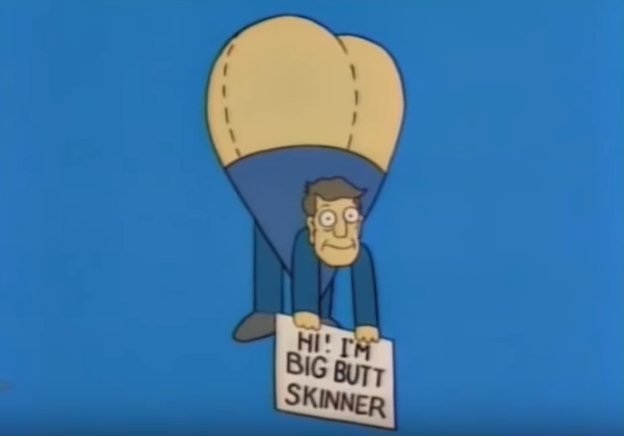 READ MORE: