June is Pride Month in the United States, otherwise known as the time of year brands bring out the rainbows and wave them around for a short amount of time before returning to business as usual.
But as annoying as the commercialization of LGBTQ equality can be, there are always some gems that make an impression for some reason or another. And Nickelodeon just smashed that out of the park with a post on Twitter that's grabbed everyone's attention.
"Celebrating #Pride with the LGBTQ+ community and their allies this month and every month," wrote @Nickelodeon. Attached to the tweet was a photo of Michael D. Cohen, a trans actor on the network's recently ended Henry Danger; rainbow art of Korra, the bisexual protagonist of Legend of Korra; and permanent childhood icon SpongeBob SquarePants.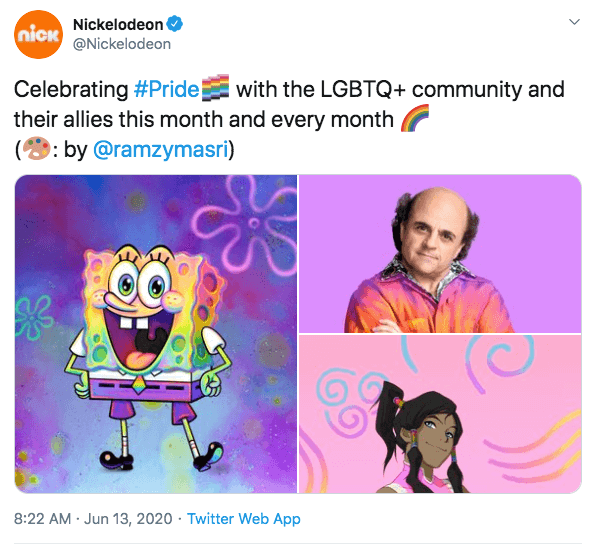 The internet immediately went into a frenzy at the possibility that Nickelodeon just casually confirmed SpongeBob as gay, after over a decade of fans considering him a queer icon.
"We've been working on 'is spongebob gay' for 20 years and Nickelodeon just…tweeted it out," wrote @addamschloe.
What people took as a bold declaration overriding stated canon was made even amusing because Nickelodeon immediately turned off replies to the tweet, presumably to halt any negative replies to their celebration of Pride.
"They said spongebob gay then LEFT THE ROOM," tweeted @soildweller.
Of course, seeing SpongeBob included in a comment celebrating the LGBTQ community and assuming that means he's gay disregards the fact that Mr. SquarePants could actually fall anywhere on the spectrum of queer identities.
And, in fact, the show's creator, Stephen Hillenburg, said back in 2005 that he and everyone else making the show "never intended [SpongeBob and his friend Patrick Starfish] to be gay. I consider them to be almost asexual. We're just trying to be funny and this has got nothing to do with the show."
The off-hand comment has long been taken as confirmation that SpongeBob is canonically asexual, an identity that is often considered to fall under the LGBTQ umbrella.
"A reminder that spongebob is asexual and that we need more ace representation in cartoons and teen series/sitcoms," one Twitter user wrote.
"Everyone tweeting SPONGEBOB GAY as if Stephen Hillenburg didn't confirm that he's asexual like 15 years ago; sis he's been a lgbtq+ icon since 2005!!!!!!!!" another tweeted.
Though several folks pointed out that the cartoon sponge could totally still be homoromantic asexual. "Apparently he's confirmed asexual by stephen hillenburg but i'd still put my money down on him being homoromantic," one wrote.
Regardless, SpongeBob is clearly a celebrated member of the LGBTQ community, and folks had plenty to say about his inclusion in Nickelodeon's mic-drop Pride tweet.
Obviously not all of it was positive. "Nice as if kids aren't confused enough," complained @smack0304.
But Nickelodeon said what it said!
Now, just include more on-screen LGBTQ representation with in-story confirmations, Nick.
READ MORE: