A QAnon-supporting mother who expressed outrage over a Nickelodeon promo intended to highlight the police killing of George Floyd was roasted off of the internet on Tuesday.
The promo, which the woman filmed on her television, included the sound of heavy breathing alongside the words "I can't breathe."
The scene played out over Nickelodeon for 8 minutes and 36 seconds, intended to signify the amount of time Minneapolis police officer Derek Chauvin spent with his knee on Floyd's neck.
In a now-deleted tweet, the woman went on an expletive-ridden tirade over Nickelodeon's decision.
"Ok, I'm PISSED! Why is this shit just popping up on Nickelodeon while my kid is watching a show?!!!!" she tweeted. "My 8 year old is scared to death!!! F*CK YOU MEDIA!!! F*CK YOU!!! U are DONE!"
The tweet was finished with a series of hashtags related to the QAnon conspiracy, such as #QArmy, #QAnon, and #WWG1WGA.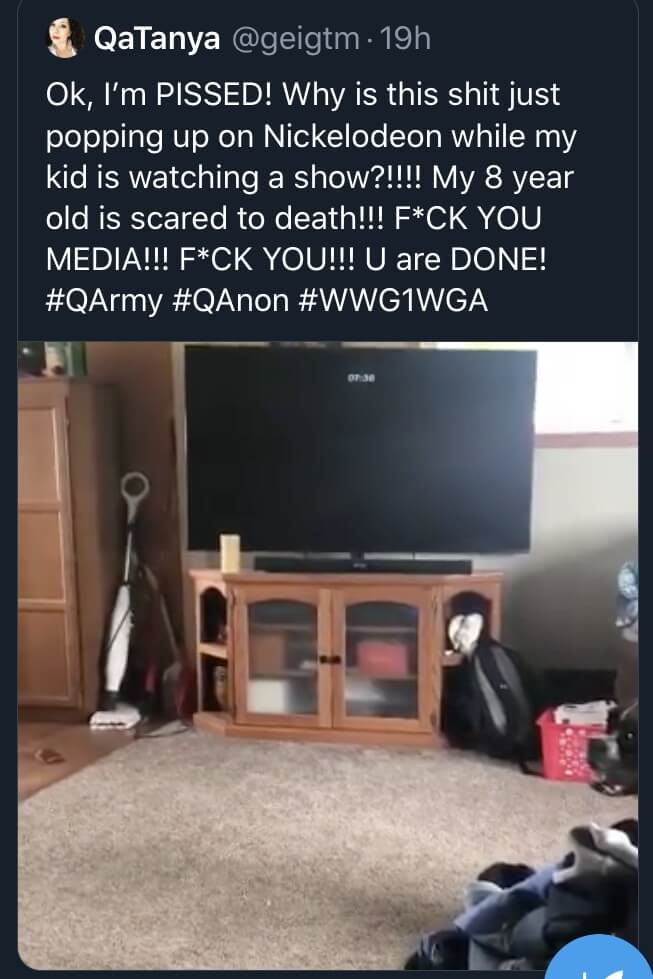 Although the woman's child was allegedly "scared" of the video and asked her to "stop," the mother continued documenting the clip.
"I will [stop], I just wanna see what's happening here," the mother says.
Twitter users quickly responded by both criticizing and mocking the mother.
"Nickelodeon blacked out their network in honor of #GeorgeFloyd for 8 minutes and people are really screaming at them for traumatizing their children," actress Davida Williams said. "Black children are being shot and killed by police and YOUR children should know and be taught anti-racism. Also you're racist."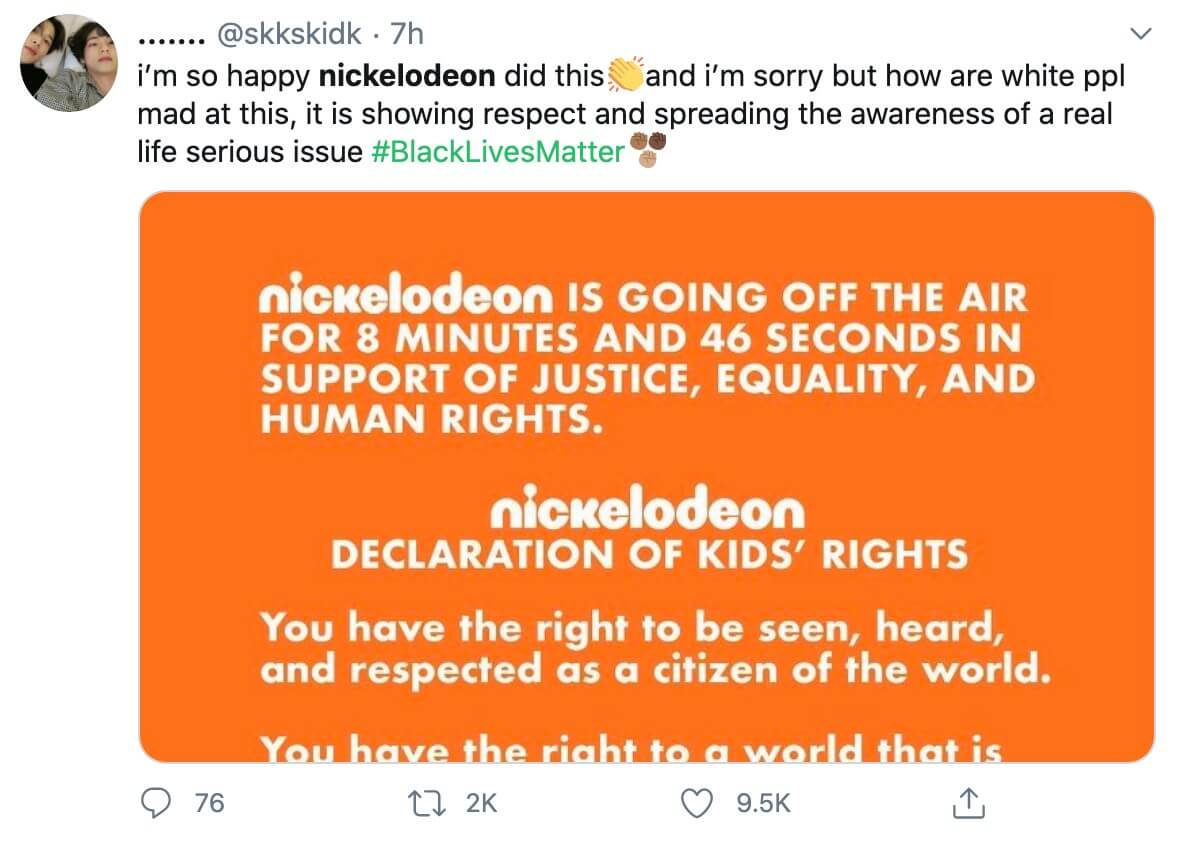 The woman eventually deleted her own Twitter profile in response to the backlash.
But the mother wasn't the only one to complain. An individual on Facebook complained about the video as well.
"This is not the right platform for this at all," the person said. "The average age of the children that watch your channel are under the age of 12 and if anything all your [sic] doing is scaring children and that is just wrong."
Nickelodeon was quick to respond.
"Unfortunately, some kids live in fear every day," the company said. "It's our job to use our platform to make sure their voices are heard and their stories are told."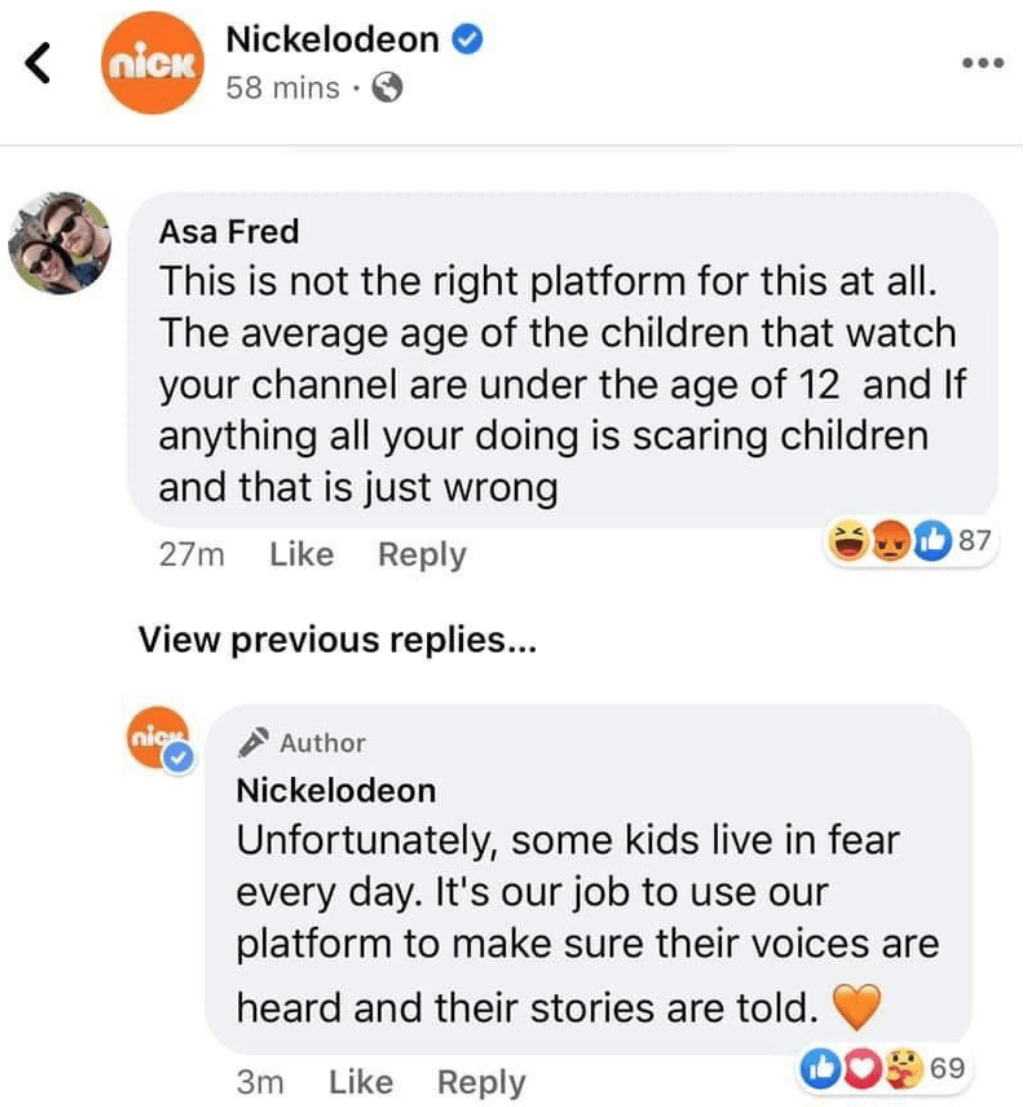 Nickelodeon's promo came as part of "Blackout Tuesday," which saw major corporations weigh in on the killing of Floyd and police brutality.
READ MORE: