I know you. You're the Harry Potter fan so dedicated you've read every book in the series multiple times. You have a scarf and a cardigan to rep your house colors. Your house looks like a shrine to all things Hogwarts. If there was some way, any way, you could leap into that world and leave this one behind, you would do so faster than a Golden Snitch.
While a direct portal to Platform 9 3/4 may not be available just yet, this new photo printer from the folks at Lifeprint is. It's about as close as you can get to being in the world of Harry Potter and his wizarding world. Not only does it do all the stuff Lifeprint's other products do (print photos and bring them to life), but it comes stuffed with options that are just for devoted HP fans.
It works like this: Sync the Harry Potter printer with your phone via Bluetooth, download the Lifeprint app, and take a photo or a video. Once it prints out, view it using the app's viewfinder and watch as your video comes to life in the picture!
You're not just going to take regular photos, of course. You can use stickers on them, or use AR technology to make yourself look like Mad-Eye Moody. Slap on a pair of Luna Lovegood's Spectrespecs. See what you look like in different house scarves. I went for my own house (Ravenclaw) when I did mine.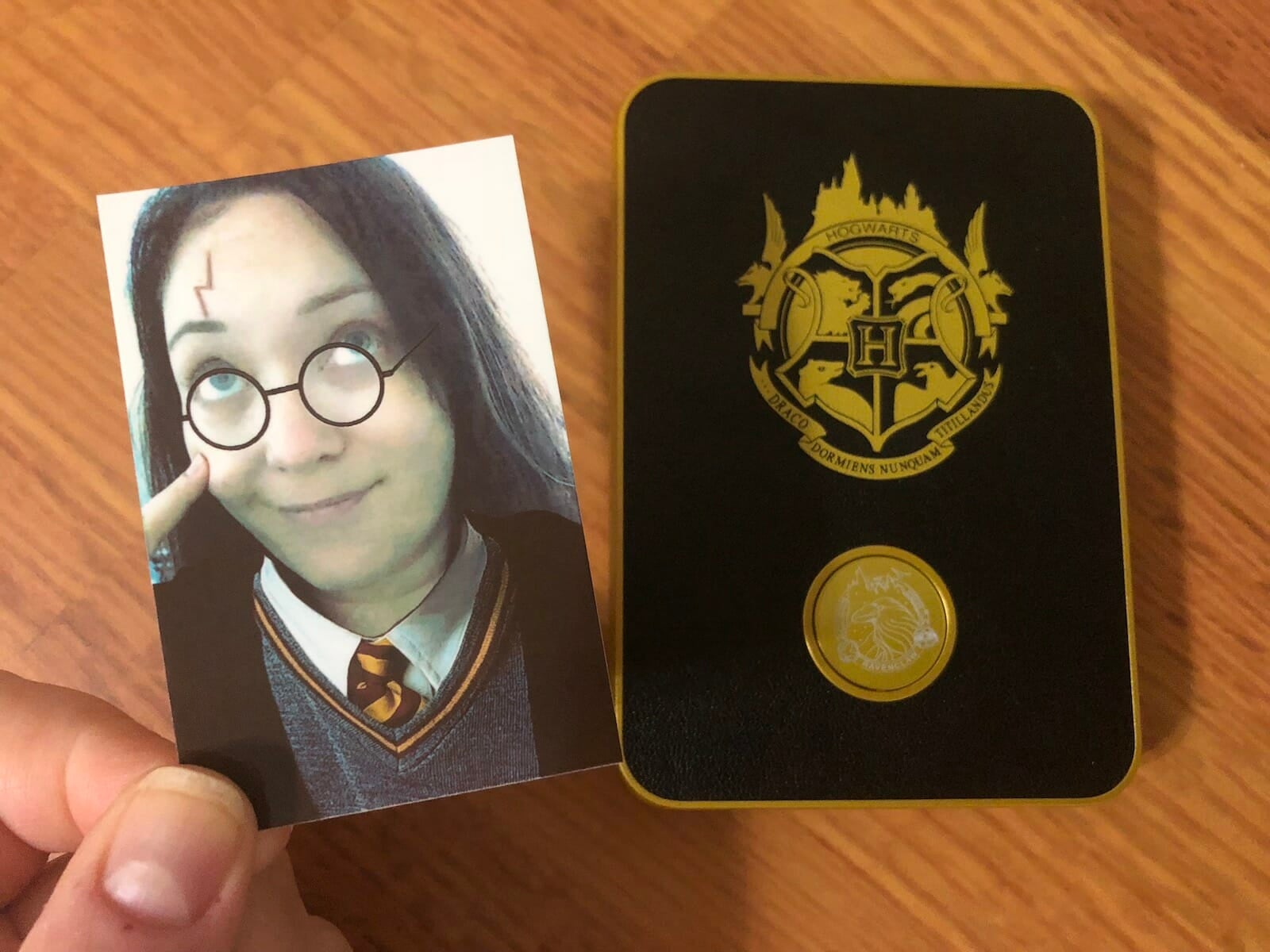 Not only can you use these filters and print out your pics with them, but the backs are sticky with a peel-off film, so you can easily stick them to a mirror or laptop. And of course, you can share them directly to Instagram. You can also share them on the Lifeprint app, which has its own social media system that allows you to like, favorite, and comment on other people's photos. And if you'd rather them stay private, you have that option too. But if you do make them public, you have a really neat feature available to you: you can send photos to other people's photo printers. This would be amazing if you have a fellow fandom friend who has their own printer.
The printer comes in both black and white options, and each comes with a set of four discs with each house on it so you can customize your printer to your liking. It's compatible with both iPhone and Android and sells for $149.99 on Amazon. If you need a gift for the Potterhead that has everything, this is your golden ticket.
MORE BAZAAR DEALS