People in Michigan blocked roads and rallied outside Gov. Gretchen Whitmer's (D) office to protest stay-at-home orders on Wednesday, believing the governor is overstepping her constitutional rights.
And one of their grievances is based upon conspiracy.
A now-deleted blog post written by the Tea Party falsely claimed that Gov. Whitmer issued an executive order (No. 2020-42) and included a provision that bans the sale of American flags. In reality, the mandate renewed stay-at-home orders and suspended non-essential activities on April 9.
Although a majority of the country is under similar rules, protesters in Michigan claim that it is a violation of their rights. They coined the protest #operationgridlock.
Reporter Noah Fromson posted a video of the protesters making their way to the Capitol building. Some cars had American flags attached to the back.
"Massive convoy heading from Lowell to Lansing for #operationgridlock. Group is protesting @GovWhitmer extending stay-at-home orders through end of April. Saying it violates their rights @wzzm13," Fromson tweeted.
Another reporter, Malachi Barrett, posted a video of protesters in front of the Capitol.
"Chants of 'recall Whitmer,' 'USA' and 'lock her up' outside Michigan Capitol. #OperationGridlock," he tweeted.
Online, conspiracists spread misinformation surrounding Gov. Whitmer's American flag "ban".
"American Flags are reportedly considered 'non-essential' by the State of Michigan under @GovWhitmer," a Turning Point USA Production Administrator tweeted.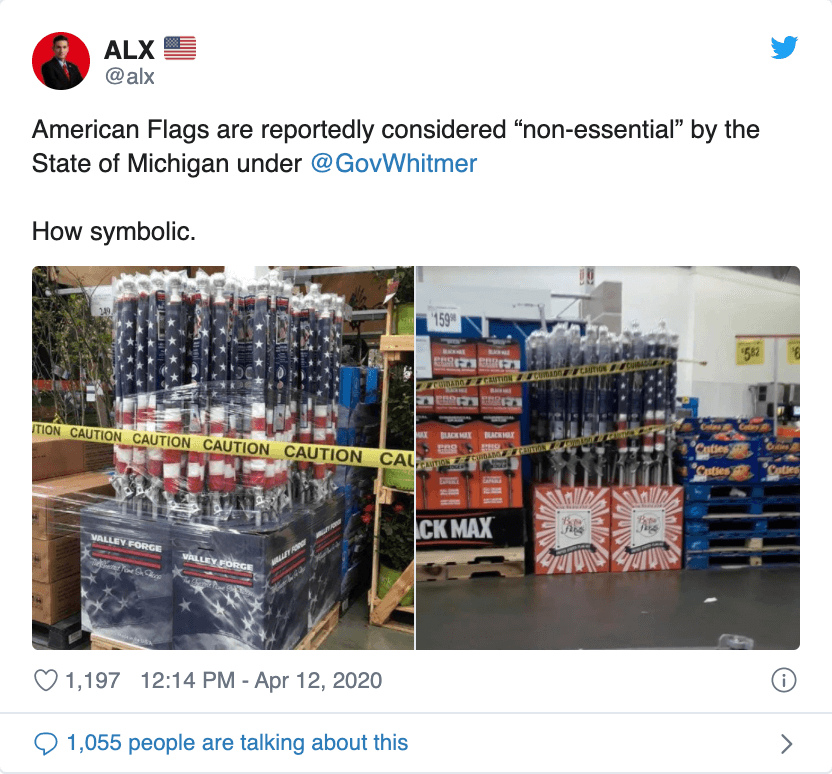 The tweet included images of caution tape around American flags at a grocery store.
The claim was also pushed on far-right website the Gateway Pundit.
Although the mandate does not state anything about American flags, the state website responded to the conspiracy on their FAQ page.
"Q: Does Executive Order 2020-42 prohibit buying an American flag?
A: No. While the order places certain limits on how goods are sold, it does not ban Michiganders from buying any item, including flags," the website states.
The conspiracy may have gotten misconstrued from the provision that states stores of more than 50,000 square feet must close off areas that hold goods related to carpet, flooring, furniture, garden centers, plant nurseries, and paint.
It is all in efforts to "suspend activities that are not necessary to sustain or protect life" according to the executive order.
Regardless, people on Twitter are still spreading the conspiracy.
"Americans fighting against tyrants taking their freedoms! She banned them from buying non-essential items like seeds for gardening, soil, lawn care, charcoal & lighter fluid, art supplies.. and get this- even American flags are non-essential," one person tweeted in response to #operationgridlock footage.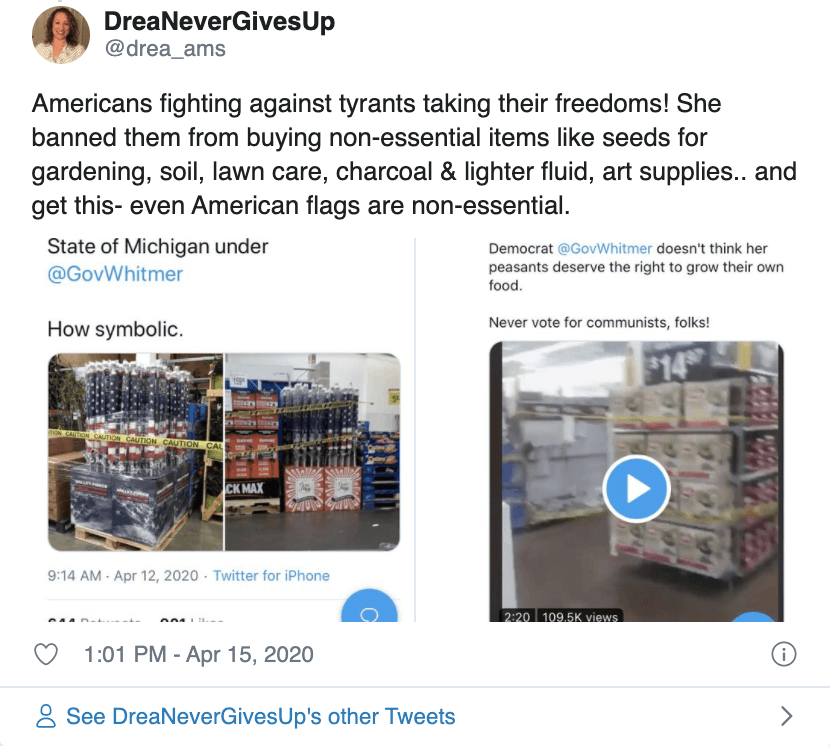 "Leftist Michigan Gov Gretchen Whitmer initially banned hydroxychloroquine & chloroquine – poss killing Americans – to spite Trump. Since then she has used the virus as an excuse to ban the sale of American flags. Now claim today's Dems are not a US enemy," another person tweeted.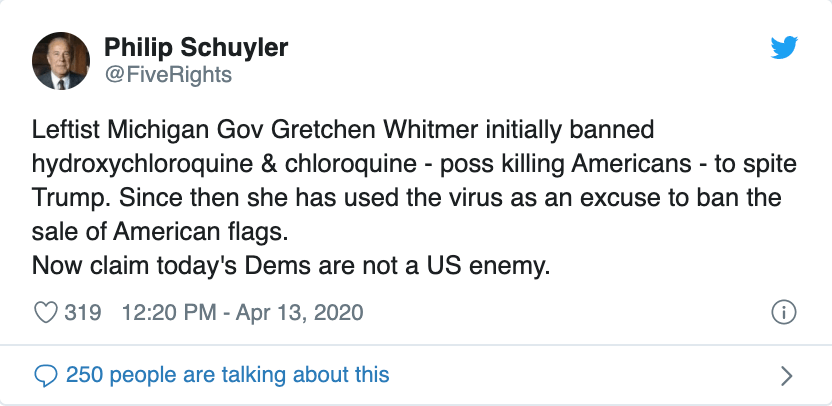 Nevertheless, Michigan will now be under the executive order until the end of April.
READ MORE: