Michigan's Democratic Gov. Gretchen Whitmer has become one of Republicans' favorite targets. Many believe it's because Whitmer is widely considered a potential running mate pick for former Vice President Joe Biden, the presumptive Democratic presidential nominee.
Sen. Ted Cruz (R-Texas) tried and failed to join the pile-on party.
Cruz on Sunday retweeted an article about a recent Michigan emergency order that allows fines of up to $1,000 for violating social distancing during the coronavirus pandemic. The article included a photo of Whitmer doing a ceremonial signing while a group of people looked on.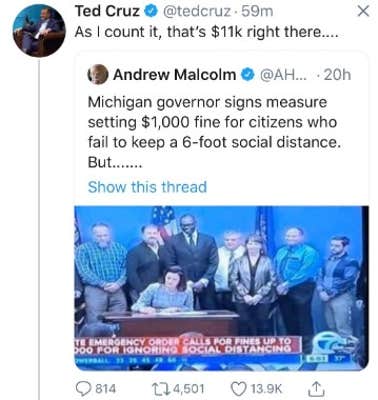 "As I count it," Cruz complained, "that's $11K right there…."
There was just one problem with Cruz's attempted dunk: The picture was more than a year old.
Within an hour, Whitmer herself corrected him. She tweeted that the old photo was "being misused to spread fear and anger."
"I know you would never intentionally mislead the public during a pandemic, so I'm hopeful you'll correct this mistake as soon as possible," Whitmer added.
"Stay safe, & happy Easter from Michigan."
Whitmer's response was met with thunderous applause online.
CNN correspondent Brian Stelter tweeted, "Why senators shouldn't rush to dunk on others based on a too-good-to-be-true tweet."
Cruz quickly deleted the tweet. He does not appear to have apologized or issued a correction.