The Trump Hotel in Washington, D.C. purposely spiked its prices in March in an effort to keep out supporters of the QAnon conspiracy theory, hacked police data reveals.
In a Feb. 8 intelligence briefing posted to the dark web on Thursday by the Babuk ransomware gang, which hacked Washington, D.C.'s Metropolitan Police Department (MPD) last month, the MPD Intelligence Division reveals that it contacted the hotel after news reports noted the unexplained price hike.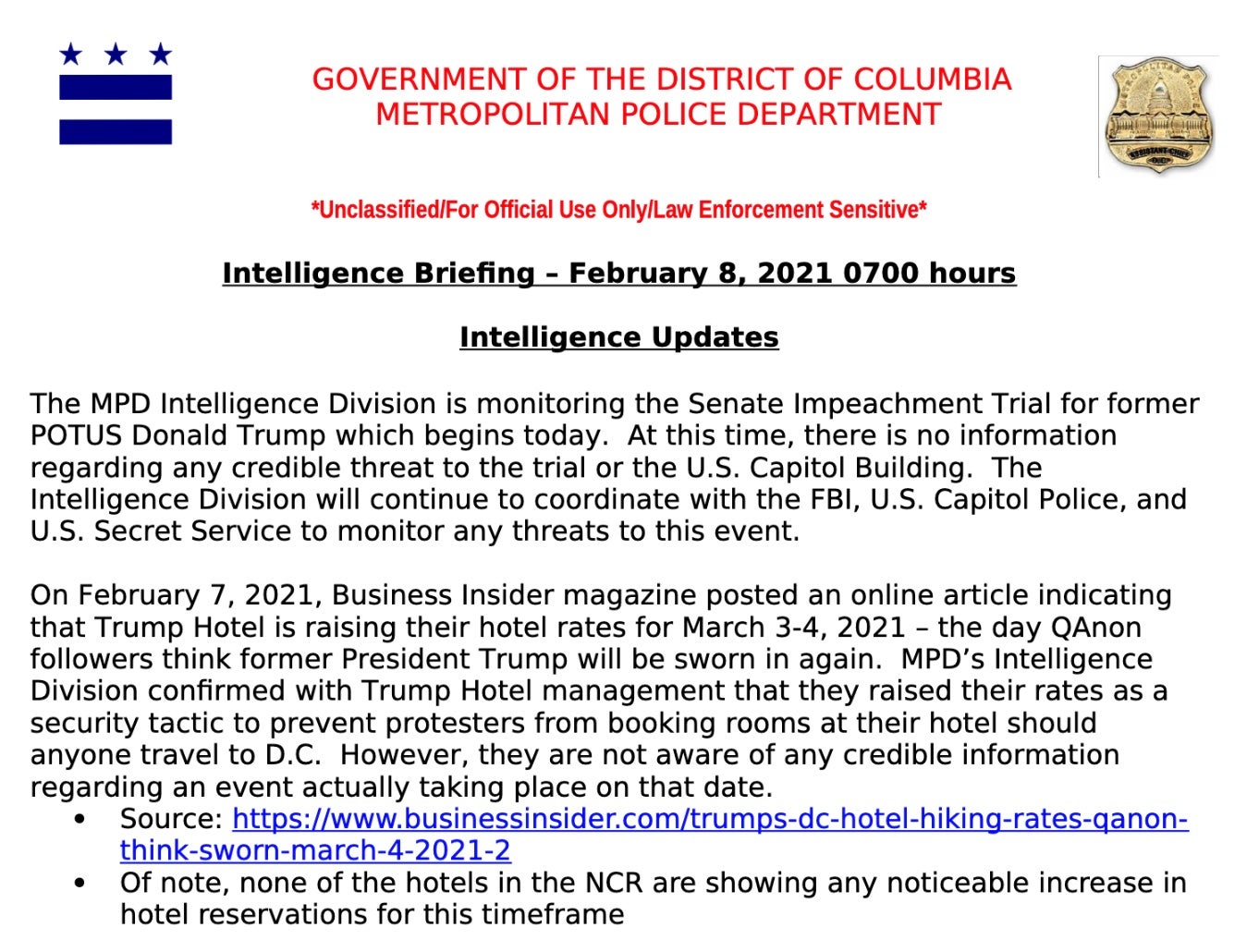 The hotel, which was initially contacted by Forbes for a Feb. 6 article on the topic, had declined to comment on why a room that normally cost anywhere from $476 to $596 per night had increased to $1,331 per night on March 3-4.
Speculation quickly arose that the price boost was linked to QAnon, the conspiracy theory that claims intelligence officers were leaking on far-right forums details of former President Donald Trump's plan to dismantle a global cabal of child-eating pedophiles.
QAnon believers at the time had spread the false claim that Trump, who lost the 2020 election to President Joe Biden, would be sworn back in as leader of the free world on March 4.
The MPD Intelligence Division states in its briefing that it was able to confirm with the hotel that it did in fact raise its rates in order to keep QAnon supporters from booking rooms.
"MPD's Intelligence Division confirmed with Trump Hotel management that they raised their rates as a security tactic to prevent protesters from booking rooms at their hotel should anyone travel to D.C.," the leaked file states.
The document goes on to note, however, that police were unaware of any information suggesting that QAnon supporters had actually intended to travel to D.C. Even more interesting, police assert that the Trump Hotel was the only hotel in the area that opted to increase its prices on March 3-4.
The Daily Dot reached out to the Trump Hotel in D.C. to inquire about the claims made by MPD in its intelligence briefing but did not receive a reply by press time.
The document is just a small part of a 250GB cache leaked online after MPD declined to pay $4 million to keep the files from being exposed. As reported by the Daily Dot on Thursday, screenshots of the alleged negotiations between police and Babuk showed the cybercriminals turning down $100,000 from MPD. The hacked data has also been hosted by the activist collective Distributed Denial of Secrets (DDoSecrets).
Many of the documents reveal the department's efforts to track extremist groups in the nation's capital. One such file, as revealed by the Daily Dot on Thursday, detailed the MPD and FBI interest in a target list released by the anti-government militia known as the Boogaloo Boys ahead of Biden's inauguration.
---
Read more of the Daily Dot's tech and politics coverage