A group of cybercriminals have begun leaking what it claims to be internal law enforcement files after Washington, D.C.'s Metropolitan Police Department was targeted with ransomware last month.
In a post on the dark web Tuesday, the Babuk ransomware gang alleged that negotiations had "reached a dead end" after declining a payment offer made by police.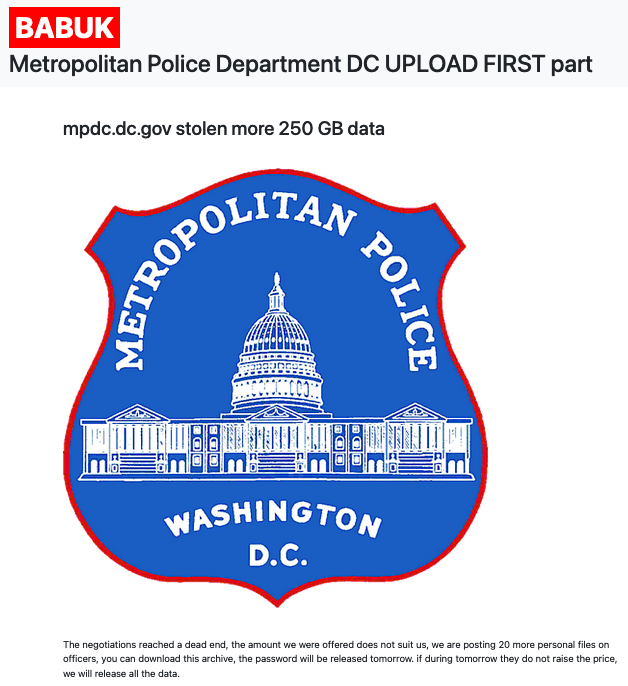 The post includes a download link for what the group says is around 20 personnel files on officers as well as screenshots of the data.
The files leaked thus far, according to VICE, surround "background investigations" on nearly two dozen officers and include "psychological evaluations, polygraph responses, supervisor interviews, their credit history, information about their home, their social security numbers, date of birth, personal emails, home address, phone numbers, their driver's licenses, financial details, and their handwritten signatures." 
The group followed up with a second post on Tuesday which included screenshots of what were alleged to be the negotiations with officers, spanning from late April to this past Monday, alongside a message stating: "You still have the ability to stop it."
The chats purport to show Babuk demanding $4 million from the department in exchange for not releasing their files to the public.
"Tell me how you decided 4 million for this?" the police allegedly asked. "It seems extremely high for a public sector entity."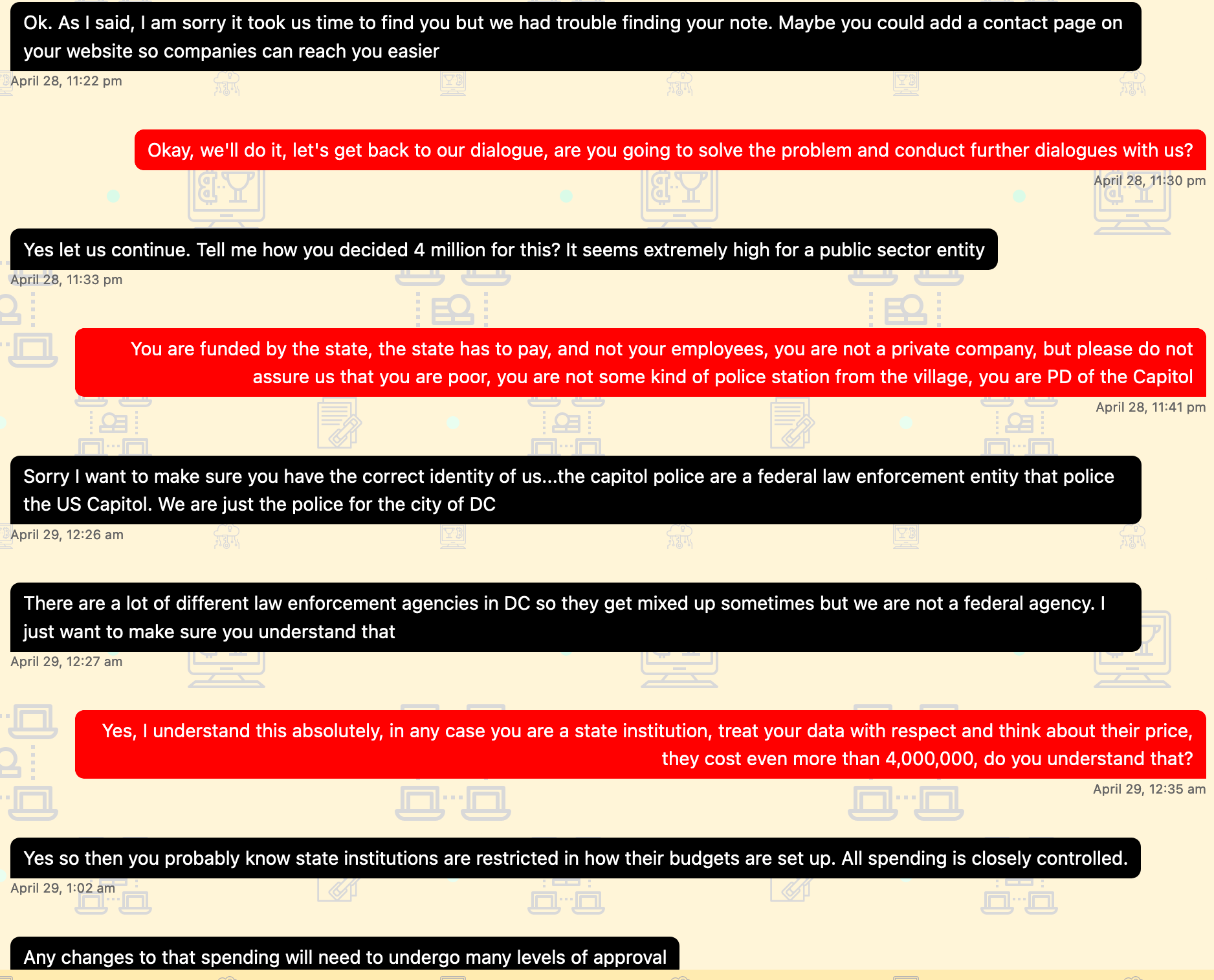 According to screenshots from the group, D.C. police countered with $100,000, which Babuk rejected.
"Our final proposal is an offer to pay $100,000 to prevent the release of the stolen data," the police allegedly wrote. "If this offer is not acceptable, then it seems our conversation is complete. I think we both understand the consequences of not reaching an agreement. We are OK with that outcome."

The Daily Dot reached out to Washington, D.C.'s Metropolitan Police Department to inquire about the alleged conversations shared by Babuk but did not receive a reply by press time.
In other screenshots, police allegedly expressed concerns with the group after it spoke with the media about their negotiations.
"I think it would be best if you not agree to do any more interviews about us, ok?" the message reads.
The police also allegedly went on to question whether other journalists had attempted to interview the group as well.
"Did other people try to interview you too?" police allegedly asked.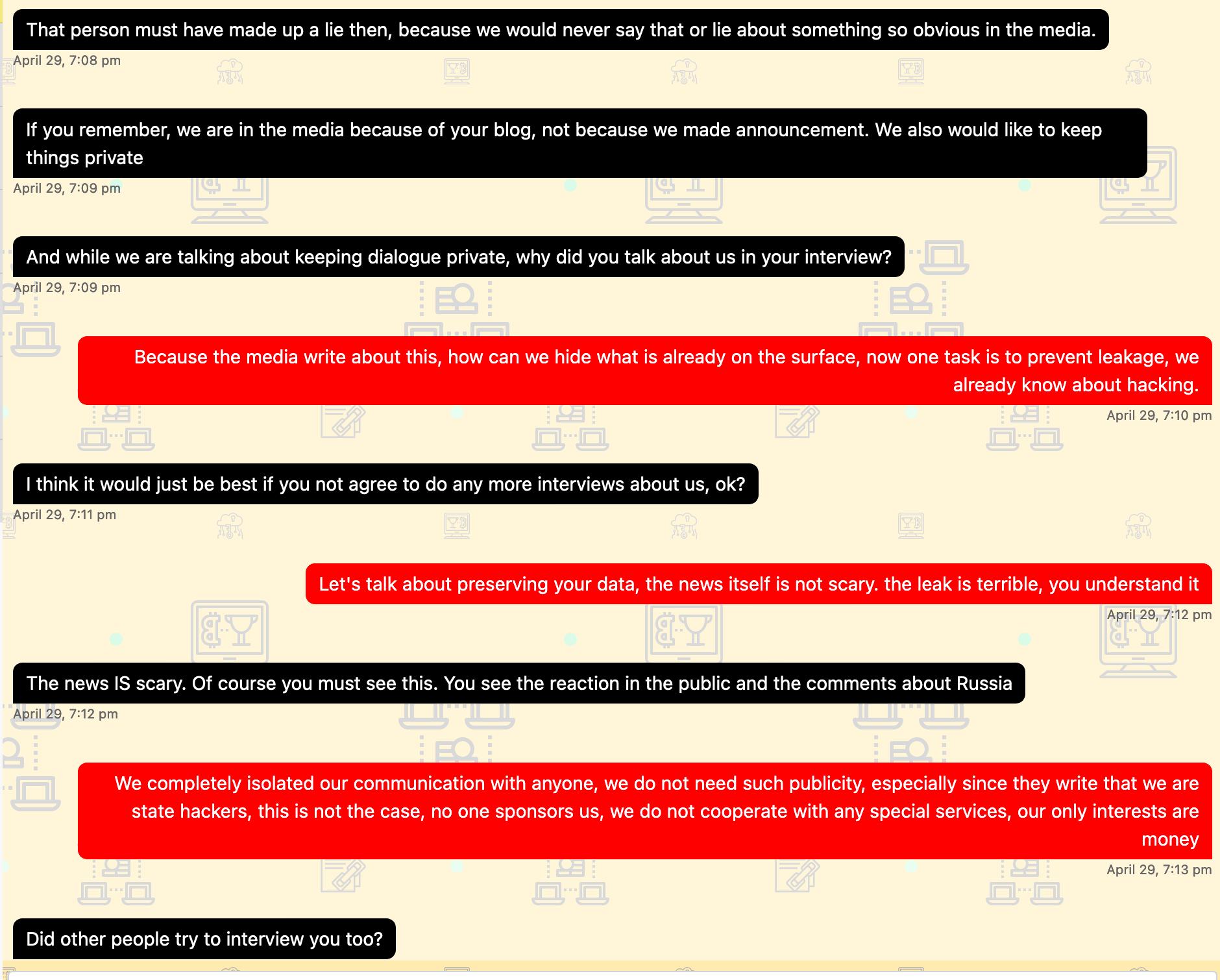 The incident comes as renewed attention has been placed on ransomware gangs after the largest fuel pipeline on the East Coast was targeted and forced to shutdown as a result.
---
Read more of the Daily Dot's tech and politics coverage