People on Twitter are circulating a petition to "save" Barron Trump, the youngest child of President Donald Trump.
On Wednesday morning, the petition had over 15,000 signatures and was steadily rising to its goal of 25,000.
"This petition is to save Barron Trump from his family, he is obviously depressed and is 100% a leftist and we feel bad for him," reads the petition. "Also I heard he likes K-pop and anime. Name one Republican who likes either of those things."
The petition appeared to gain some momentum after people shared a photo of Barron Trump looking rather forlorn in the presidential limousine. Some people seemed to really sympathize with the 14-year-old boy.
"Damn, poor kid. I feel for Barron Trump, imagine growing up in that toxic family," Twitter user @acnewsitics wrote.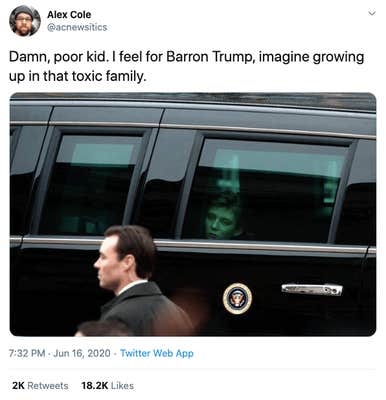 Others shared videos of moments that they felt like Donald Trump mistreated his son. For example, one Twitter user shared a video of Barron Trump desperately trying to get his father's attention. The president looks in his son's direction but doesn't appear to respond to him.
Outside of the serious and more compassionate portion of Barron Trump supporters, there's also the meme section.
People are sharing hilarious TikToks and meme videos of how they are going to distract the White House security so that Barron Trump can make a run for it.
"Me distracting the White House security guards while y'all save Barron Trump," Twitter user @ajirixo wrote.
Others posted memes of how they'd physically carry the youngest Trump out of the White House.
Not long after people started talking about saving Barron Trump, rumors began to spread that he has a Roblox account. Twitter users said that he wrote wholesome details in his account bio, like how he enjoys K-pop and anime. (The Daily Dot couldn't verify that the Roblox account actually belongs to Barron Trump.)
In the bio that people are sharing on Twitter, the alleged Barron Trump also writes that he likes to play the game Adopt Me!.
READ MORE: