Sign up to receive the best of the internet straight to your inbox.
Welcome to this week's Tech Tuesday edition of the Internet Insider. New York just passed two tech-privacy bills into law that are getting cheers from advocates.
Here's what we've got on deck today: 
Cuomo signs New York school facial recognition, contact tracing privacy laws
Trump vetoes defense spending bill because it doesn't repeal Section 230
Republican caught trying to pass off old dining out photo as new
---
BREAK THE INTERNET
Cuomo signs New York school facial recognition, contact tracing privacy laws
New York Gov. Andrew Cuomo signed two major tech privacy bills into law, earning applause from privacy and civil liberties advocates. 
Last week, Cuomo signed bills that would ban facial recognition and other biometric surveillance technology in schools for the next two years and another bill that ensures contact tracing information can't be used by law enforcement. 
The facial recognition legislation will place a moratorium on public and private schools purchasing or using biometric surveillance technology until July 2022 or until a study about its use in schools is completed.
The law was crafted and passed in the state's legislature after Lockport Central School District activated an object and facial recognition system earlier this year. That decision prompted fierce criticism from the New York Civil Liberties Union (NYCLU) and other advocacy groups.
"We thank Governor Cuomo for signing this historic facial recognition ban into law," Surveillance Technology Oversight Project (STOP) Executive Director Albert Fox Cahn said in a statement. "Facial recognition is biased and broken, and it has no place in the classroom."
Meanwhile, the contact tracing privacy bill would require all information required through contact tracing for the coronavirus pandemic to be kept confidential. It also prohibits law enforcement or immigration authorities from accessing information gathered as part of contact tracing.
The NYCLU said that it was a "huge step towards building trust in our public health authorities and fighting the spread of COVID-19." Cuomo had faced pressure to sign the bill, which passed through the legislature over the summer, as it had the backing of a number of tech advocacy and civil liberties groups.
—Andrew Wyrich, deputy tech editor
---
SPONSORED
Masks are a more common sight now than ever before––and that's a great first step. Our next one is to assess the safety of the masks we're wearing. FDA-registered masks are the way to go. However, the marketing on non FDA-regulated masks can be confusing to say the least––and that's a real danger in the middle of a global pandemic.
If you want an FDA-registered mask you can trust to protect you and your family, this American manufacturer of ASTM Level 2-rated, disposable surgical mask is the way to go. Use code DAILYDOT and save 20%.
---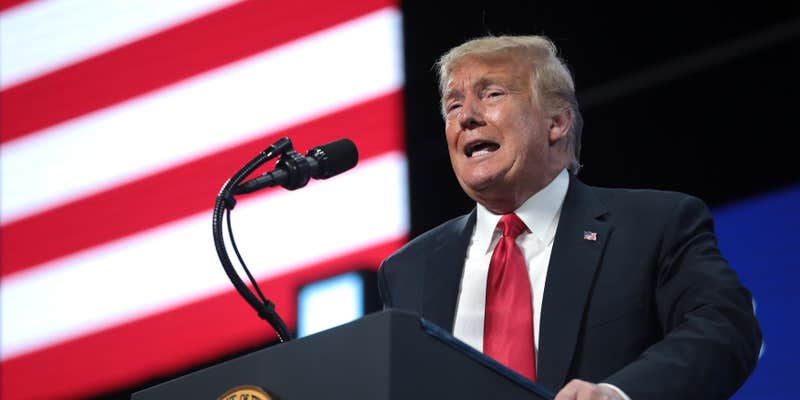 OVERLORDS
Trump vetoes defense spending bill because it doesn't repeal Section 230
President Donald Trump vetoed the National Defense Authorization Act (NDAA) last week, specifically citing that the bill didn't repeal Section 230 of the Communications Decency Act, among other things.
Trump had repeatedly threatened to veto the annual spending bill unless a Section 230 repeal was part of it. The president even went as far to claim that Section 230 was a threat to "national security" in his push for a repeal to be part of the spending bill.
Section 230 is an important internet law that shields all websites from being held liable over content generated by users. Despite this, the law has become a target for lawmakers on both sides the aisle—including members of the incoming Biden administration.
Here's why it matters: The president has become fixated on the law as the days of his presidency near a close. In a statement from the White House, Trump specifically said the lack of a Section 230 repeal was part of his reasoning for a veto.
While Trump vetoed the NDAA, it passed through Congress with veto-proof majorities, making it possible that lawmakers override the veto.
—A.W.
---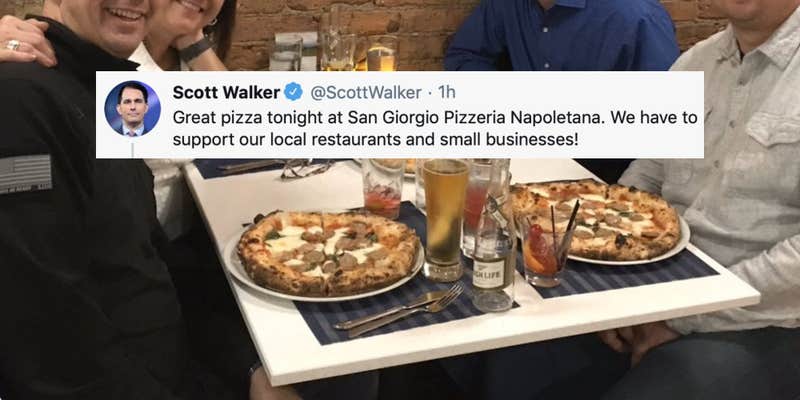 FAILS
Republican caught trying to pass off old pizza photo as new
Former Wisconsin Gov. Scott Walker was roasted on Twitter this weekend after attempting to pass off an old photo of a pizza as new.
In a tweet on Saturday, the Republican claimed to have visited a local pizza establishment in an effort to help small businesses amid the ongoing coronavirus pandemic.
At first, Twitter users weighed in on the pizza itself, trashing Walker much like Sen. John Cornyn (R-Texas) was criticized this month after sharing a picture of his questionable brisket. But then users began noticing something else about the picture, mainly that it looked suspiciously familiar. 
After digging through Walker's Twitter timeline, users discovered an older photo from the same restaurant sent out by the former governor in Oct. of last year. Not only that, it looked as if the newer picture was merely cropped out from the older pizza picture.
Here's why it matters: The discovery of the identical photos quickly led to criticism of Walker, with users mocking the conservative Christian for lying to the public. Others began questioning whether Walker had even visited the restaurant at all.
Walker responded to the backlash on Sunday by stating that he had in fact visited the pizzeria for dinner but that he had forgotten to take a photo. Whether Walker's embarrassing tweet will bring more customers into the pizzeria remains to be seen.
—Mikael Thalen, contributing writer
---
BTW