An online group aimed at helping supporters of President Donald Trump find rides to election protests has already been taken over by trolls.
Known as Patriot Caravans for 45, the group, hosted on the little-known right-wing social media site CloutHub, began picking up steam on Tuesday after being promoted by former 8kun administrator Ron Watkins.
The group's main focus is funneling as many Trump supporters as possible to Washington, D.C. on Jan. 6 to protest the results of the 2020 presidential election while Congress meets to formally count the votes of the Electoral College.
The protest, which Trump himself endorsed just last week, is being hailed by his supporters as the latest surefire way to overturn the election after countless other conspiratorial predictions failed to materialize.
But the carpooling group is already being bombarded by internet trolls both mocking and posing as Trump fans.
One user in particular, known simply as Freedomfighter1234, has relentlessly posted in the group despite having most of his remarks deleted.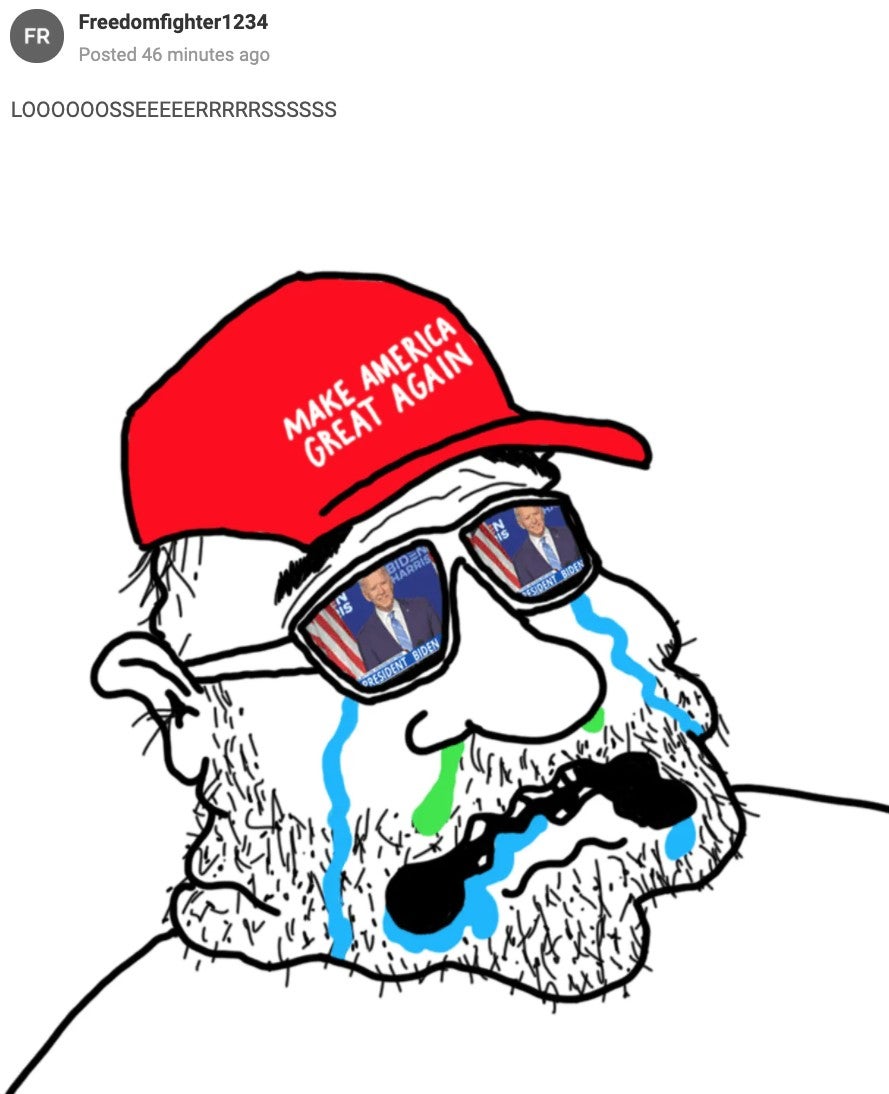 In remarks to the Daily Dot, Freedomfighter1234 kept the trolling going and claimed to be a "patriot" doing "God's work to join caravans wherever they need me."
"I have recruited 3.14 people and have been offered a sandwich," they said. "People here are very kind and do not smell at all."
Other trolls mocked CloutHub's CEO Jeff Brain, who seemingly didn't realize that users could simply rejoin the group even after being kicked out.

Another troll, RoudeyFr, told the Daily Dot that they had joined CloutHub after seeing it promoted on Twitter.
"Figured it'd be a fun diversion for a bit," they said.
The popular Twitter account known as Coping MAGA, which details how Trump supporters are coping with the president's election loss, helped drive trolls to the page.
"Wow, we should totally help out this Trump canvassing effort by signing up with our completely legitimate sign up information," Coping MAGA said sarcastically.
RoudeyFr said they have been offering rides to D.C. on a fictitious horse named "Mario Lopez," although Trump supporters aren't exactly buying it.
"If any patriots in Virginia want to horsepool with me let me know, my horse sits 3 to 4," RoudeyFr said.

Although the effort is unlikely to discourage Trump fans from heading to the nation's capitol, the effort is indicative of a wider grassroots trolling campaign against the president and his supporters.
Organization efforts for the "Million MAGA March" last month were similarly disrupted by K-Pop fans on Twitter who flooded the event's hashtag with pictures of pancakes.
TikTok users also mass-reserved tickets for a Trump rally held in Tusla last June with the intention of not actually showing up.
---
Read more of the Daily Dot's tech and politics coverage