Sign up to receive the best of the internet straight to your inbox.
With Biden's inauguration firmly in the rearview mirror, pressure is mounting on the president to act on tech policy.  
Here's what we've got on deck today: 
Biden faces pressure to nominate final FCC commissioner
Groups want Biden to stop meddling with Section 230, Republicans keep sights on it
'QAnon Shaman' reportedly wants to testify at Trump's impeachment trial
---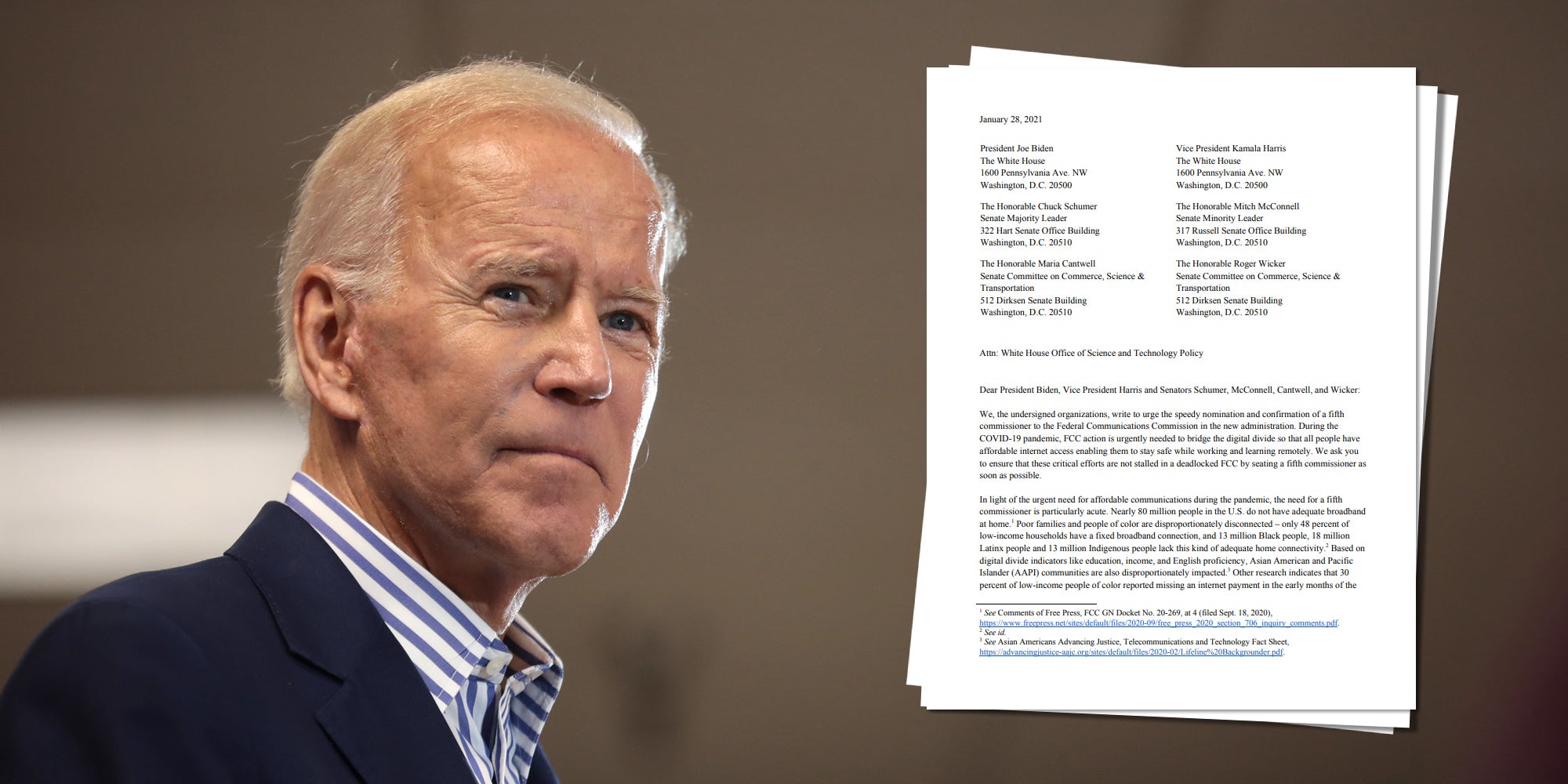 BREAK THE INTERNET
Biden faces pressure to nominate final FCC commissioner
A coalition of more than 30 advocacy groups are calling on President Joe Biden and congressional leadership to fill the final vacancy at the Federal Communications Commission (FCC) immediately.
While Biden recently named Jessica Rosenworcel the acting chairwoman of the FCC, the agency was left with a vacancy when former Chairman Ajit Pai stepped down on Inauguration Day.
Before Pai stepped down, Senate Republicans fast-tracked the confirmation of Nathan Simington, who former President Donald Trump picked to serve at the FCC. Simington's nomination was fraught with controversy because of his connection to Trump's much-maligned social media executive order that targeted Section 230 of the Communications Decency Act.
Simington's quick nomination, coupled with Pai leaving, leaves the FCC in a 2-2 deadlock down party lines. The FCC is supposed to have five commissioners, with three from the president's party and two from the opposite party. 
Biden will be able to nominate a Democratic commissioner to fill out the agency who would need to be confirmed by the Senate.
Pressure is beginning to mount for the president to do just that. Thirty-two advocacy organizations argued in a letter to the Biden administration and members of the Senate that there needed to be a "speedy nomination and confirmation of a fifth commissioner to the Federal Communications Commission" so it can tackle issues like the digital divide, which has been highlighted by the coronavirus pandemic, and reclassifying broadband under Title II of the Communications Act.
"We ask you to ensure that these critical efforts are not stalled in a deadlocked FCC by seating a fifth commissioner as soon as possible," the letter reads, later adding: "Leaving the agency in charge of charting the course for affordable communications access and infrastructure impotent to pursue the bold action required at this time would be a serious failing."
The groups signing the letter included: the ACLU, Center for Democracy & Technology, Demand Progress, the Electronic Frontier Foundation, Fight for the Future, Free Press Action, Media Justice, the NAACP, the National Hispanic Media Coalition, and Public Knowledge, among many others.
Read more about the letter here. 
—Andrew Wyrich, deputy tech editor
---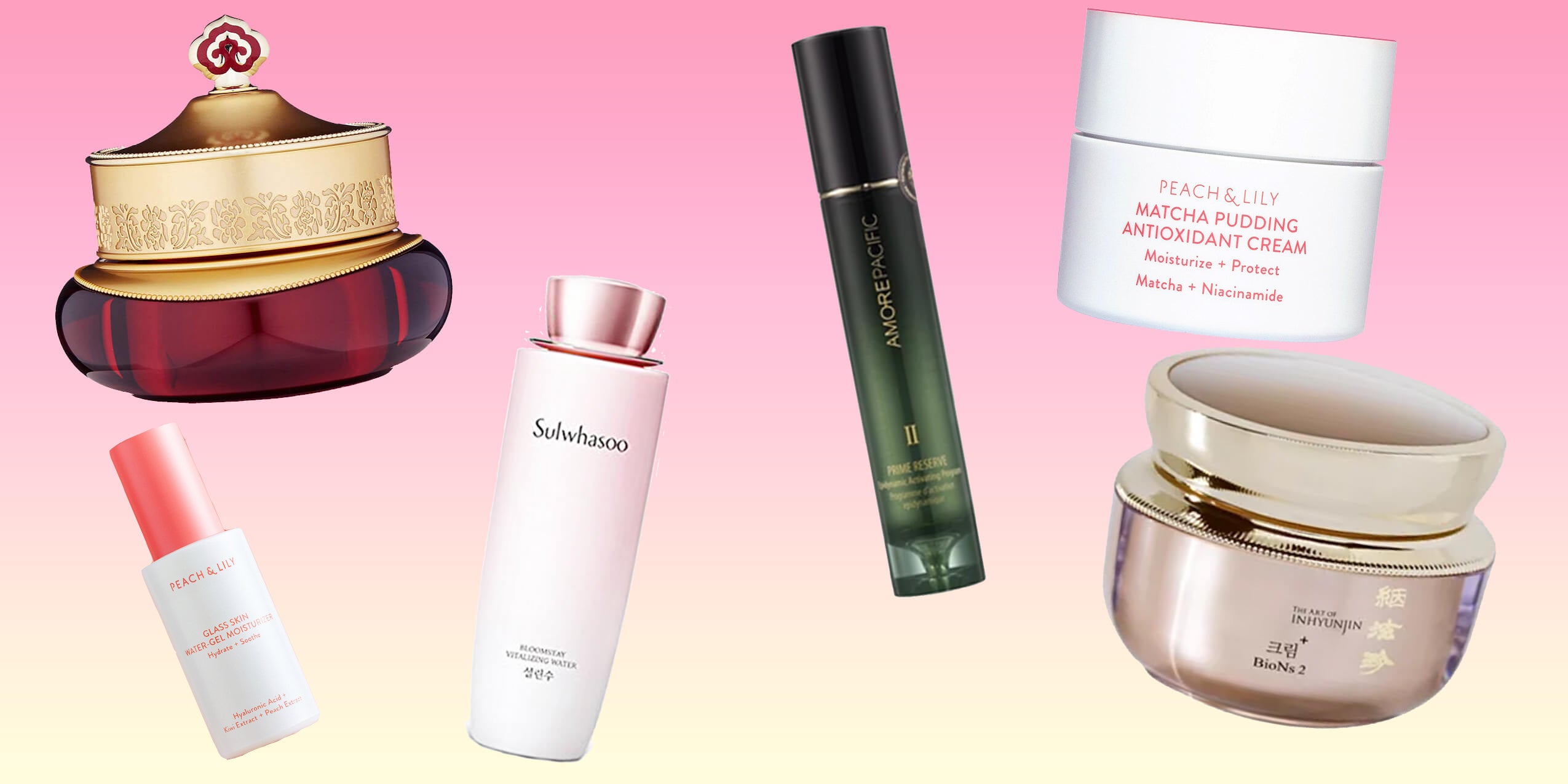 SPONSORED
Are you are a believer in all things holistic? Do you prefer a gentler approach to your skincare routine as you age? If the thought of one more cream that claims to "turn back the clock" makes you weary, Korean anti-aging products might be a fit for you.
---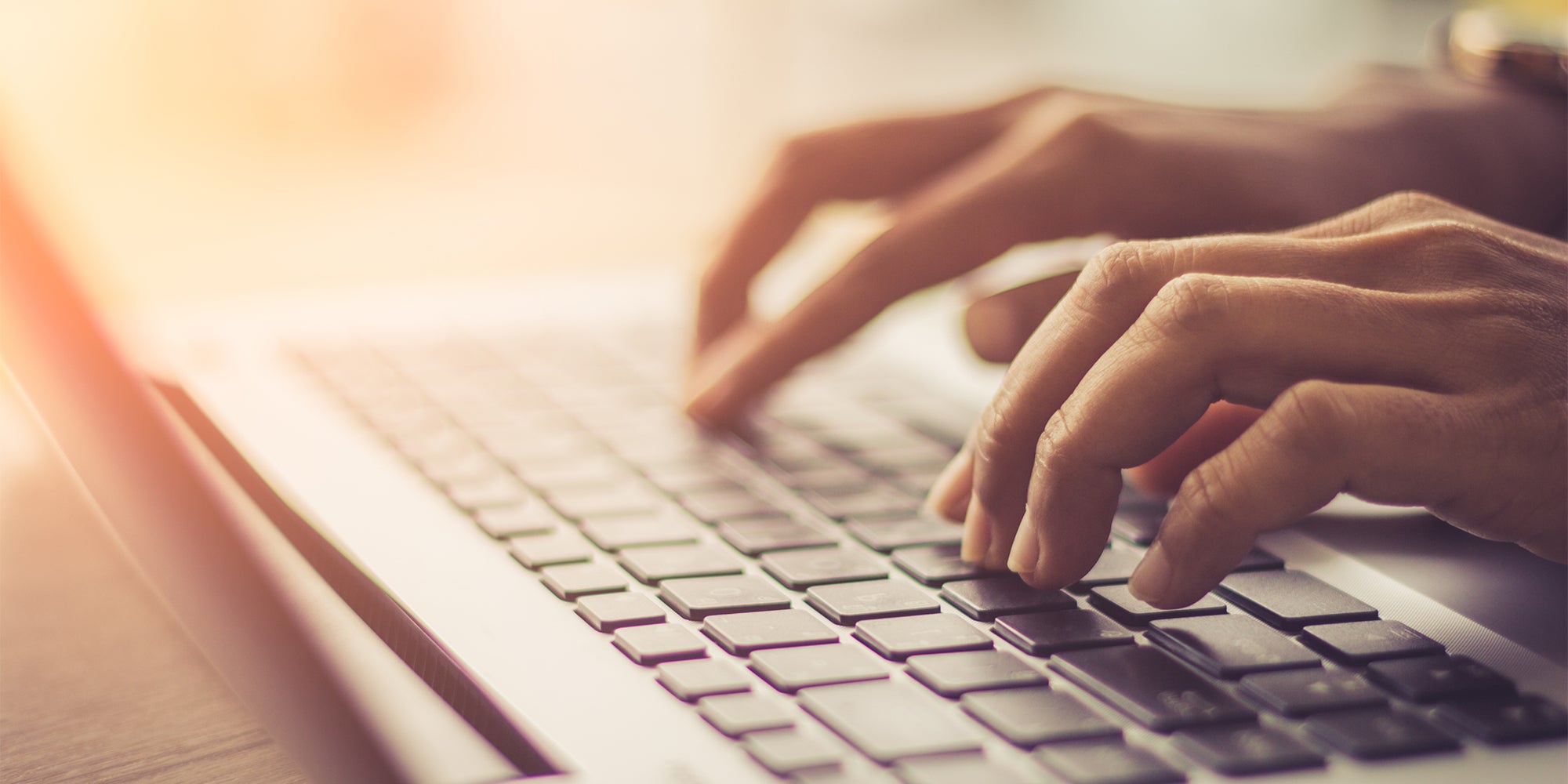 OVERLORDS
Groups want Biden to stop meddling with Section 230, Republicans keep sights on it
A group of 75 organizations are warning President Joe Biden's administration and Congress that changes to Section 230 of the Communications Decency Act would severely impact marginalized groups. 
Section 230 is an important internet law that shields websites from being held liable over the content posted on them by users. It's been hailed as a bedrock of the user-generated, content-centric nature of the internet. Experts have been sounding alarms about proposals to change, or repeal, the law because of the ramifications that would unfold online. 
While former President Donald Trump repeatedly railed against Section 230, the law has become a target for lawmakers on both sides of the aisle. President Joe Biden has criticized the law, as have members of his staff.
The 75 organizations pushed back against potential abrupt changes to Section 230 by sending an open letter to the Biden administration and Congress. In the letter, they call for examining "past mistakes" in messing with Section 230,citing SESTA/FOSTA, and holding hearings to examine the human rights and civil liberties implications of meddling with the law. 
"Overly broad changes to Section 230 could disproportionately harm and silence marginalized people, whose voices have been historically ignored by mainstream press outlets. For example, social media platforms would be unlikely to host viral videos of police violence that have spurred nationwide uprisings for racial justice if they faced constant litigation from law enforcement for doing so," the letter reads. 
Here's why it matters: While advocacy groups are warning against changes, a major House Republican has signaled that the law is clearly a target. Rep. Cathy McMorris Rodgers (R-Wash.), the Republican leader for the House Energy and Commerce Committee, listed Section 230 reform at the top of several "big tech issues to be addressed" in a memo to Republican members on the committee. 
In the memo, McMorris Rodgers recommends working with Democrats "to reach an agreement in an upcoming legislative vehicle to sunset or establish a reauthorization date for Section 230."
—A.W.
---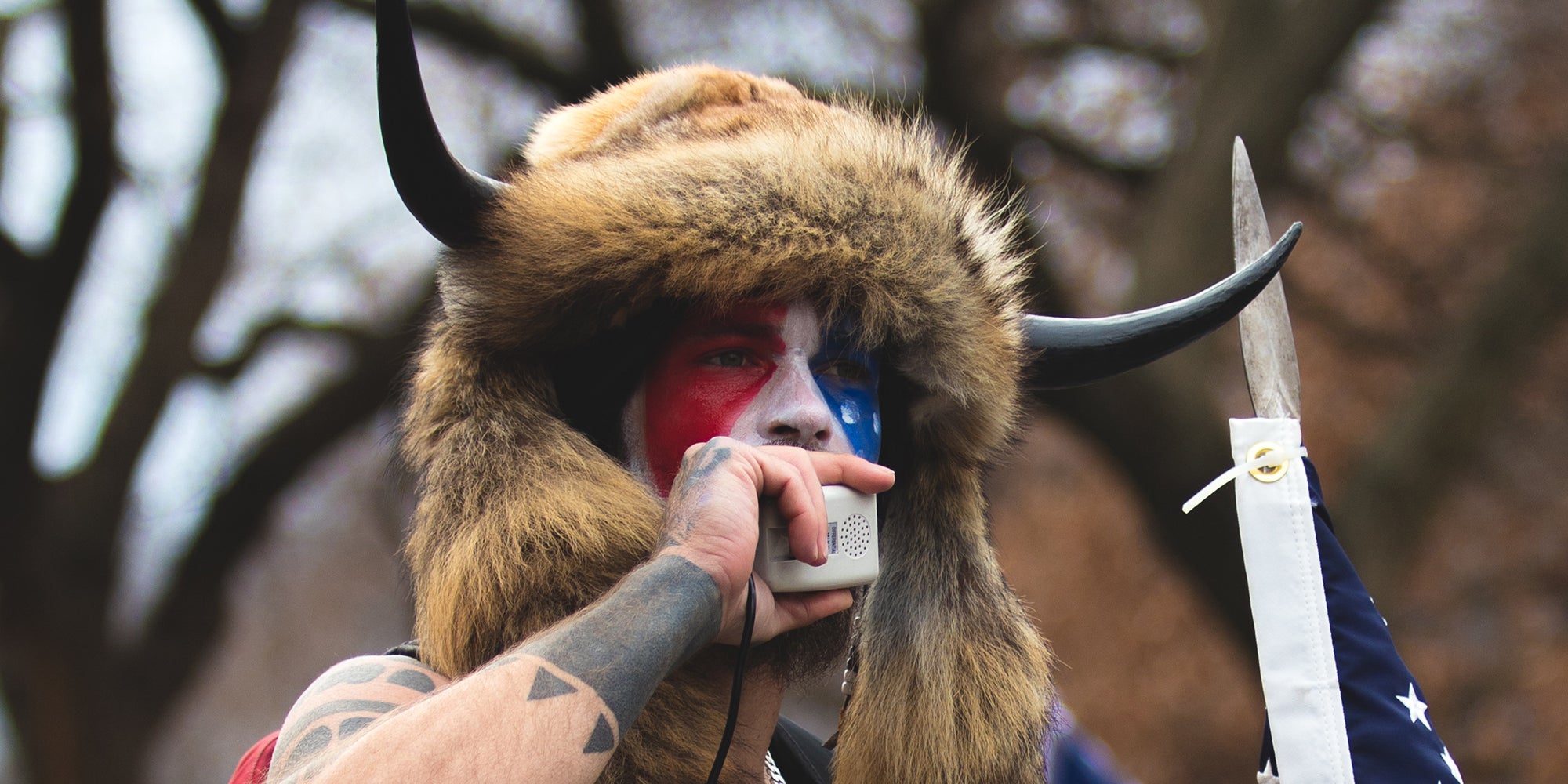 CONSPIRACY CORNER
'QAnon Shaman' reportedly wants to testify at Trump's impeachment trial
The "QAnon Shaman" insurrectionist now has said he will testify at the impeachment trial of Donald Trump, where testimonials by Trump's supporters may be used against him, the Associated Press has reported. 
The 33-year-old man from Phoenix, whose real name is Jacob Chansley, has been in the limelight since the Capitol insurrection for his attire as well as his refusal to eat non-organic food in jail. Now, he has reportedly said he feels "betrayed" by Trump for not pardoning him and other rioters. Chansley also goes by Jake Angeli.
Chansley's lawyer Albert Watkins told the Associated Press that he was "horrendously smitten" with the former president and came to storm the Capitol feeling encouraged by him. 
Here's why it matters: According to the Associated Press, Chansley is among five people who have indicated that they were following orders from Trump when they stormed the Capitol on Jan 6, which ignited the second impeachment trial against Trump. 
Chansley is currently facing numerous charges from civil disorder to disorderly conduct in the Capitol building, but has not yet entered a plea.
—Samira Sadeque, contributing writer
---
BEHIND THE SEAMS
More than five years after Hannibal's final episode, the show's legacy is stronger than ever. Earning a cult following with its visually sumptuous reimagining of Hannibal Lecter, it's the kind of show you can rewatch again and again, always finding new details to explore. In this week's episode of Behind the Seams, we took a look at Hannibal's costume design, a crucial element of the show's visual worldbuilding.
---
BTW
---
Now playing: Nine Inch Nails – "God Break Down The Door"
---