Just moments after the Steelers made its announcement that rookie quarterback Devlin Hodges officially made it onto the team's roster, he was caught trying to scrub his social media clean of pro-President Donald Trump tweets.
According to Complex, screenshots of online tweets that expressed support for Trump were captured before Hodges had the chance to delete them.
"Steelers new QB deleted this quick too lol FEDS still gotcha thoe," Twitter user @angie_goodwood wrote.
The user attached a screenshot of one of Hodges's since-deleted tweets; it allegedly read, "Donald Trump," along with thumbs up and an American flag emoji.
Steelers new QB deleted this quick too lol FEDS still gotcha thoe pic.twitter.com/g9pmJCw4sb

— Angela Rockford (@angie_goodwood) November 26, 2019
Another one of Hodges's tweets shared by Complex likened Trump to a pilot who is flying an airplane with all Americans aboard.
"Wanting Donald Trump to fail is like wanting the pilot to crash the plane that we are ALL on," he allegedly wrote.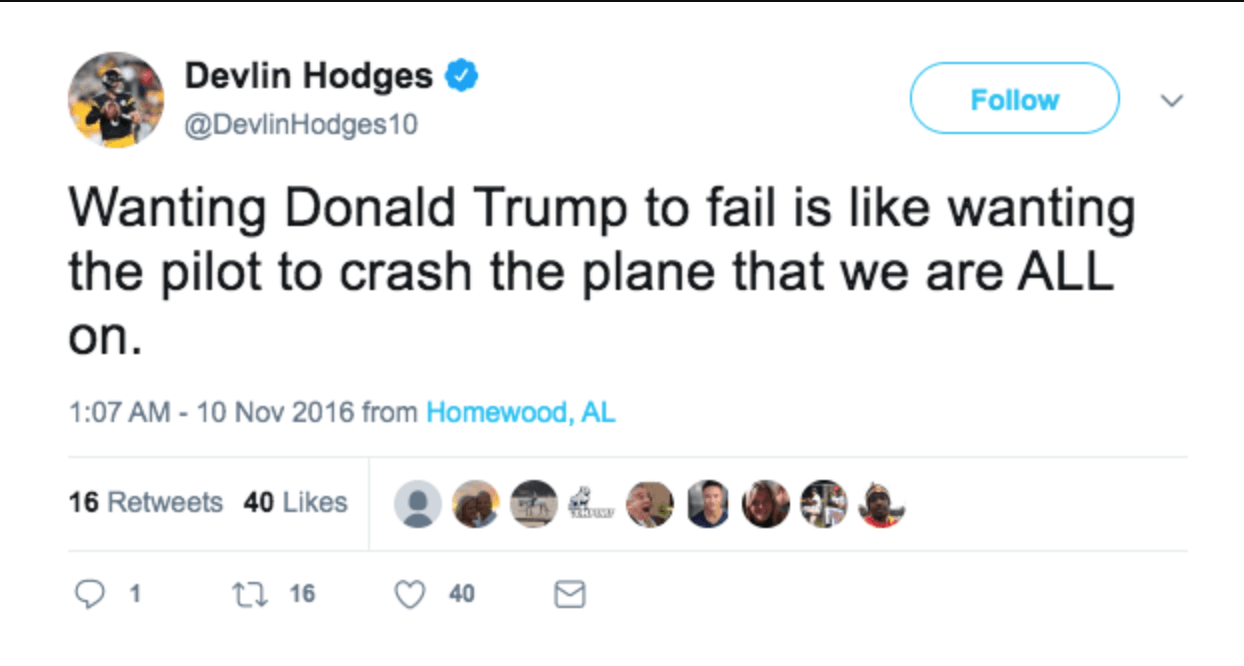 Hodges is set to begin his NFL career as the Steelers' starting quarterback Sunday against the Cleveland Browns, right on the heels of a very public, racially charged brawl between the team's former quarterback Mason Rudolph and Browns player Myles Garrett. Garrett, who was suspended indefinitely after ripping off Rudolph's helmet and striking him with it, claimed Rudolph used a racial slur toward him.
"I know what I heard," Garrett said in a statement. "Whether my opponent's comment was born out of frustration or ignorance, I cannot say. But his actions do not excuse my lack of restraint in the moment, and I truly regret the impact this had on the league, the Browns, and our devoted fans."
Rudolph has since adamantly denied the allegation, calling it "totally untrue."
"I couldn't believe that he would go that route after the fact. It is what it is. I think I've moved on," Rudolph said, per USA Today.
READ MORE: 
H/T Complex