Samsung knocked it out of the park with the Galaxy S8 both commercially and financially, overcoming a tumultuous few months after it was forced to recall the flagship Note 7. This year, the Korean electronics giant chose to play it safe, making only minor improvements to the Galaxy S9+.
While they look very similar, there are a few differences between the Galaxy S8+ and S9+ aside from refreshed internals. Here's everything you need to know about Samsung's new flagship smartphone and how it compares to last year's model and our current favorite phones, the iPhone X and Pixel 2 XL.
Samsung Galaxy S9+ Design
If you put the Galaxy S9+ and S8+ side-by-side, it would be nearly impossible to tell them apart. The S9+ retains the edge-to-edge display and signature curved edges of its predecessor. It even has the same 6.2-inch display. Don't worry—there's no iPhone X notch. While the device remains large for people with average-sized hands, the screen-to-body ratio helps keep things manageable.
The major design changes from the S8+ are found on the rear of the Galaxy S9+. I can happily report that the fingerprint sensor has been moved to a more sensible location. The problem with the former off-centered position is that it was far too easy to mistake the camera glass for the sensor. With the S9+, Samsung drops the fingerprint sensor below the camera lens.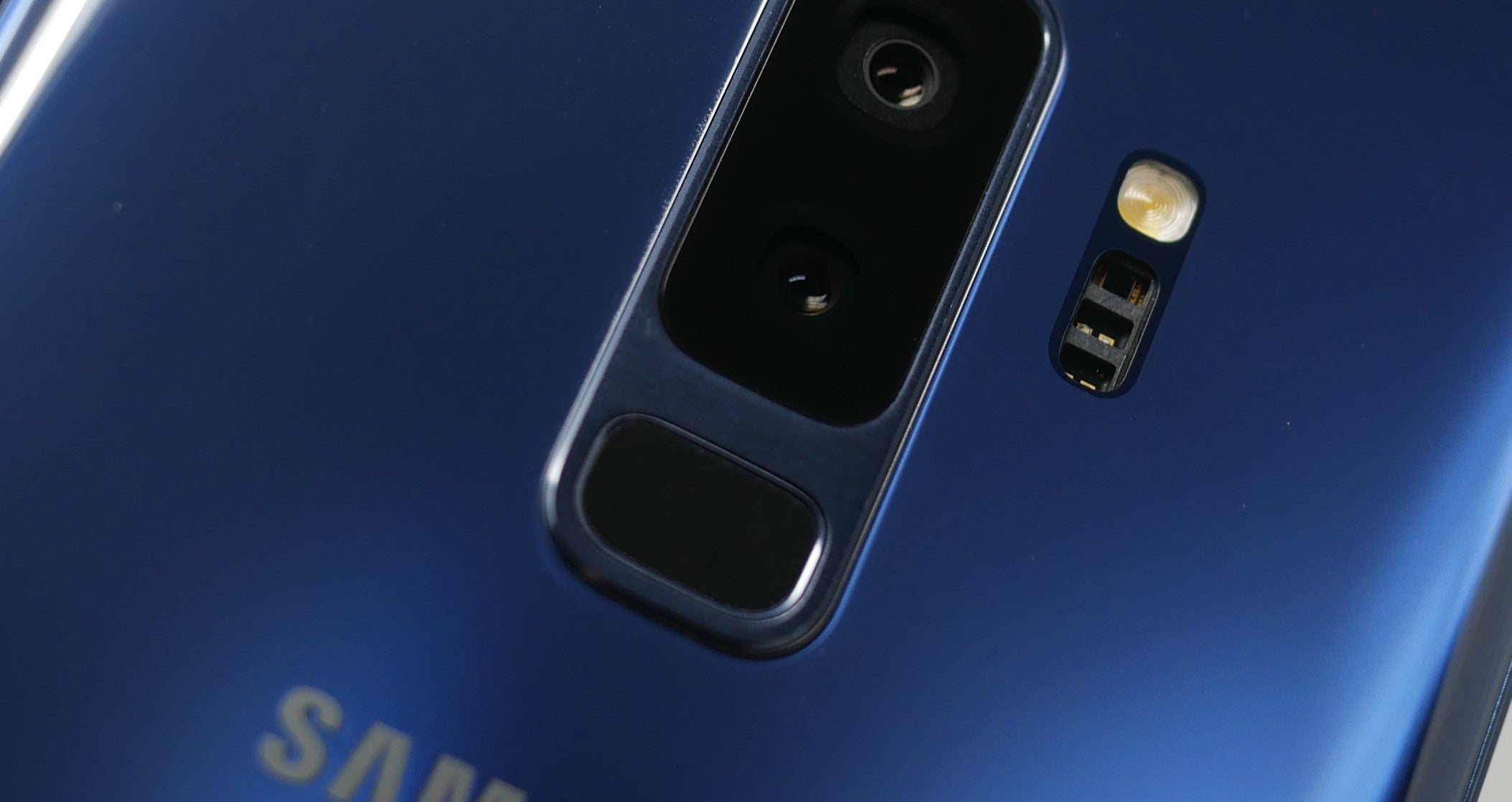 Here's where we all let out a big, disappointed sigh. For whatever reason, Samsung really wants the sensor attached to the camera module, perhaps to keep a more uniform look. The issue is that the sensor (which is small to begin with) is still too close to the bottom lens. I found my nasty fingerprints smeared across the glass on more than one occasion. So yes, it's an improvement, but certainly not a solution.
I'm not convinced Samsung should be applauded for (almost) fixing a problem that shouldn't have existed in the first place. That being said, it's nice to see a mega-corporation listen and make adjustments based on user feedback, even if they're not perfect.
There's not much else separating the S9+ from the S8+ in terms of design. The S9+ a hair smaller and a bit heavier, though I didn't notice much of a difference when comparing the two.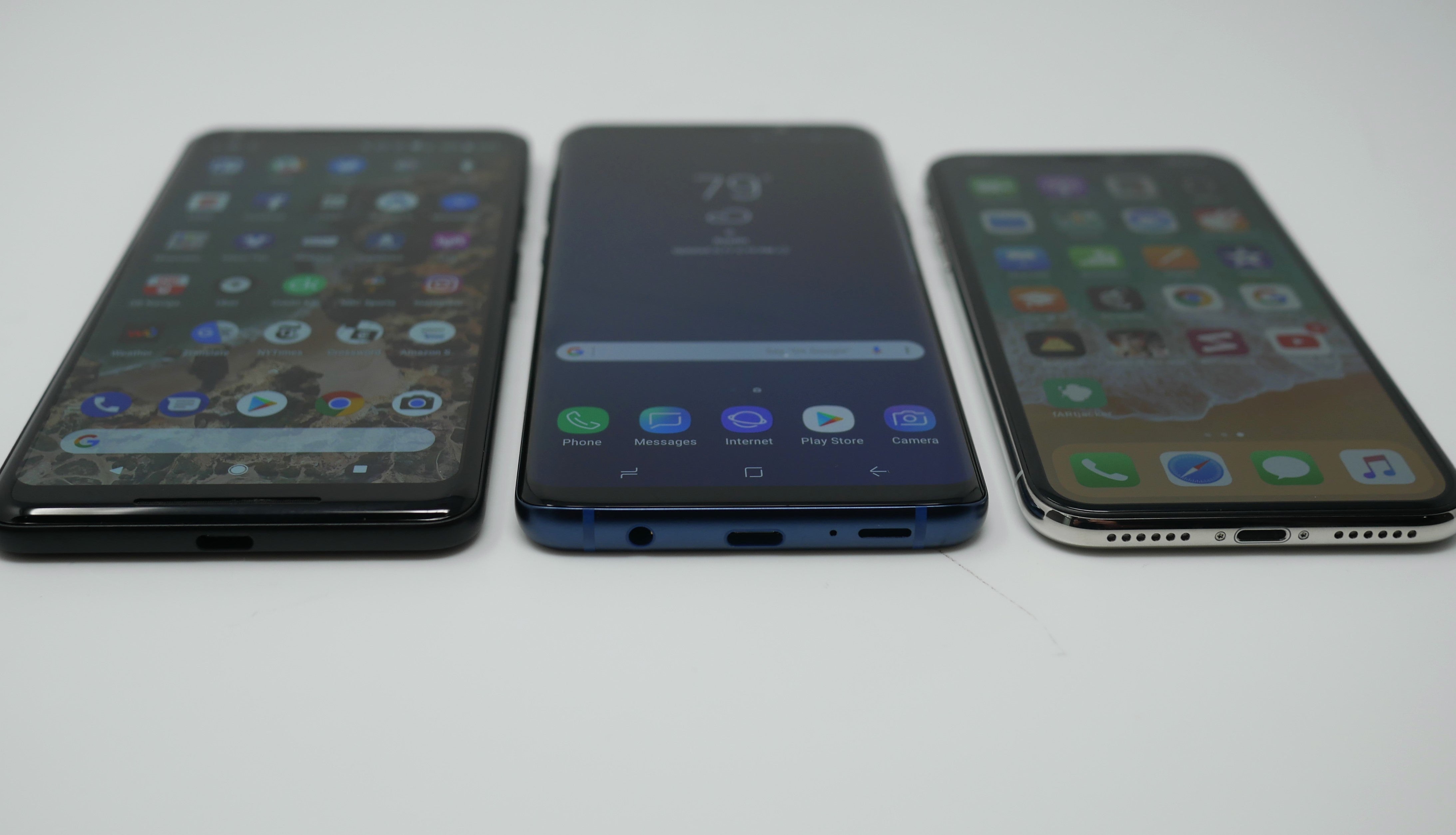 While it's made of high-end materials and is even IP68 waterproof, I do have a few qualms with the phone's design. It's slightly heavier than most of the competition, and the curved edges make it impossible to find a decent glass screen protector, so you'll need to cover its beauty with a case.
Most concerning is that both the front and back are coated in a thick layer of glass. SquareTrade, a warranty company owned by Allstate, gave the Galaxy S9 a 71 "Medium risk" drop test rating and the S9+ a 76 "Medium-high risk." These are better scores than the iPhone X, but you can kiss $800 goodbye if it slips out of your hand onto a hard surface.
Samsung Galaxy S9+ Display
See Galaxy S8+. OK, the S9+'s gorgeous Quad HD+ display does differ slightly from the one on the S8+. While they both have the same specs—2960 x 1440 resolution, Super AMOLED, HDR 10 support—the S9+ is 20 percent brighter and more colorful.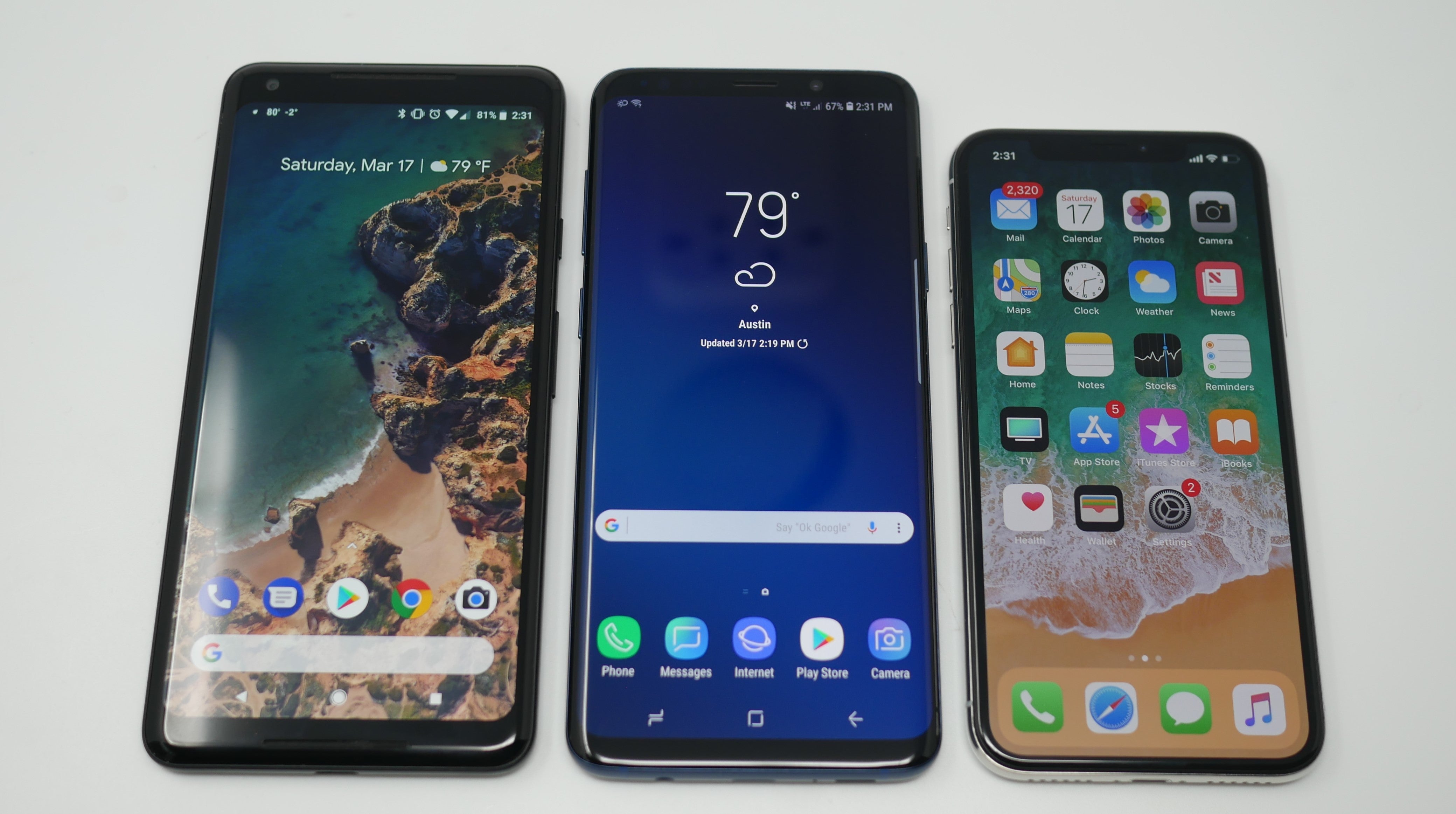 The viewing experience is what we've come to expect from Samsung. Watching high-res YouTube videos and flipping through Instagram was a real joy. Colors are extremely vibrant and make whatever video you're watching burst to life. Because it uses OLED, the display has exceptional contrast ratios and is capable of true blacks and bright whites. Speaking of white balance, I found it leans a tad blue. The good news is that there is minimal color shifting compared to the Pixel 2 XL and LG V30.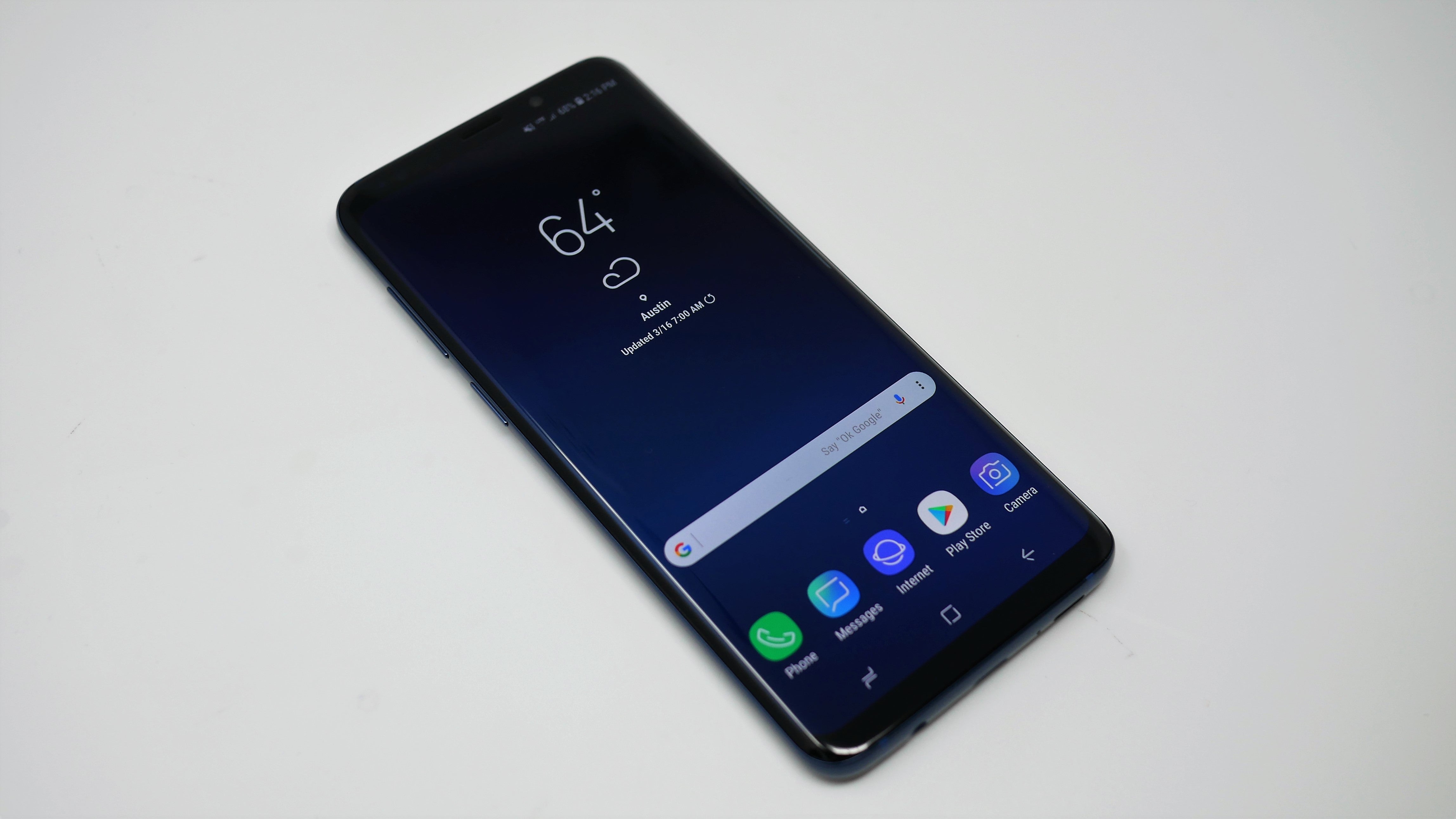 The small improvements to the S9 and S9+ display push it above the iPhone X for having the best screen of any smartphone we've ever tested. While its colors aren't quite as accurate, they do have that inherent wow factor that comes with a reasonable amount of oversaturation. Also, the extra bit of brightness is a real boon when using the phone in direct sunlight. All this isn't to suggest the S9+'s display is a huge improvement over its predecessor. The subtle adjustments are nice, but shouldn't be considered a difference maker.
Samsung Galaxy S9+ Software
The Galaxy S9+ runs Android Oreo with Samsung's "Galaxy Experience 9.0" skin. It's fast, fluid, and has a user interface that is leagues ahead of TouchWiz. Unfortunately, most, if not all of the new improvements just don't work.
Topping that list is AR Emoji, Samsung's blatant clone of Apple's strange Animoji feature. Instead of using silly animals, AR Emoji creates a horrifying digital version of your face. First, you turn yourself into an emoji using the front-facing camera, then replace your actual face with the emoji that mimic your movements.
How this passed Samsung's quality checks is beyond me. Just take a look at the abomination I made of myself. At least the emotions are accurate.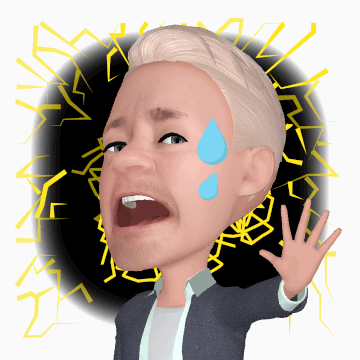 The other software additions aren't particularly welcome either. Bixby, the personal assistant nobody is using, got a revamp. It's quicker than before and can now translate languages in real time. You can also tell Bixby to overlay makeup onto your face using the front-facing camera. If you like what you see, you can press a button to be directed to Sephora or CoverGirl product pages.
The biggest problem with Samsung's skin, or any Android skin for that matter, are duplicate apps. With Samsung and Google offerings, there are two browsers, photo galleries, app stores, and email services. In almost all cases, the Google version is the one to use, making Samsung's feel like bloatware.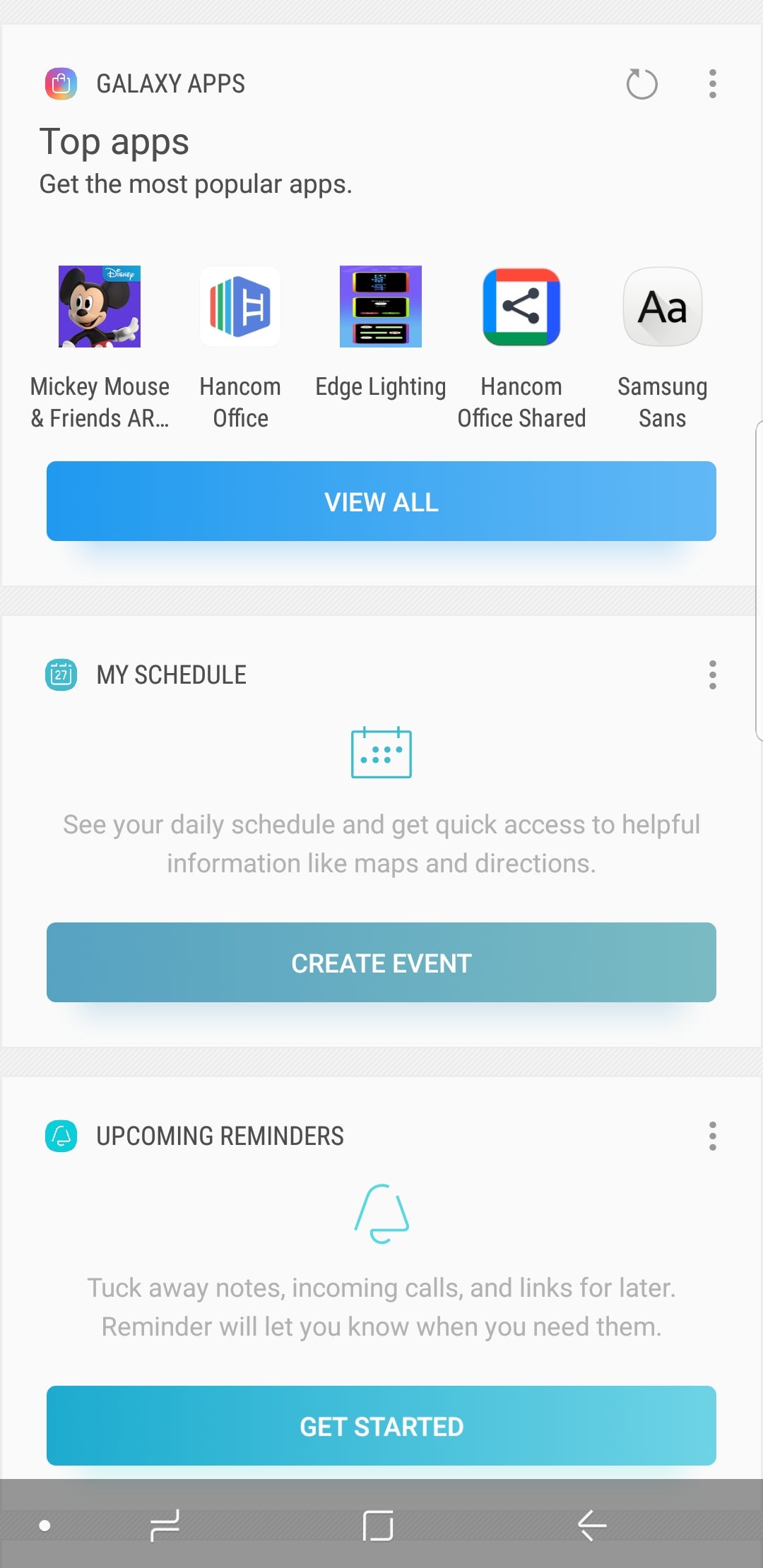 Timely software updates is another area Samsung phones come up short. The Galaxy S8 is just now getting the update to Android Oreo, which first became available in August. Don't expect things to get any better. Galaxy S9 owners will be left in the dark when Android P, with its excellent new features, comes around later this year.
Samsung Galaxy S9+ Performance
The first flagship powered by the latest Snapdragon 845 processor, the S9 is lightning fast. It performed quicker than any Android phone we've tested, even the Pixel 2 XL, which runs a nimbler version of the same operating system.
The phone never lagged or slowed down when I swiped through its menus or played GPU-intensive games. It still doesn't top the iPhone X on benchmark scores alone, but the real-world speed gap is negligible.
Qualcomm says its latest chip is 25 percent faster than the version found in last year's Android flagship devices, and graphics performance should be improved by 30 percent. In short: If you want the most powerful Android phone today, buy the Galaxy S9. If you can wait, future Android devices will ship with the same processor later this year.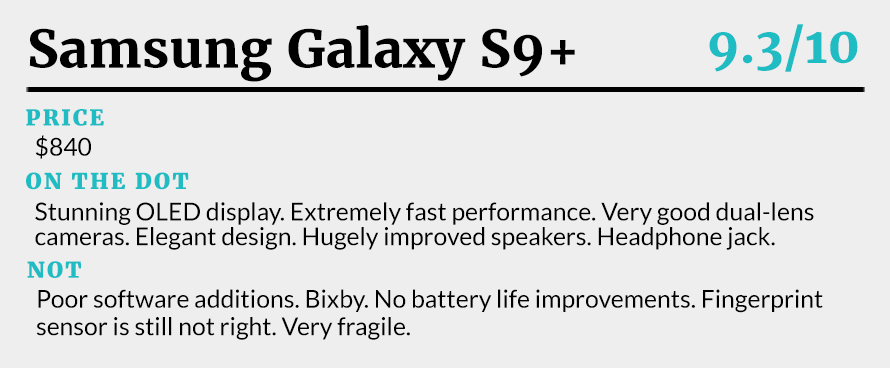 Samsung Galaxy S9+ Camera
Once the king of smartphone cameras, Samsung has played second fiddle to Apple and Google in recent years. Feeling the pressure to regain some ground, the company introduced a brand new variable aperture sensor to the S9+. This means the camera is capable of changing the amount of light it lets in by adjusting the opening of the lens, not just by adjusting the shutter speed. The result, in theory, is better low-light images using the f/1.5 aperture and better daytime images, without overexposure, using the smaller f/2.4 aperture.
You can see the benefits of dual-aperture in these bright images, which aren't the slightest bit overexposed.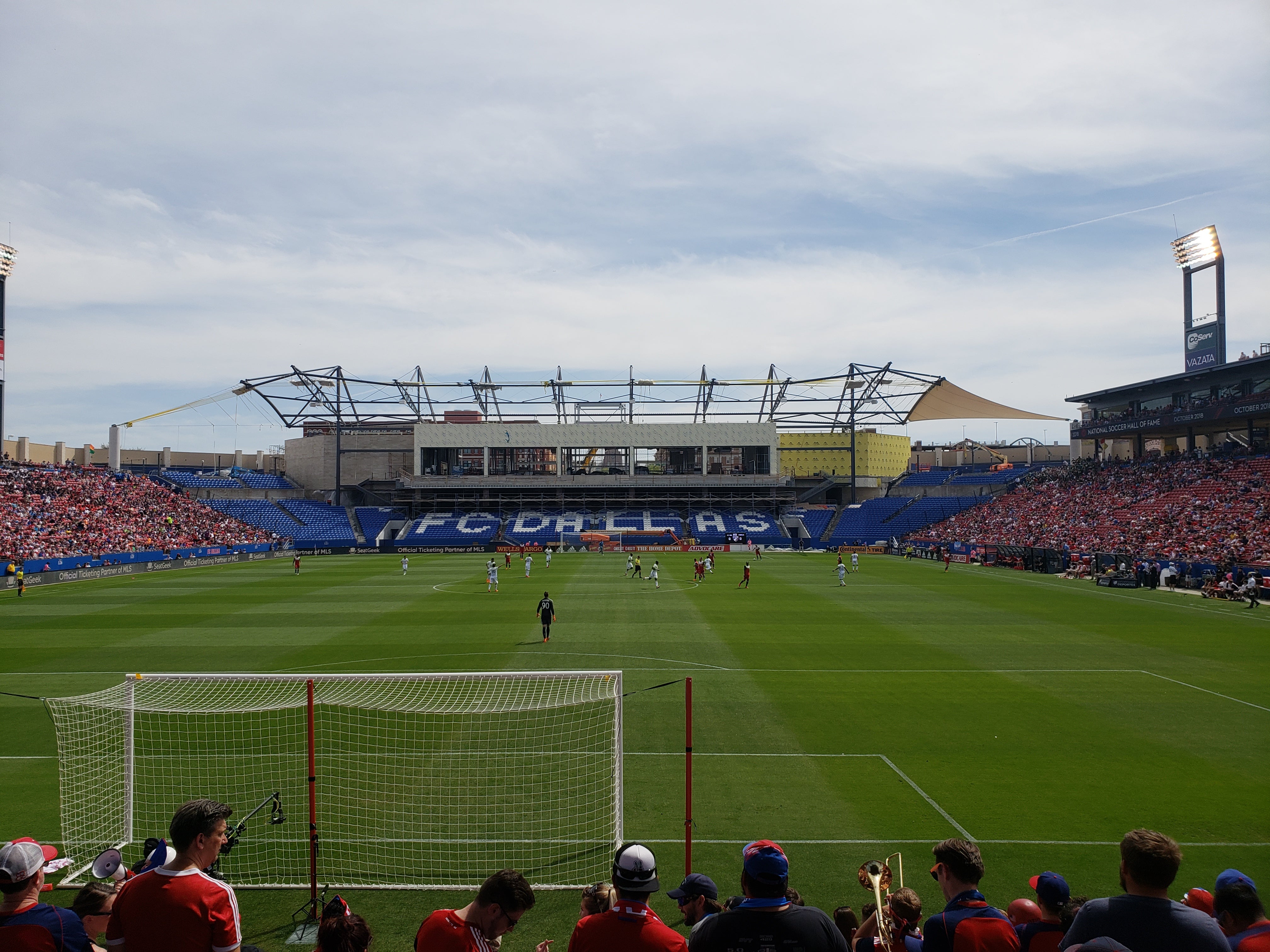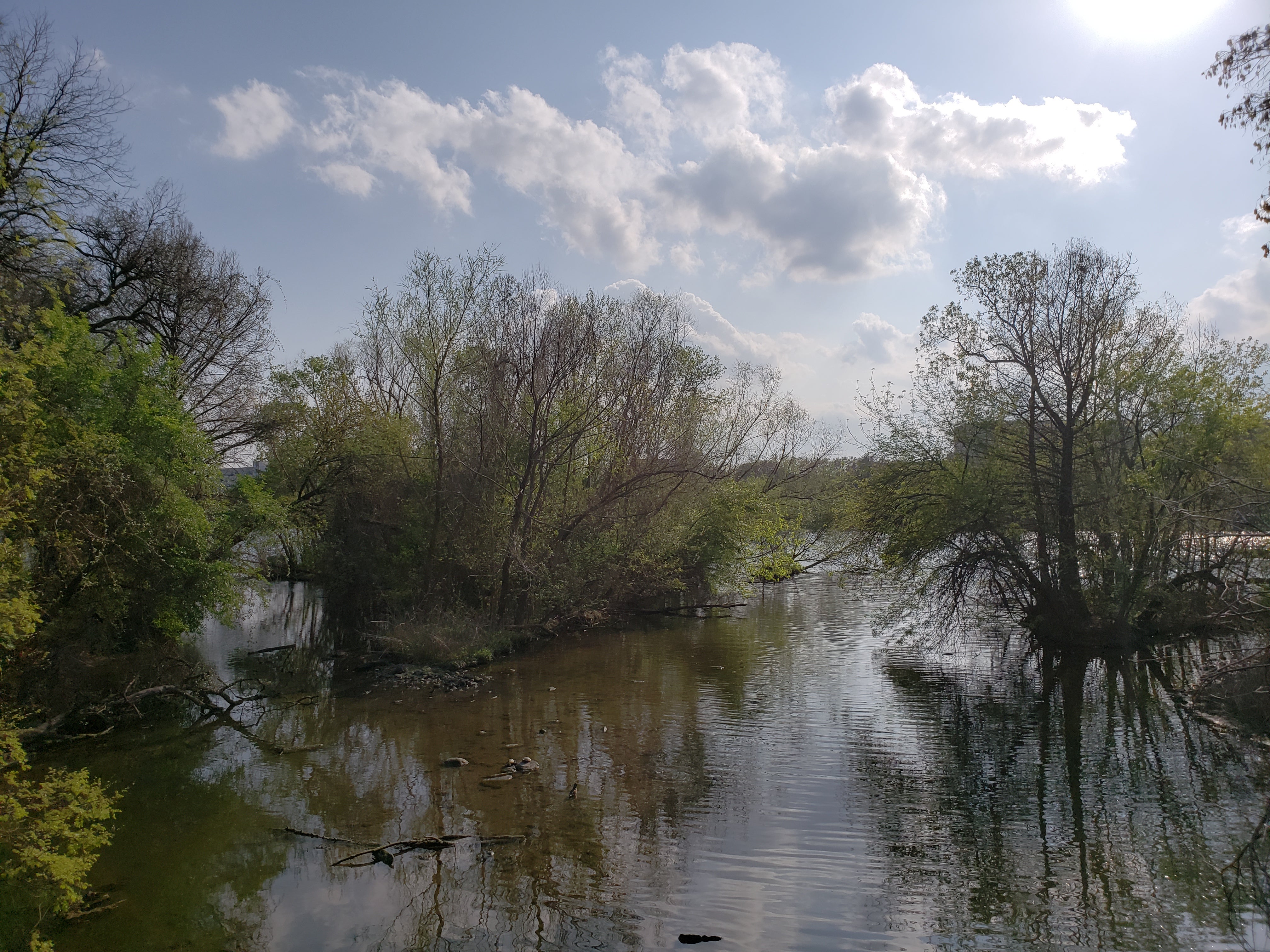 Another key addition is a secondary telephoto lens for 2x optical zoom and portrait shots. Unfortunately, Samsung followed Apple's lead and only included the second lens on the S9+, not the smaller S9. If you think you'll need a bit of extra zoom or take a lot of profiles, we recommend paying extra for the S9+.
Here are some comparison shots between the normal wide-angle and telephoto lenses. Note: these photos were taken from the same spot.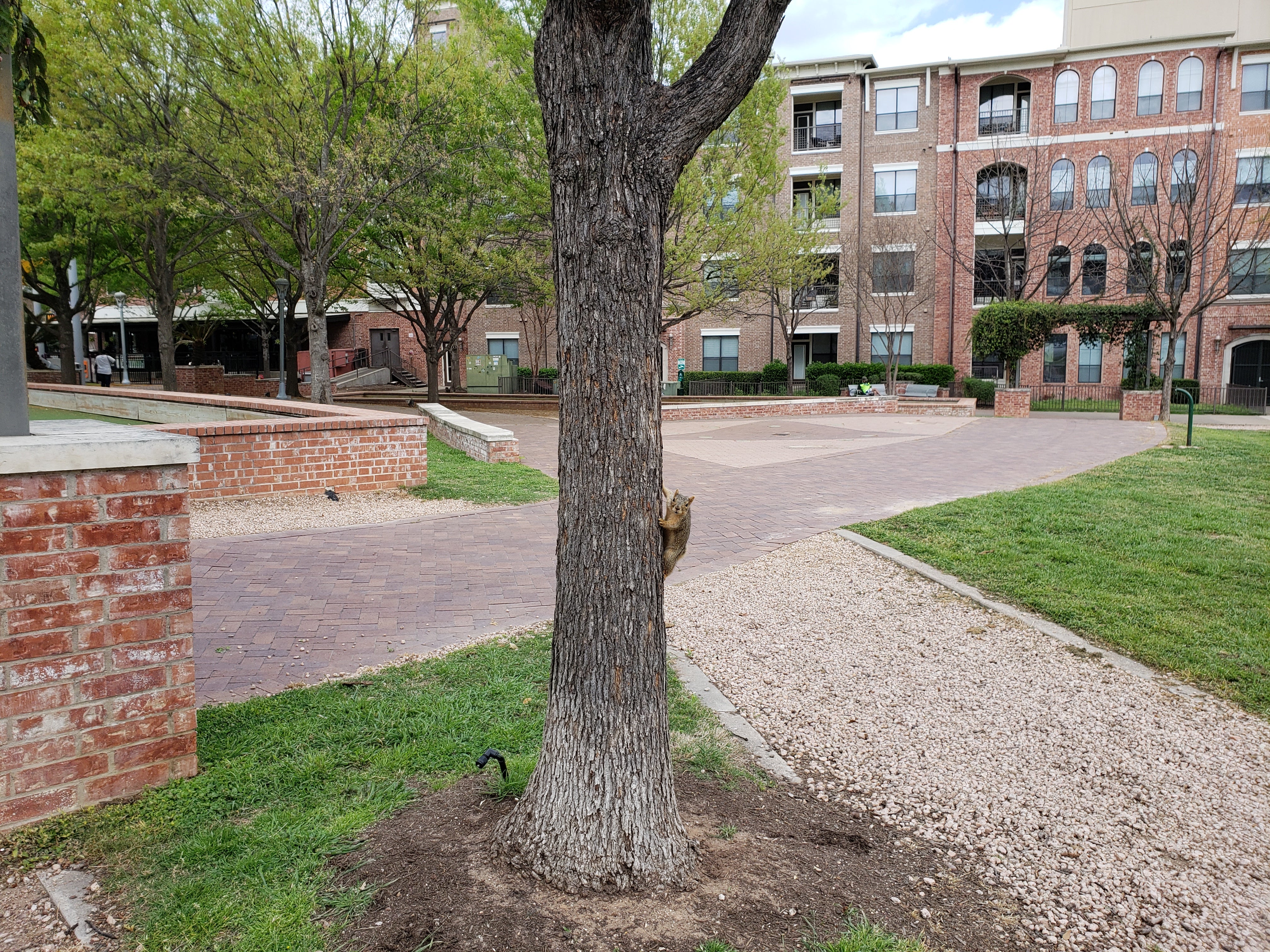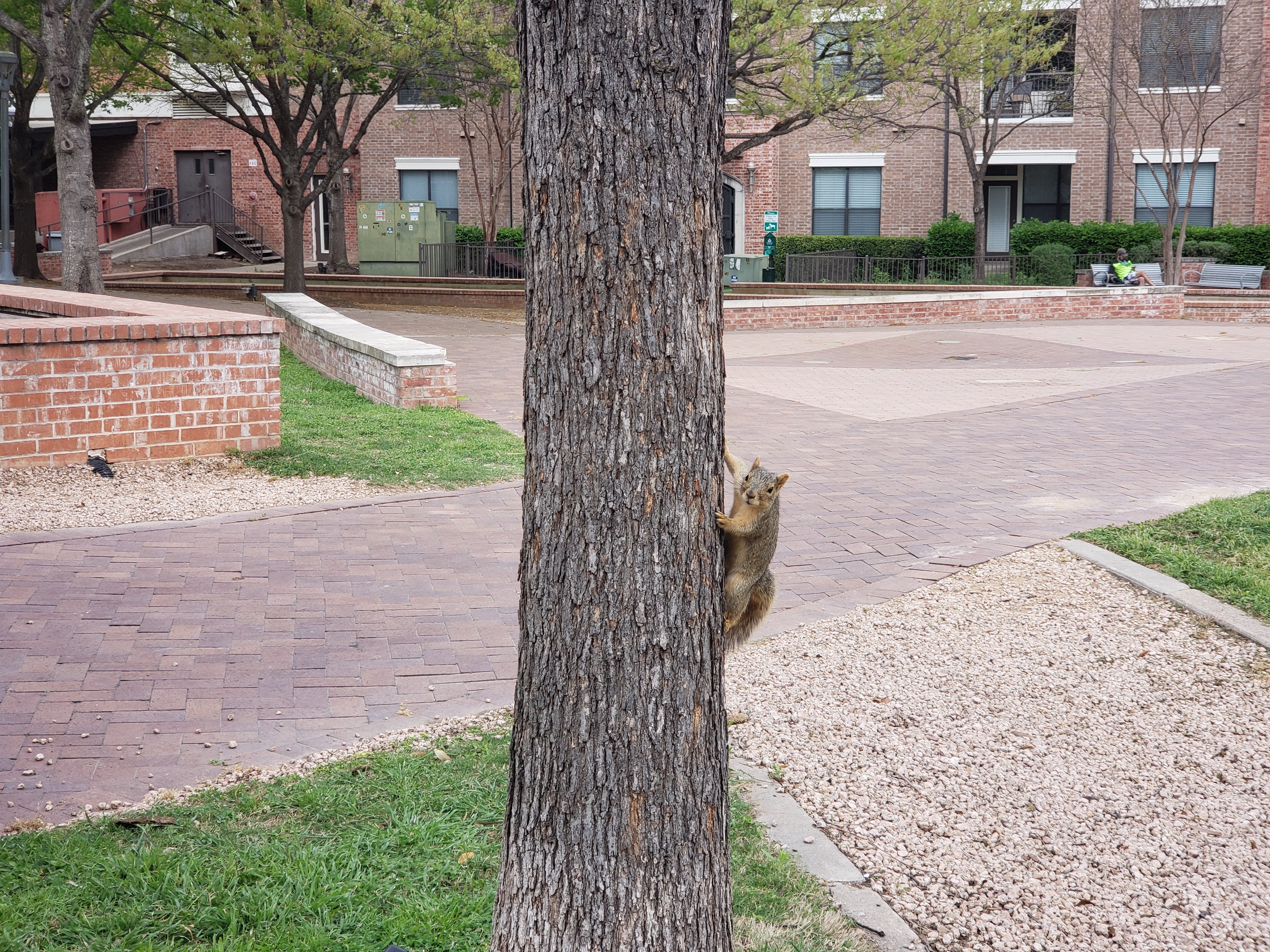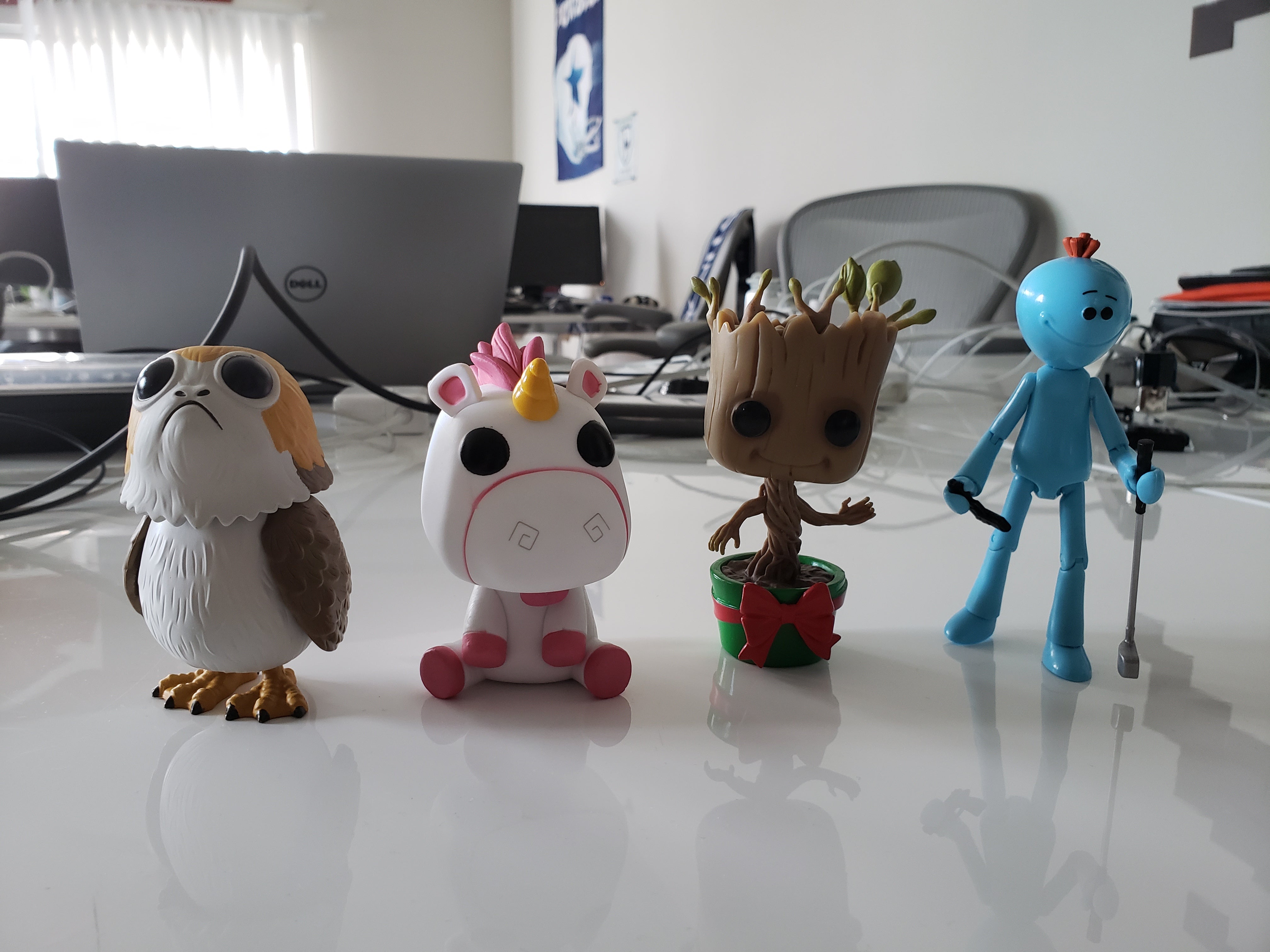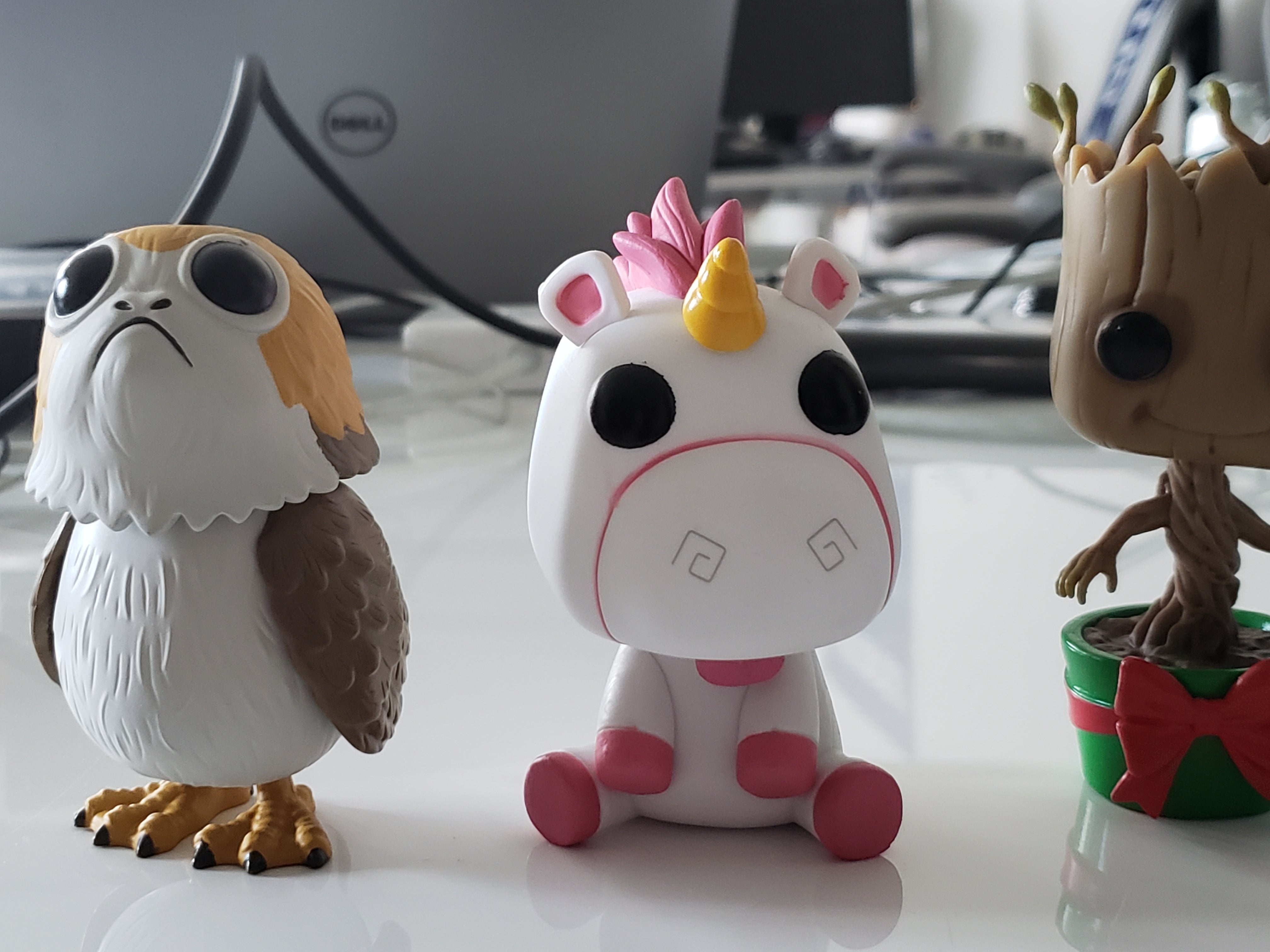 The Samsung Galaxy S9+ camera was consistently great in our testing. It was very quick to snap photos and kept everything in focus. Colors in daylight were nicely saturated and had excellent white balance, unlike the occasionally dull photos from the Pixel 2 XL and warm shots of the iPhone X.
Here are a couple images that show how the S9+ compares to the Pixel 2 XL, the best camera phone around.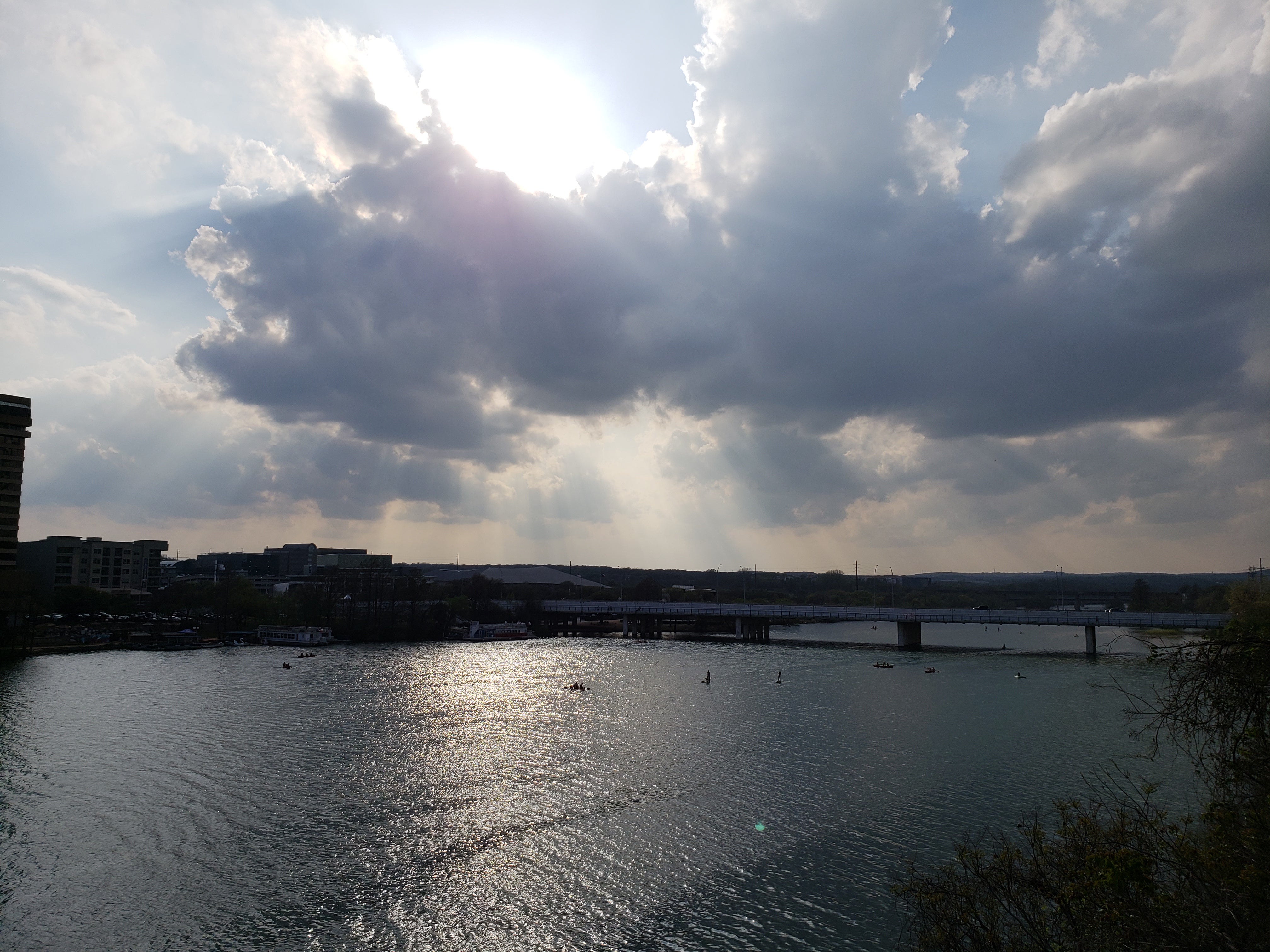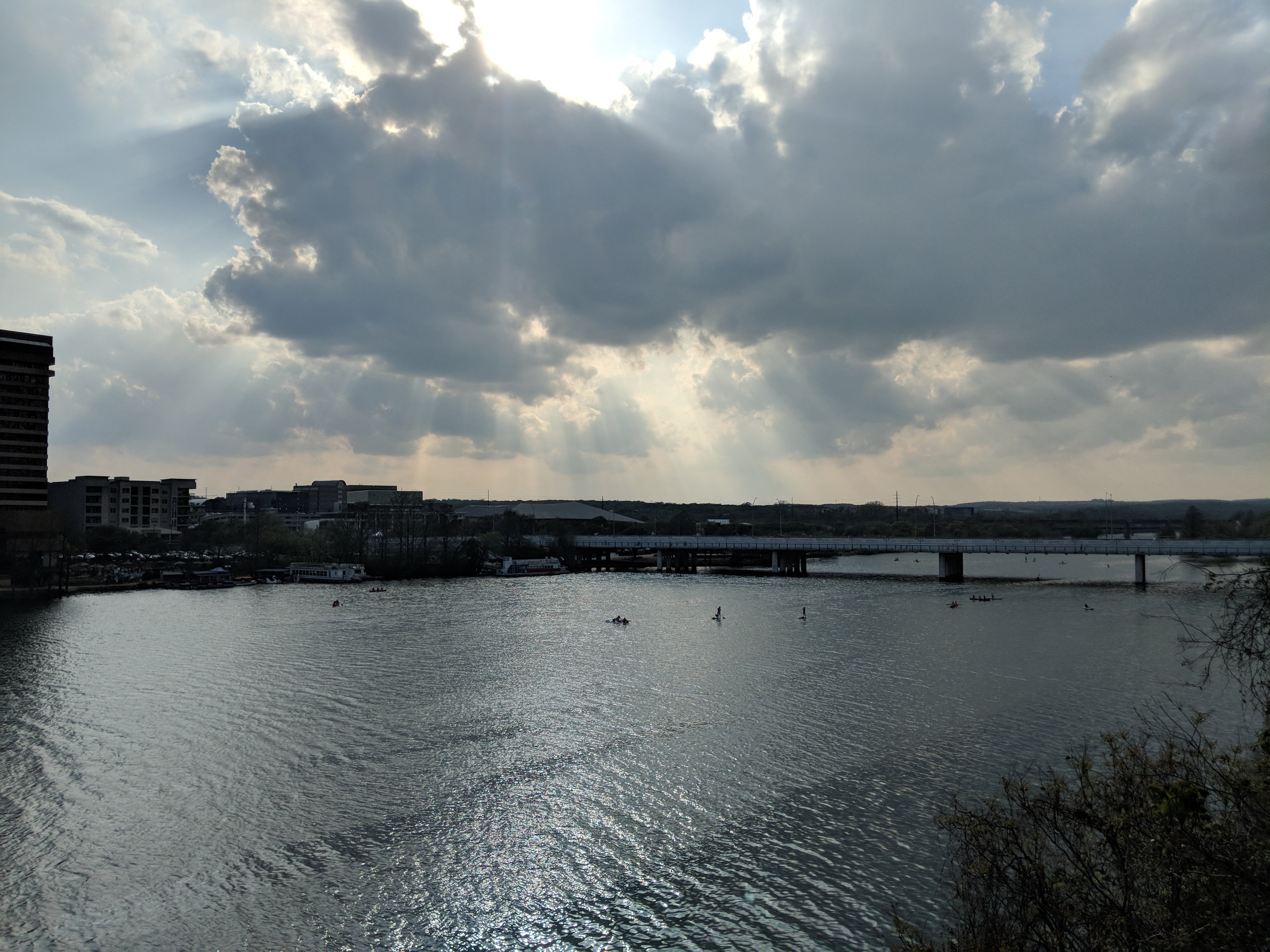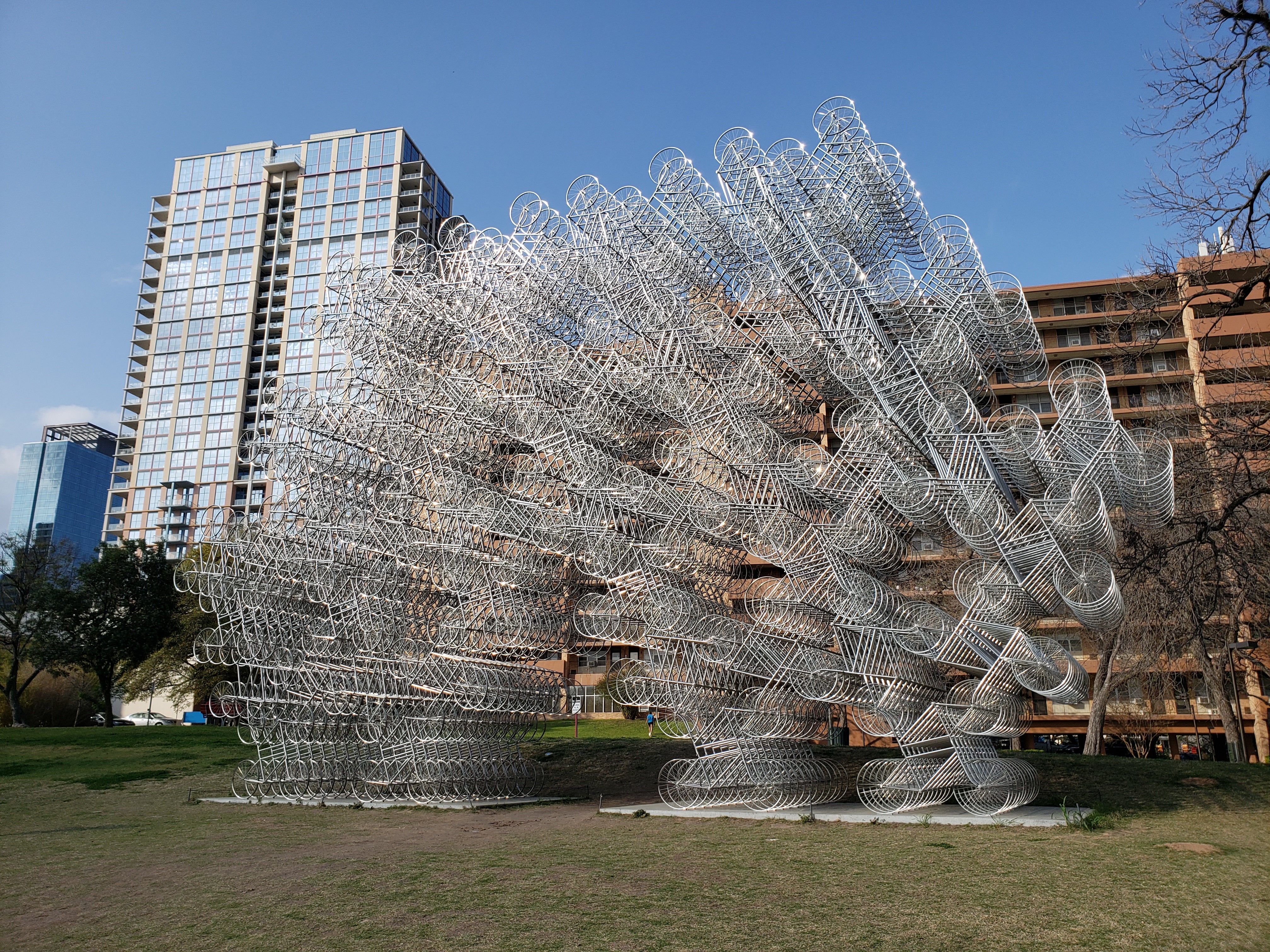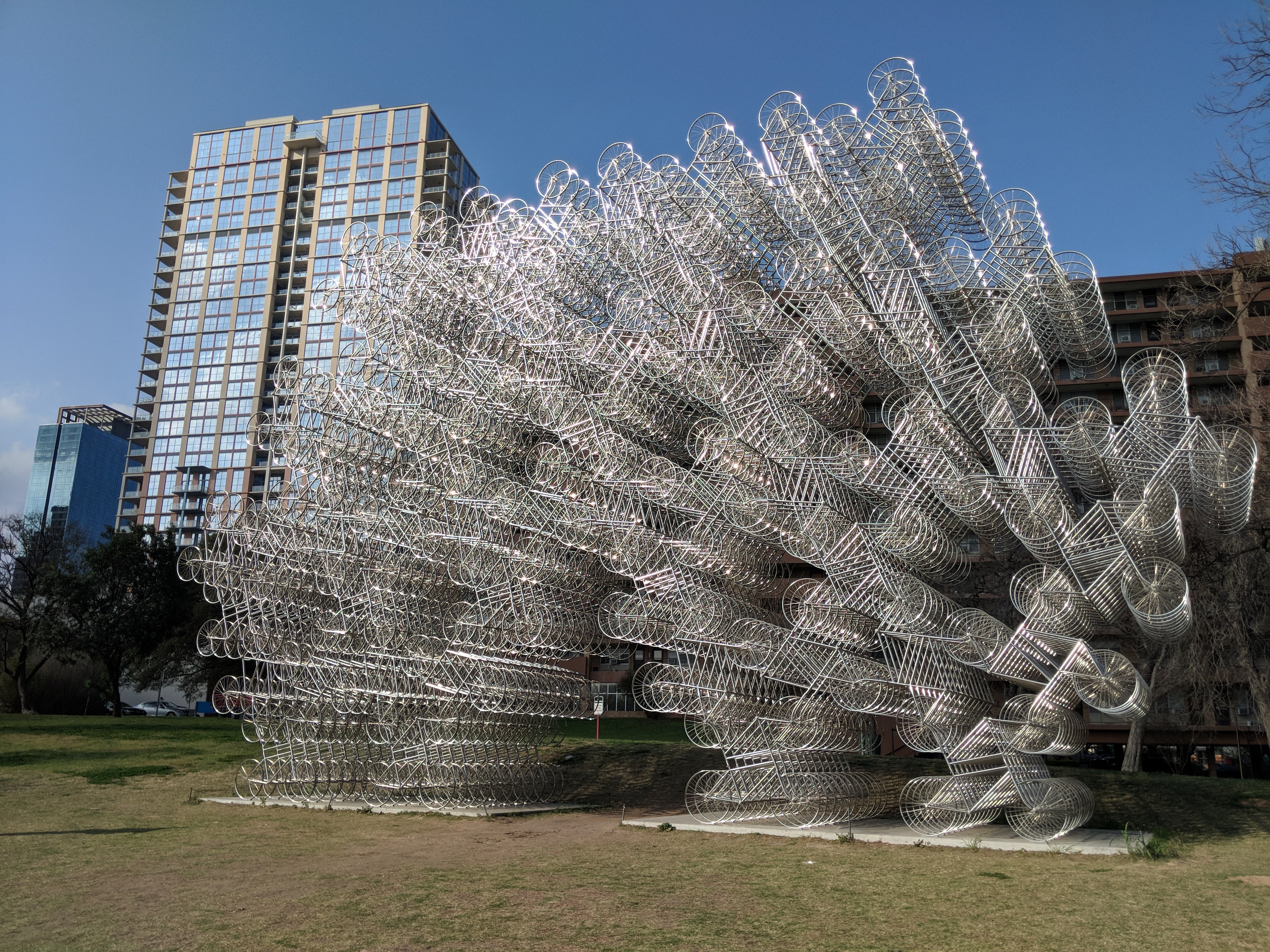 Low-light images were also very good. Images taken in dark conditions were brighter on the S9+ than its competitors. There also appears to be less noise, but that's mostly because Samsung devices tend to smear details to give them a smooth look. If you zoom into a low-light image, you'll notice a watercolor effect, where details are indistinguishable.
The S9+ is capable of taking excellent macro images.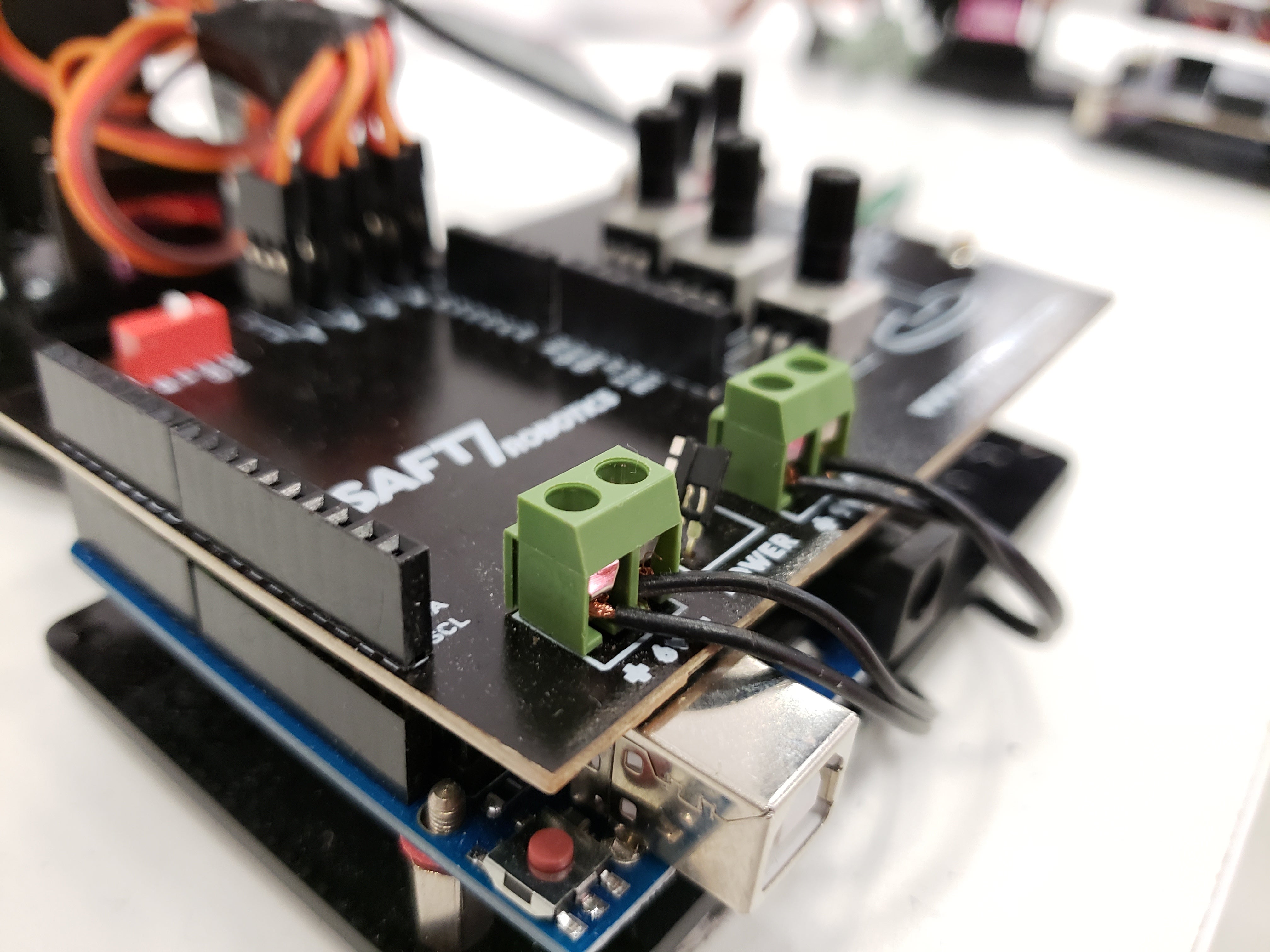 While the Galaxy S9+ isn't quite capable of reaching Pixel 2 XL image quality, it was more consistent, and I found the second lens to be more useful than I had expected. The iPhone X is a closer match, but it's hard to declare a winner since each smartphone camera excels in different areas.
https://youtu.be/gdi3g8ZMk38
Both cameras on the Galaxy S9+ come with optical image stabilization for improved low-light and excellent 4K video quality.
Samsung Galaxy S9+ Audio
Long live the headphone jack! The audio port may be nearing its last breath, but Samsung is here to keep it alive. And why not? We haven't seen major improvements to design or battery life since other manufacturers abandoned the 3.5mm jack, and not everyone wants wireless earbuds. It's refreshing to see Samsung stick to its guns rather than emulate Apple at every turn.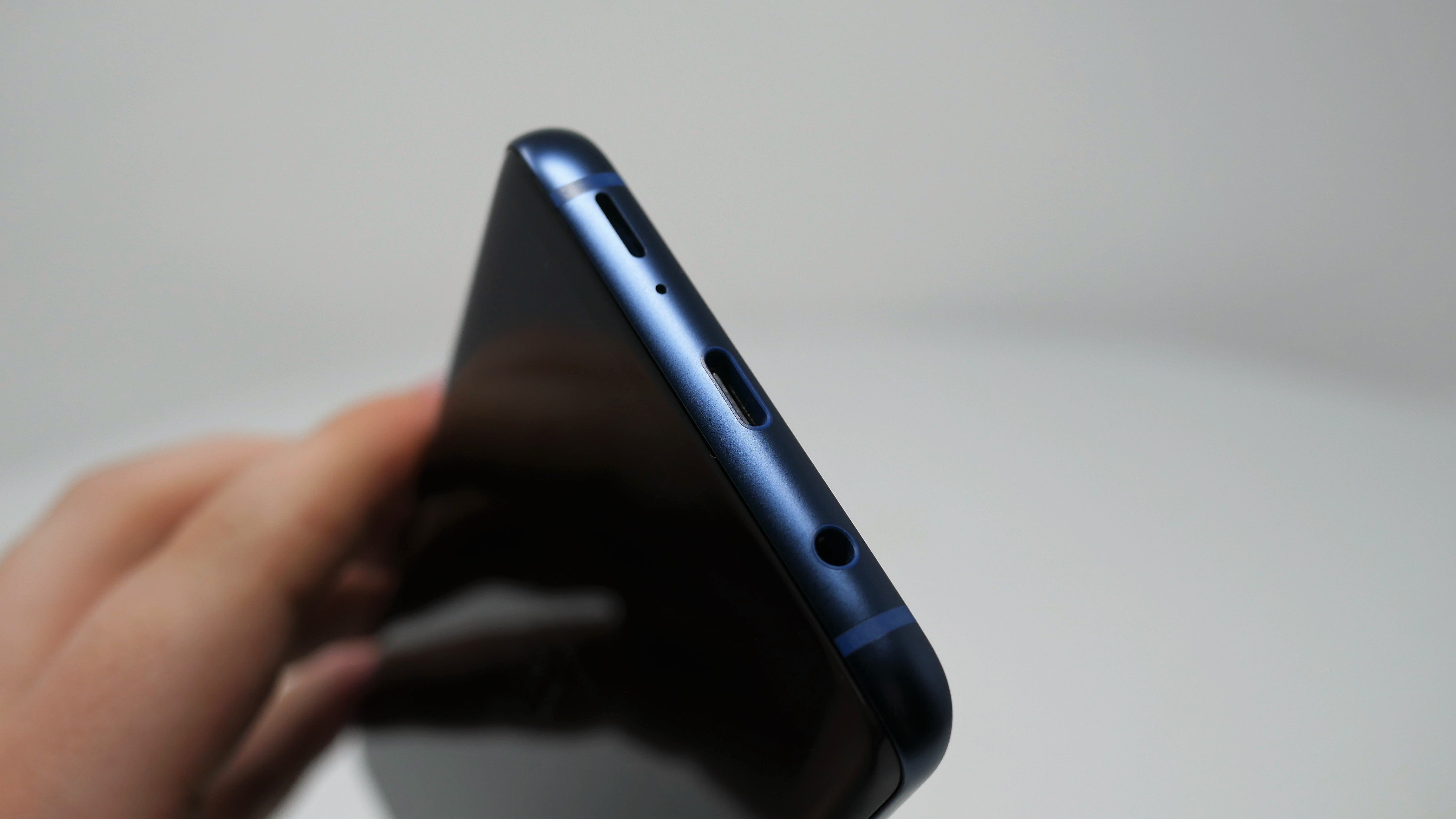 Another big plus is the addition of stereo speakers firing from the top and bottom of the device. The S8's mono speaker was dreadful for listening to music or chatting on speakerphone. The S9 is hugely improved, with audio that's not only 40 percent louder but also more rich, fuller, and clearer. If you care about how your phone speakers sound, this is one area the S9+ clearly stands out from its predecessor.
Samsung Galaxy S9+ Battery Life
The Galaxy S9+ has the same battery capacity as the S8+. Again, that speaks to the conservative approach Samsung is taking after successfully rebounding from the Note 7 fiasco.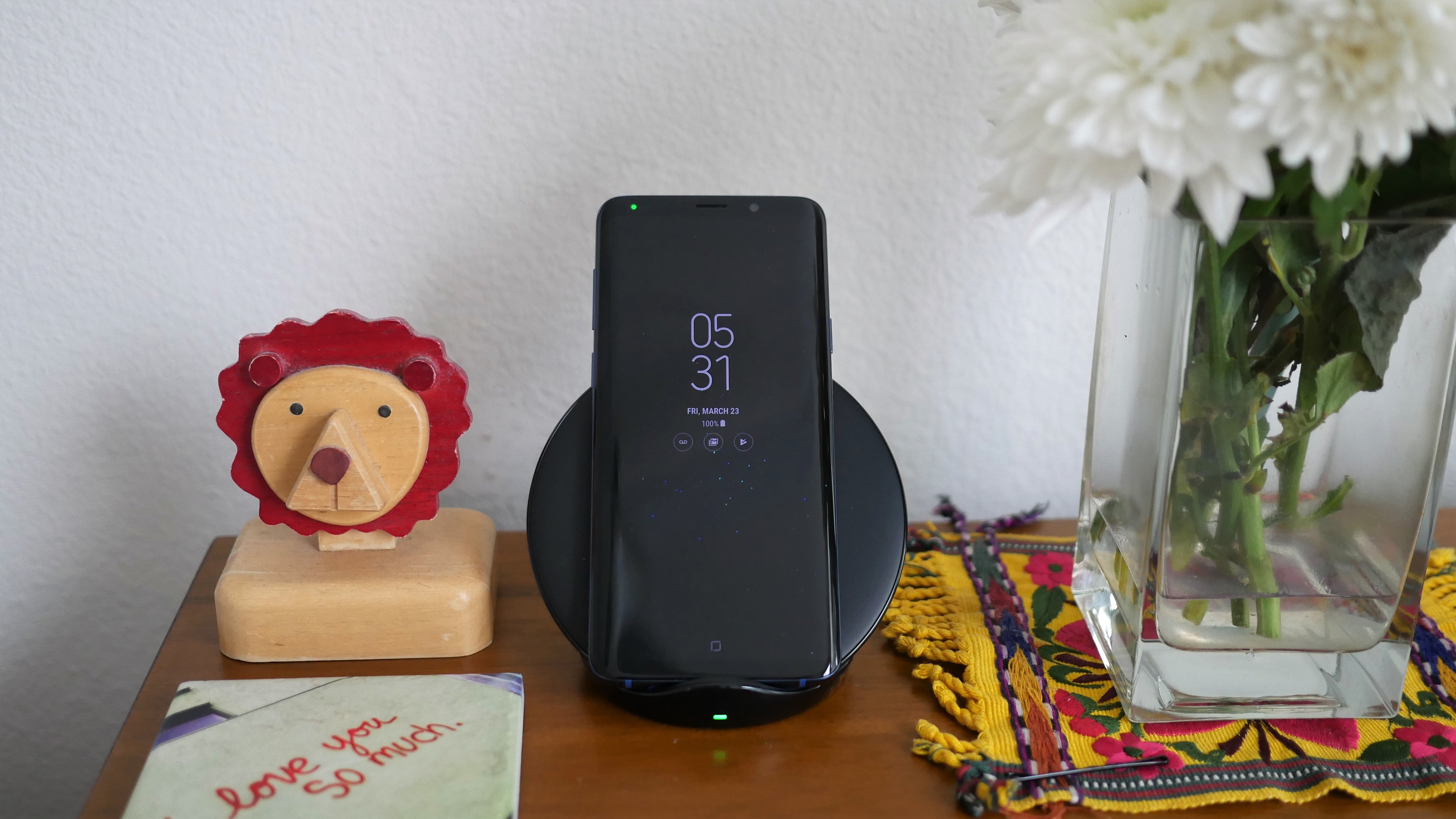 Because of this, the difference in battery life between the two devices comes down to processing efficiency. Qualcomm says the Snapdragon 845 should offer up to 30 percent improvements to battery life. Sadly, we didn't notice any significant difference in our tests. Idle times were great, but on-screen times were only passable. It's the same song over again: the S9 will last you through a day, but not much longer.
That's a decent result considering the improvements to screen brightness, but we would have liked to see it last a few more hours. Like previous Galaxy devices, the S9+ supports wireless and fast charging.
Should you buy the Galaxy S9?
If we can all forget about the excellent Galaxy S8 for a second, this question becomes much easier. Yes, buy one. The Galaxy S9+ checks all the right boxes: excellent design, very good dual-lens camera, stunning display, and solid battery life. But it does have some flaws. While it easily offers the best hardware, its unnecessary software additions pale in comparison to the Pixel 2 XL's refined experience.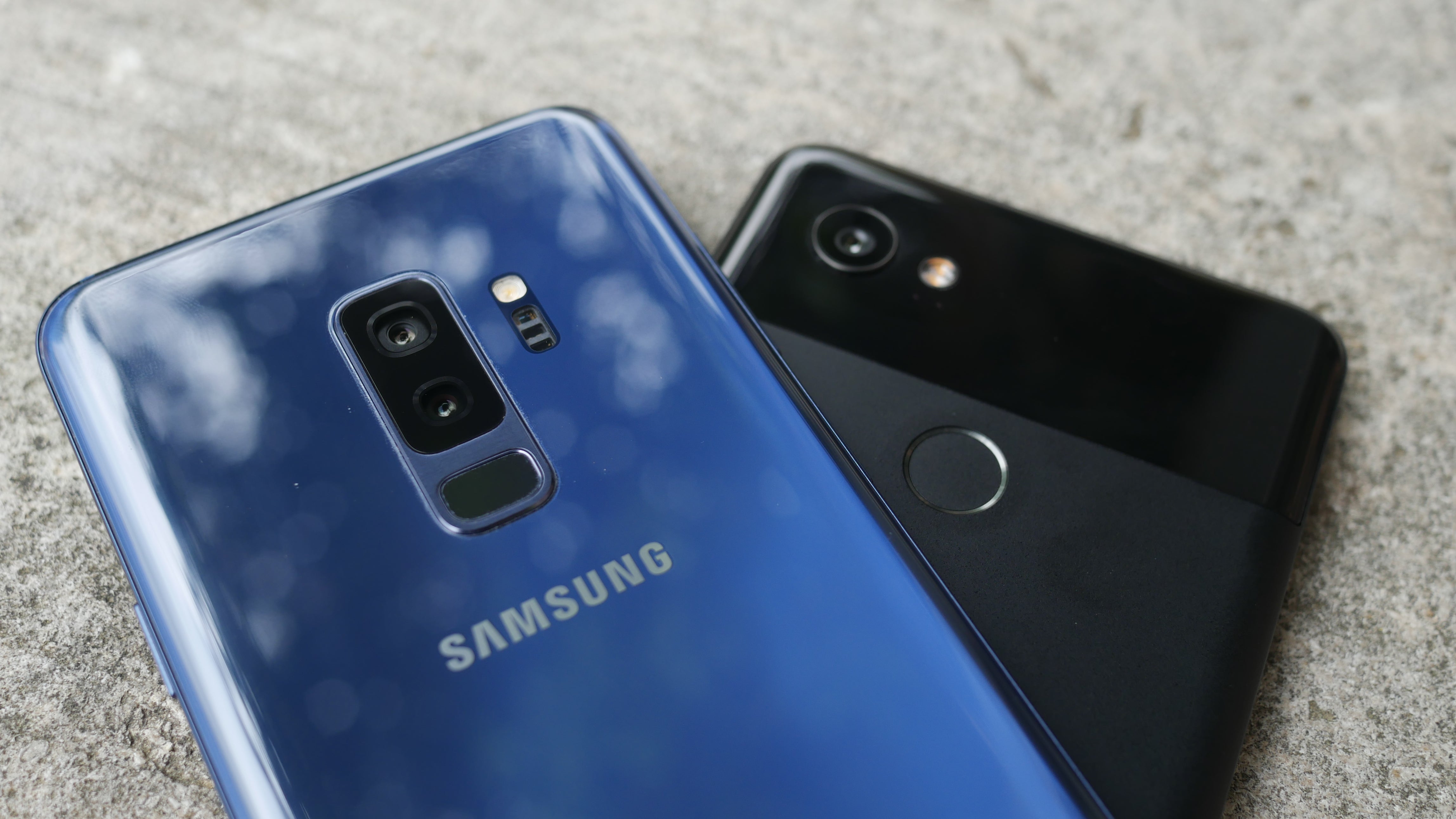 Then there's the price, which is firmly in flagship territory. Yes, $840 is a lot of money, but it's a good deal less than the similarly capable iPhone X. It's also more than $100 less than the price of the Note 8 when it was first released and is even a few bucks cheaper than the five-month-old Pixel 2 XL. That said, things get a bit more complicated when you throw the Galaxy S8 into the mix, which lags slightly behind in most categories but is still an excellent phone in its own right.
One thing is for sure: The S9 is a better device than the S8. More importantly, it fixes almost every issue we had with last year's model, including the fingerprint sensor, speakers, and camera. In that way, the Galaxy S9 is, in many ways, the phone everyone has been asking for.