As much as we'd like them to be, consumer gadgets aren't always perfect. Sometimes an app runs into an error, a device overheats, or myriad other problems force you to restart or reset a device. Apple TV is no exception. However, if you need to reset Apple TV and you've never done it before, you may not know what to do.
No worries. Here's how to restart Apple TV, if you're experiencing a minor issue, and how to reset Apple TV to factory settings, if you're upgrading to the new Apple TV 4K and want to resell your old one.
How to restart Apple TV
To restart an Apple TV, head to Settings, scroll down to System, then select Restart. (On a 3rd generation or earlier Apple TV unit, you'll head to Settings, General, and then Restart.)
Alternatively, you can restart the device with the Siri Remote. To do this, hold down the display icon and menu buttons simultaneously. When the light on your Apple TV flashes, you can let go, and it will restart. On older Apple TVs, do this by holding down the menu and down buttons at the same time.
Lastly, you can unplug your Apple TV from its power source. Wait six seconds, plug it back in, and it will restart.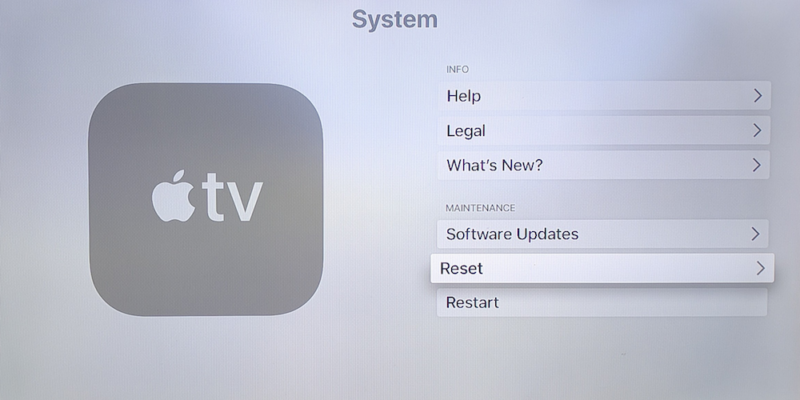 READ MORE:
How to reset Apple TV
To fully reset Apple TV—a good idea if you're buying a new one and preparing your current unit for resale—you'll similarly want to head to Settings, then System (or General on older Apple TVs). Next, scroll down to Reset towards the bottom. You'll then have two options: "Reset," which is the quickest way to reset an Apple TV to factory settings and doesn't need an internet connection, or "Reset and Update," which returns the device to factory settings plus recent software updates. This option does require an internet connection. In either case, you'll need to keep the Apple TV plugged in until the reset process completes.
On 3rd generation and older Apple TVs, the process is similar, but under Reset the options are "Reset All Settings" and "Restore." "Reset All Settings" resets the device's settings, including accounts connected to the Apple TV and setting configurations. "Restore" returns the device to factory settings and installs recent software updates, and it requires an internet connection.
If you're having software issues with your Apple TV, you likely just need to restart your device, rather than reset it. However, if for some reason you're having repeated issues, resetting Apple TV to its factory settings could be an option to consider.
If you're experiencing issues such as the sound not working, video not displaying, or the device won't turn on, Apple offers some tips for troubleshooting here.
New to cord-cutting? Here are our picks for the best movie streaming sites of 2018 and free live TV apps and channels. If you're looking for a specific channel, here's how to watch HBO, Showtime, Starz, ESPN, AMC, FX, and NFL RedZone without cable, as well as free movies on YouTube.