Pro-Trump online communities are working to unravel the mysterious murder of a Democratic National Committee staffer who was gunned down as he walked home from a bar a year ago, convinced that the media establishment is suppressing the biggest story in American politics.
Hundreds of users are currently engaged in a campaign to not only meme the story onto front pages but to get to the bottom of what remains an unsolved killing. Supporters on the r/The Donald, an influential pro-Trump forum on social news site Reddit that previously helped rig 2016 presidential debate polls in Trump's favor, have been boosting exposure to the effort while a dedicated Discord channel and 4chan threads have lead the deep dive into the details. The effort reveals both the power and danger of crowdsourced campaigns.   
The unsolved murder
As Seth Rich walked home from a bar at 4:20am ET on the night of July 10, speaking to his girlfriend on the phone, he was shot in the back. He died in the hospital around two hours later. There are two prevailing theories as to what happened.
The first—and official—line follows the city's Metropolitan Police Department claim that Rich was killed in a robbery-gone-wrong. With no witnesses or leads, the police offered up a $25,000 reward for information.
"There had been a struggle. His hands were bruised, his knees are bruised, his face is bruised, and yet he had two shots to his back, and yet they never took anything," Rich's girlfriend is reported to have told NBC. "They didn't finish robbing him, they just took his life."
Police corroborate this. Nothing, seemingly, was stolen from Rich, and he was found with both his phone and wallet still on him. The case is still open, and the circumstances surrounding his death remain unsolved, as far as law enforcement is concerned.
Less than two weeks after Rich's death, on July 22, WikiLeaks began to publish the Democratic National Committee (DNC) leaks—44,000 internal emails that, among several other humiliating revelations, exposed the party's favoritism of Hillary Clinton over challenger Sen. Bernie Sanders.
The timing of the dump gave rise to an alternate theory: that Rich, who had been a DNC data analyst, had been targeted for leaking the party establishment's emails to WikiLeaks in the run up to the 2016 presidential election.
In August, WikiLeaks offered a $20,000 reward for information on Rich's murder that would lead to a conviction.
"We treat threats towards any suspected WikiLeaks sources with extreme gravity," the organization wrote in a statement. "This should not be taken to imply that Seth Rich was a source to WikiLeaks or that his murder is connected to our publications." 
Appearing in a number of interviews, WikiLeaks founder Julian Assange denied that Russia had been the source of the leaked material—as several U.S. intelligence agencies concluded—but refused to state outright that Rich had leaked emails to his organization.
To many in pro-Trump communities, WikiLeaks' reward affirmed their belief that Rich had been the source—and that either Clinton or someone within the DNC had him killed for divulging party secrets.
As the tumultuous election year progressed and interest moved on, the debate and conspiracy were largely forgotten.
Why has this resurfaced now?
In a Fox 5 DC news report on Monday evening, private investigator and former police homicide detective Rod Wheeler claimed to reporter Marina Marraco that there was evidence on Rich's laptop to confirm that he had been communicating with WikiLeaks before his death. 
https://twitter.com/MarinaMarraco/status/864296359754698753
"I believe that the answer to solving his death lies on that computer, which I believe is either at the police department or either at the FBI," said Wheeler, who was hired by a third party to explore the case on behalf of the Rich family. "I have been told both," he said on camera.
"I have a source inside the police department that has looked at me straight in the eye and said, 'Rod, we were told to stand down on this case and I can't share any information with you.' Now, that is highly unusual for a murder investigation, especially from a police department."
Some of the big conservative news aggregators, such as Breitbart and the Drudge Report, grabbed hold of the story. Fox News added to the Fox 5 report by citing unnamed sources who also claimed Rich had communicated with WikiLeaks, and host Sean Hannity featured Wheeler's claims on his show. The story reignited the conspiracy in a new news cycle that rolled out to right-wing readers just as reports that President Donald Trump had relayed classified information to Russian officials dominated mainstream and liberal media outlets.
https://twitter.com/seanhannity/status/864338934322446336
In its wider coverage, Fox News claimed, per an FBI source, that the Bureau had performed a forensic analysis of Rich's computer within 96 hours of his murder that proved he had made contact with WikiLeaks through the now-deceased journalist Gavin MacFadyen.
Within hours of the Fox News report's publication, Rich's family issued a statement, via their spokesman Brad Bauman, discrediting the new reports. The family distanced themselves from Wheeler, who was not permitted contractually to speak to the press. Rich's family also refuted the "unsubstantiated claims" that say their son had been in contact with WikiLeaks as a distraction from the police search for the killers.
The New York Times and CNN are reporting that the family is demanding an apology and retraction by Fox News and Fox 5. As of Friday, Fox News is still airing segments about Seth Rich.
Seth Rich's family demands retractions from Fox News and a local TV station for inaccurate reports, spokesman says https://t.co/iCdXe0F2OC

— CNN (@CNN) May 17, 2017
What has happened since?
Wheeler has backtracked on his original statement to Fox 5 and, after reporters tried to contact him for 48 hours, described his claims as a "miscommunication."
The Rich family's spokesman, Bauman, then followed with his own statement on Wednesday to Jezebel, slamming media outlets who gave credence to the theory that DNC operatives killed Rich for trying to "manipulate the legacy of a murder victim in order to forward their own political agenda"
"I think there is a specific place in hell for people like that," he wrote.
The hype, however, has continued in the pro-Trump subreddit The Donald and 4chan's /pol/ board, fuelled in part by the notion that the establishment and mainstream media are actively trying to bury the story.
https://twitter.com/Rambobiggs/status/865089513953124352
Did the Washington Post publish its fake news Russia hit piece to drown out the bombshell #SethRich story? pic.twitter.com/3aZH3TgrBY

— Paul Joseph Watson (@PrisonPlanet) May 16, 2017
The Donald's front page was flooded with threads promoting the Seth Rich story as users claimed that the website's administrators were intentionally downvoting the story—resetting any upvotes that, in large enough numbers, would see it populate Reddit's main front page—one of the most popular destinations on the internet—to zero.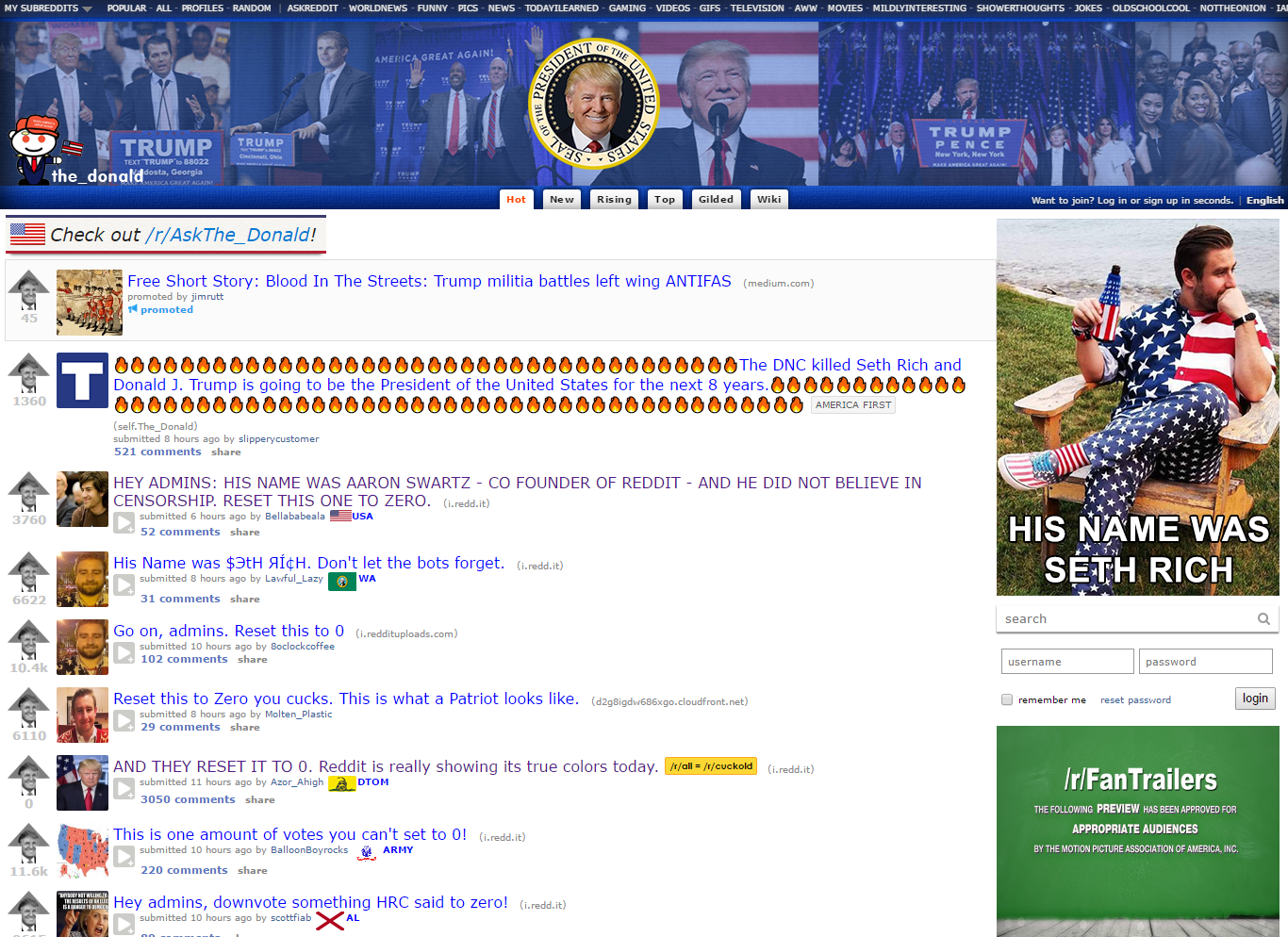 They also claim that Bauman, the Rich family's spokesperson, is untrustworthy because he works for a liberal crisis management company, the Pastorum Group, which also does PR for progressive causes. Bauman has also criticized President Donald Trump on Facebook. WikiLeaks also made this point, with scare quotes suggesting Bauman was not simply a "family spokesman."
Seth Rich's new "family spokesman" is Brad Bauman a professional Democrat crisis PR consultant with the Pastorum Group.

— WikiLeaks (@wikileaks) August 11, 2016
What has the 4chan and Reddit's The Donald investigation uncovered?
As with most leaderless crowdsourced projects, everything is a little fragmented and chaotic. There are a range of angles being chased simultaneously across different threads, some of which illustrate the power of crowdsourced research and some of which illustrate the shortcomings.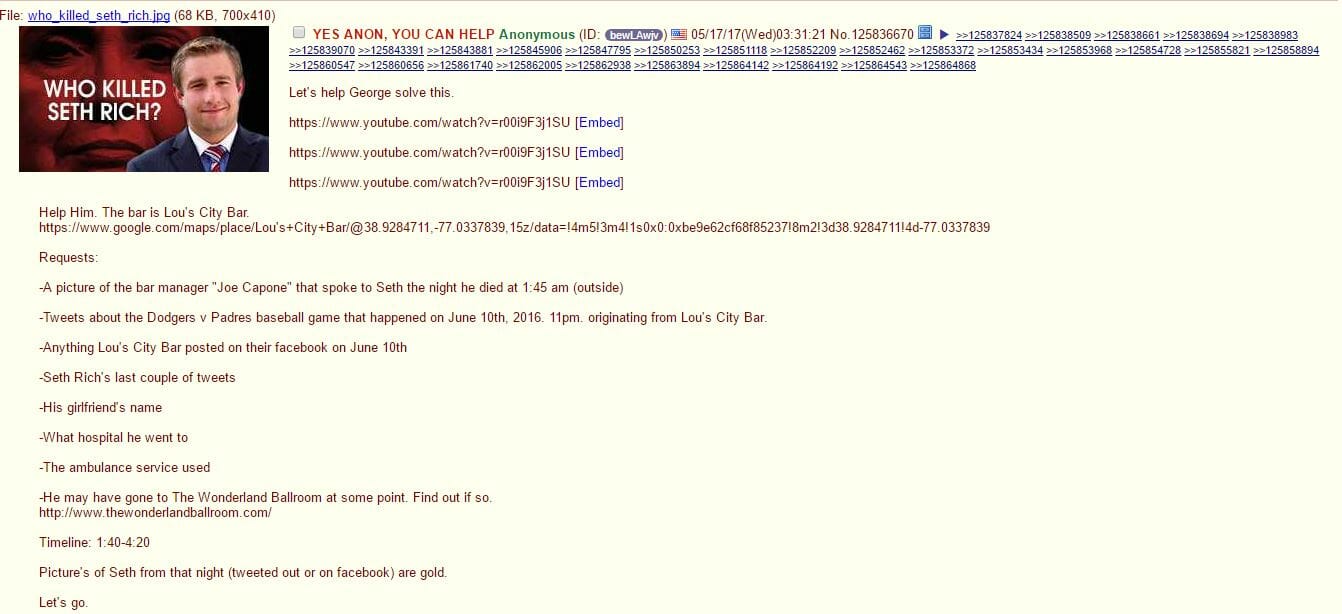 One line of inquiry relates to Rich's hospital treatment and follows from an anonymous post made to /pol/ by an individual who claims they were working in Washington Hospital Center the night that Rich was brought in. This relates to allegations that Rich was talkative while in the hospital and suggestions that his injuries were not necessarily fatal. 
Other more tangible research has looked at Rich's colleagues from the DNC and where they work now. The research—some may call it doxing—includes information from official government websites and social media profiles.
However, much of the investigation has concentrated on what happened before the murder and an attempt to connect it with the conspiratorial assertions.
In what is being touted as one of the biggest breakthroughs, an anonymous 4chan user identified that Joseph Capone, the owner of the Lou's City Bar where Rich had been drinking before his death, had been at the White House in the days before the killing.
https://twitter.com/JackPosobiec/status/865043351367815170
Not only did he post pictures to his Facebook while there, his name appears on the White House visitor log. The fact that someone in Washington, D.C., visited the White House remains a far stretch from implicating anyone in the murder of a single bar patron.
Why is the Seth Rich conspiracy such a big deal for these communities?
At the heart of everything seems to be the belief that if Rich can be verified and exposed as the source of WikiLeaks' email dumps, then the Trump-Russia collusion narrative will fall apart. The belief that this is possible, affirmed however tenuously by the Fox News and Fox 5 reports, comes from a widespread belief that criminality runs rampant among the Democratic establishment.
This is part of the reason the pro-Trump sleuths believe that mainstream media outlets, which have consistently pursued the Russia story, are refusing to chase the Rich conspiracy beyond discrediting it. And it's absolutely the reason why they refuse to quit.