Judge Peter Cahill is presiding over the closely followed trial of Derek Chauvin, the Minneapolis police officer accused of murdering George Floyd. Last May, a viral video showing Chauvin kneeling on Floyd's neck for eight minutes and 46 seconds sparked some of the most intense and prolonged civil rights protests in a half-century.
Earlier this week, Judge Cahill made a hand gesture from the bench that has Proud Boys convinced that he's one of them.
The Proud Boys is an extremist far-right group that calls itself "western chauvinist." Numerous members of the notoriously violent group have been charged in the Capitol riots. They have denied being racist.
The symbol that has them assuming he's one of them is an OK sign. (Cahill could also have been signaling the number three.) The OK sign has been appropriated by white supremacists.
On Tuesday, the Western Chauvinist Telegram channel posted a video clip of Judge Cahill making the gesture and captioned it, "Judge in Derek Chauvin trial, our guy confirmed."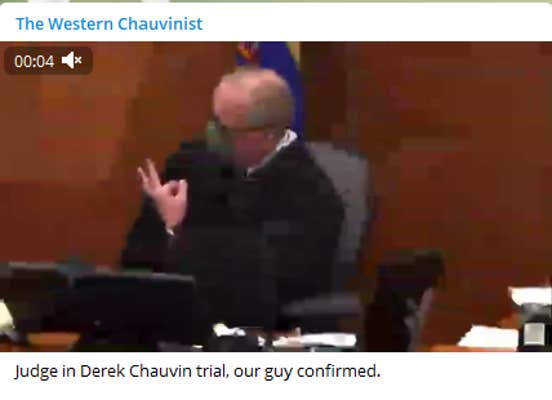 Western Chauvinist, which has 45,000 subscribers and has advocated freeing Chauvin, subsequently posted, "BREAKING: Judge in Chauvin trial has ties to Proud Boys."

Others in the right-wing ecosystem made similar assumptions about the judge based on the gesture.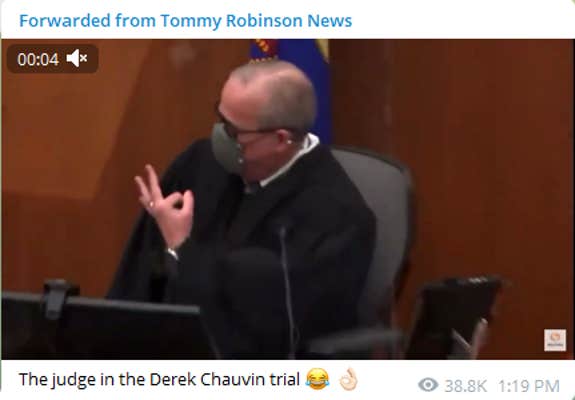 "He's a 3 percenter," commented a subscriber to Tommy Robinson News, referring to an extremist militia group. Some agreed with this assessment, while others pushed back against it.
"Scuba divers use this for 'all ok' sign," said one.
So does Judge Cahill have any known association with the Proud Boys or any other extremist or racist group? No.
Cahill is a veteran judge with a reputation for fairness, NPR reports. In 2015, he dismissed charges against organizers of a Black Lives Matter protest at the Mall of America. One of those organizers told NPR that the judge was "respectful" and "fair."
Furthermore, this so-called "white power" hand gesture looks more like the judge making the number three than it does an OK symbol, which would also be, well, OK.
According to one Telegram user, when Judge Cahill flashed the symbol, he said, "This is juror number three, right?"
---
This week's top technology stories