Update 11:33am CT: After Pfizer's statement announcing it was not part of Operation Warp Speed went viral, the company updated its response, saying that it was part of the project, due to the United States' pledge to purchase vaccines after it was developed.
"Pfizer is one of various vaccine manufacturers participating in Operation Warp Speed as a supplier of a potential COVID-19 vaccine. While Pfizer did reach an advance purchase agreement with the U.S. government, the company did not accept BARDA [Biomedical Advanced Research and Development Authority] funding for the research and development process," a spokesperson clarified.
The original story appears below.
On Monday, Americans woke to the long-awaited news of a possible COVID-19 vaccine. Pfizer announced that it has developed a vaccine that's more than 90% effective, and presented no serious safety concerns in trials, the New York Times reports.
The news of a potential end coming to the pandemic that has killed 1.2 million worldwide, including nearly 250,000 Americans, inspired a celebratory mood across the planet.
As people from all corners of the internet cheered Pfizer and German drugmaker BioNTech, which worked with Pfizer to develop the vaccine, soon-to-be-ex Vice President Mike Pence joined them on Twitter.
Pence, the head of the White House Coronavirus Task Force, credited Operation Warp Speed, the administration's public-private partnership aimed at developing and delivering a vaccine.
"HUGE NEWS: Thanks to the public-private partnership forged by President @realDonaldTrump, @pfizer announced its Coronavirus Vaccine trial is EFFECTIVE, preventing infection in 90% of its volunteers," Pence tweeted.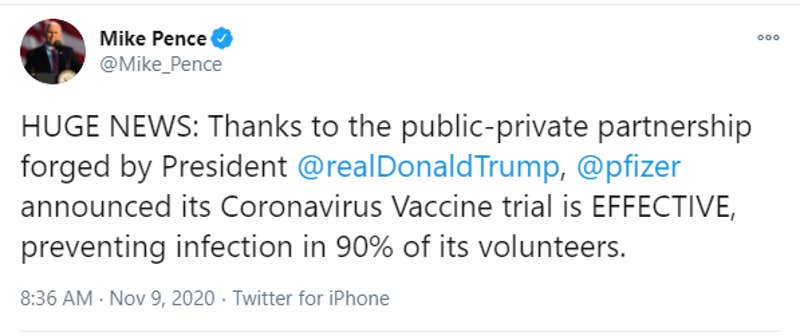 There's just one problem: Pfizer isn't part of Operation Warp Speed.
In fact, as Bloomberg reports, Pfizer's is the only major effort to create a vaccine that isn't part of the operation.
"We were never part of the Warp Speed," Kathrin Jansen, a senior vice president and the head of vaccine research and development at Pfizer, told the Times. "We have never taken any money from the U.S. government, or from anyone."
---
---
From our friends at Nautilus
---
The internet wasted no time calling Pence on the misleading tweet.
"Mike, please do your f*cking homework. Pfizer was not part of your stupid Warp Speed program," tweeted Paul van der Meer.
The government has agreed to purchase up to $2 billion of the vaccine, which some argued was the basis of Pence's tweet, but that isn't the same as taking public money to create it.
That didn't stop other Republicans from repeating Pence's claim.
Twitter wasn't having it.
Some noted that President Donald Trump's refusal to concede to President-elect Joe Biden could actually delay the vaccine's availability.
Yamiche Alcindor of PBS NewsHour tweeted, "And, as Pence claims credit, Trump administration is refusing to sign off on transition which a source says could also slow down the development & distribution of the COVID-19 vaccine."
If all goes smoothly, Pfizer says it will have 15-20 million doses by the end of the year.
More election 2020 coverage