Former Vice President Joe Biden is projected to have defeated President Donald Trump in the 2020 election, in a victory that followed both a relatively straightforward and simultaneously improbable path.
Biden's projected victory came on the three states the president had won in 2016, besting him in Michigan, Wisconsin, and Pennsylvania. Some networks, including Fox, have also called Arizona for Biden, which would put him comfortably ahead. Even without it, Pennsylvania is enough for Biden to claim victory.
Decision Desk HQ called the Pennsylvania race for Biden at 7:50am CT on Friday, as Biden surpassed Trump with more pro-Biden counties still to be counted. The Associated Press called Pennsylvania for Biden at 10:25am CT on Saturday.
With that, the presidency was called for Biden by CNN and the Associated Press on Saturday morning.
Biden will become the 46th president of the United States. Biden is the first candidate to defeat in incumbent since Democrat Bill Clinton defeated then-President George H.W. Bush in 1992.
As of press time, North Carolina, Georgia, and Nevada have not been called for either candidate. Arizona has been called for Biden by some news outlets.
Victories in the Midwest helped solidify Biden's margin, as he won in Minnesota, Michigan, and Wisconsin, turning two of those three states his way after Trump rode them to victory in 2016.
But it was the Quaker State that sent him over. Though Trump surged to an early lead in Pennsylvania, as mail-in ballots were counted, Biden took over in the final stages.
Trump has, on Twitter, claimed Pennsylvania, although his posts in this regard are meaningless. He is likely, however, to challenge it in court.
Joe Biden wins 2020 election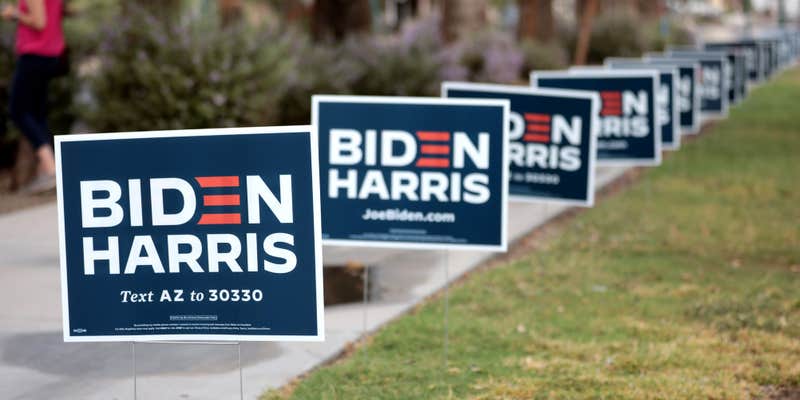 A year in advance of the election, the former vice president to Barack Obama seemed like the odds-on favorite to win the nomination. And although he never slipped tremendously in the polls, a circus car of a primary saw nearly every other candidate become a presumptive frontrunner, with Biden dropping precipitously low in the eyes of pundits and voters several times.
A disastrous fifth place finish in the New Hampshire primary had Biden practically dead, recalling shades of his previous failed attempts—in both 1988 and 2008—to run for president.
However, the candidate rallied support in South Carolina, and a consolidation of candidates helped Biden surge to the nomination on Super Tuesday.
His candidacy was then forced to be nearly immediately suspended, as the coronavirus pandemic swept the United States.
Biden's victory comes after an up-and-down Election Day, with Trump performing stronger than polls expected, giving liberals flashbacks to 2016. However, as expected, as mail-in ballots began being counted—which dominated the discourse due to the pandemic—Trump's margins shrank and Biden pulled ahead, as was predicted.
While the race has been called, Trump has not conceded. In a tweet a day before the count swung the race to Biden, Trump said he "hereby claimed" victory in Pennsylvania, Georgia, and North Carolina, and questioned the ballots in Michigan.
This morning, Trump tweeted, "I won."
He did not.